Big Guide To Lesbian Sex Toys: The Best Sex Toys For Lesbians
Welcome to my big guide to lesbian sex toys, where I discuss the best sex toys for lesbians -while not forgetting bisexual women lovers.
Our heteronormative, phallocentric society loves to promote the myth that sex begins and ends with penis-in-vagina. That the only true definition of sex is thrusting a penis into a vagina which then ejaculates at some point, which signals the End Of The Sex. I'm here to tell you that such a view is wrong on so many levels. There are plenty of creative ways to enjoy various types of sex and sexual stimulation, no matter your gender, sexuality or relationship status. Today I want to talk about the glorious sexual pleasure enjoyed specifically by bisexual and lesbian women, with their female lovers.
I'll discuss lesbian sex and relationships in more depth in another article, but for now I'd like to focus on the specific tools bisexual and lesbian women can use to derive and gain the highest levels of sexual pleasure during intimate moments. With a little ingenuity, a lot of imagination and this guide to lesbian sex toys, you will have everything you need to give your lady lover an unforgettable lesbian sex session to satisfy her most passionate dreams.
Pleasure Tools: The Best Sex Toys For Lesbians
Stimulating Foreplay  
Before diving straight for the well-known 'hot spots' on her body during your amazing lesbian sex, make sure you set the scene for passion. And I don't mean just clearing away the dirty laundry from round the bed. Although there's definitely a time and a place for the 'quickie', longer sessions where you both take your time can lead to incredibly intense shared pleasure.
Feather Ticklers
Don't underestimate how effective simple looking accessories can be… when used in your expert hands, of course. A feather tickler can be used over her inner thighs and back to deliver lighter strokes than you could achieve with your fingertips, giving her goosebumps and the first tendrils of arousal.
Team with a blindfold to add even more anticipatory excitement, and perhaps a little light bondage if you're kink-inclined.
Read our feather tickler reviews, then shop for your own:
Chilly Ice & Warming Massage
An ice cube run under the tap is an easy way to introduce a thrill to naked skin (make sure you've put a Cumpanion sex towel or Sheets of San Francisco fluidproof sheet down first) or why not expand your temperature play with a vibrating ice massager? You don't have to turn it on – at least, not until you're both ready for more.
Too chilly? Give her a temperature raising erotic massage with the help of some sensuous massage oil. There are even massage candles which, when lit, introduce a relaxing, romantic scent and scene to the room bit that's not all. These specially designed candles melt to leave a massage oil which can be drizzled on to her back and bottom and used in the sensual massage.
Enjoy our erotic massage reviews, then shop for supplies:
Lube
Sexual lubricant is all too often viewed as just an accessory to bedroom fun rather than a tool in its own right – lubricant removes the friction that can often make exploration of your partner feel more jolting than smooth.
There are 'special effect' lubricants as well; try a cooling or warming type whether somewhere relatively innocent (inner thighs, collar bone, back of her neck) or to add another layer of stimulation later on in the session.
Flavoured lubricants are fun to experiment with and come in many different flavours so there should be one which appeals to both of you. My all-time favourite is cherry flavoured lube…
Enjoy all our sexual lubricant reviews, then shop for the lubes of your choice:
Kissing
Kissing is an intimate experience that can communicate all the passion and emotion you feel for each other in between touching each other's bodies elsewhere.
Don't forget kissing as a unique way to increase the intimacy between you and make her feel cherished. It doesn't have to always be about the frenzied thrusting of lesbian sex toys and other pleasure tools.
Get some top kissing tips in my related article.
Nipple Stimulation  
When you're both relaxed and aroused and ready to move on to something even more enticing during your amazing lesbian sex, her (and your) breasts are the obvious choice. I know this section is marked as nipple stimulation but there's more to boobs than just those sensitive areolae. Teasing the surrounding area of her breasts, the sides and underneath, can be a thrill for both of you – and will get her nipples sitting up begging for attention.
Feather Ticklers
We've discussed the benefits of feather ticklers already, above, so why not continue that erotic foreplay teasing by using them over her breasts and nipples?
Nipple Suckers
Nipple suction toys feel like extremely intense kisses, concentrated over the sensitive and nerve-ending packed skin of the nipples. They're usually quite cheap to buy, and easy to operate with bulb or pump style suction areas.
Nipple Clamps
To ramp up the nipple pleasure intensity, try some nipple clamps. They give a literal pinch of pleasure in a very sensitive area. Take it slowly and carefully, and encourage communication to ensure everyone is comfortable and experiencing pleasure (or at least pleasurable pain) at all times.
Nipple clamps might be spring loaded, or have screws to maintain the pinching pressure. Some are magnetic, while others are attached to collars and chain harnesses for a deeply kinky and submissive look and feel.
Click to read all our nipple clamp reviews, then take a look through this great range of nipple stim toys available to purchase:
Prickly Toys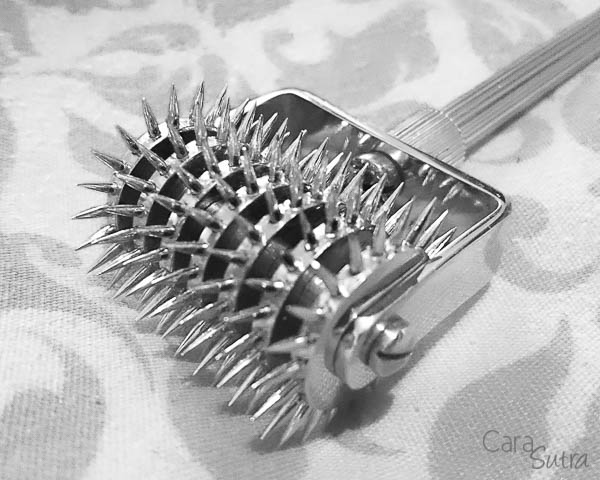 Sensation play toys such as pinwheels (also known as Wartenberg Wheels) and vampire gloves add a teasingly tortuous prickle to sexy proceedings.
When the small spikes of these pleasure tools are lightly applied to the skin -and particularly the nipples- it can result in a surge of arousal and really heighten the eroticism shared during sex and play sessions.
Enjoy all our BDSM sensation play toy reviews, then shop for yours:
Clitoral Sex Toys  
You knew it was coming; loudly, unashamedly and (if you're lucky) multiple times. I'm going to talk about the clitoris. Did you know that more women orgasm from clitoral stimulation than from vaginal penetration? So, don't worry if you can't achieve vaginal orgasms – you're not alone.
It makes sense to know where your and her clitorises are, how to stimulate them and the best lesbian sex toys out there for mind-blowing clitoral based orgasms for you both. I can't talk about brilliant clit stim toys without mentioning Zumio… I'm using mine on an almost daily basis and it's staggeringly effective. Read our Zumio reviews for more info.
Bullet Vibes
Bullet vibrators are my go-to when it comes to fast, powerful and guaranteed clit orgasms. They're small, quiet, portable, discreetly moved about whether from drawer to bed or tucked into your palm any time – and powerful enough to deliver back-arching orgasms if you have the right one.
My favourites? The Loving Joy Power Bullet, Tracey Cox Supersex Bullet, Ann Summers Moregasm Plus Bullet Vibrator and the Rocks Off RO-80 bullet vibe.
Enjoy all our bullet vibrator reviews, my big guide to bullet vibrators and shop a fabulous range through the following links:
Butterfly Vibrators
Worn or butterfly vibrators are often touted as being simply for a solo woman to use whether under her clothes or during masturbation, but they can add a whole lot of fun to shared girly playtimes too.
These vibes are clitoral stimulators held in place over the clitoris by way of a harness, keeping the buzzy action on your or her hot spot absolutely hands-free.
Whether just one or both of you decide to indulge, a hands-free butterfly vibrator tending to your clit leaves your hands and mouth free to roam – and your arousal rocketing sky high. This might still turn into a quickie after all.
Find all our clitoral vibrator reviews, then shop butterfly vibes and knicker vibrators through the links below:
Wand Vibrators
For power queens who like nothing short of jackhammer level vibrations to get them off, it has to be a supremely powerful wand vibrator. If she finds it very difficult to orgasm with typical vibrators, then I definitely advise buying one of these incredibly powerful vibrators.
Quiet and discreet they are not (shut the windows before you start), but orgasm-inducing they most definitely are.
Enjoy our big guide to magic wand vibrators, all our wand vibrator reviews, then shop for your own:
Of course the above are just a few clitoral sex toy suggestions to give her breathtakingly good clit stim – your fingers and tongue can also be welcome pleasure tools during intimate woman-to-woman sex sessions.
Don't forget about the lube… her vagina produces its own natural lubrication with arousal but this won't necessarily reach up to the clitoris during playtime. Avoid chafing and discomfort (ugh, such a turn-off) by making sure her clit is well lubricated.
Vaginal Penetration  
For penetrative vaginal play you don't have to resort to rubber fake penis (thank goodness) when searching for the best sex toys for lesbians. Now that vaginal stimulation and the understanding of it has moved on from very early (and heteronormative, and phallocentric) sex toy designs, there are plenty of beautifully sculpted, artistic designs in body-safe materials for you and your lover to enjoy.
Dildos
You can find dildos in an enormous range of lengths, girths, colours, materials and styles. Some are positively works of art; beautifully sculpted pieces that are almost as good to look at as they are to envelop intimately.
Avoid dildos made from dodgy materials such as jelly, TPR, TPE and PVC. They are porous and can have toxic elements to the material formulation. Dildos made from these materials might be cheaper but it's a false economy in the long run – do you really want to risk your and your lover's intimate health over the sake of a few £/$? Plus, they don't last as long anyway, with tears forming in the material after several play sessions rendering them seriously unsafe for continued use and fit only for the bin.
Get more in-depth information on this subject in my big sex toy materials guide, which discusses the various types as well as issues such as porosity, lubricant compatibility and phthalates.
Do yourself a favour and opt for silicone dildos if you're looking for flexible types –silicone is non-toxic, non-porous and completely body safe. Metal and glass dildos are available too, for those who prefer unyielding rigidity in their sex toys. Glass and metal sex toys are safe to use internally, plus can be warmed up or cooled down prior to use for exciting temperature play options.
Enjoy all our dildo reviews then shop for fabulous body-safe options here:
Vibrators
The world of vibrators is massive and varied. Depending on the type of vibrating stimulation you and your lover enjoy, you'll no doubt be able to find a vibrator to satisfy your needs. We've already looked at clitorally stimulating vibes above, but if you're looking for vaginally penetrative vibrators you'll also be spoilt for choice. There are slender and petite vibrators, wider and longer classic vibes for thrusting penetrative fun, and G-spot vibrators to help them achieve that elusive, powerful orgasm.
Rabbit Vibrators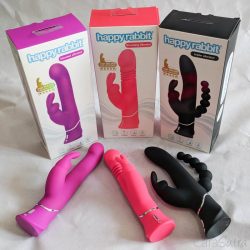 As well as traditional vaginally penetrative dildos and vibrators, there are plenty of rabbit vibrators you can use on or with a partner for dual stimulation of the vagina and clitoris. Rabbit vibes aren't for everyone, some people are more comfortable with separate toys for their vagina and for their clitoris.
Don't do what I did and be put off all rabbit vibrators for years just because of one bad experience, though. Rabbit vibrators vary greatly in size and style; research by reading our rabbit vibrator reviews to get a better idea of which ones may work for you and your partner.
A lot of rabbit vibrators are still fairly phallic in shaft design. For smooth curves which satisfy, try the Swan Whooper and the Loving Joy DUA -I love both of them.
I also enjoyed trying out the Lovehoney Happy Rabbits and the Ann Summers Moregasm Plus Vibrators, and you can read my guide to rabbit vibrators for more. Shop the most up-to-date designs of rabbit vibrators through the links below:
Love Eggs & Jiggle Balls
Internally worn sex toys such as love eggs and jiggle balls provide textured, weighted and/or vibrating stimulation in her vagina whether as a precursor to your erotic pleasure session or even during sex itself. Try a remote-controlled vibrating love egg to add an even greater thrill – handing over control of the internal stimulation is such an incomparably erotic experience.
I've written a big guide to jiggle balls and love eggs, plus you can enjoy all our love egg reviews. Shop for the styles that suit you best through the links below.
Anal Sex Toys  
More and more people are discovering that what was once deemed 'forbidden fruit' actually tastes quite exquisite. Have you tried anal play yet? Did you know that some women can orgasm through anal stimulation alone? I'm one of those women (I know, lucky girl!), which is why I'm such an advocate of other women at least giving it a go. You may find that one or both of you love it and want to incorporate anal stim into your future sex sessions.
Anal sex toys aren't all scary huge things that scream 'lasting mental and physical scars'. There are slender anal probes, anal beads and butt plugs especially designed for beginners, made from body safe materials and with the safety of a flared base.
Butt Plugs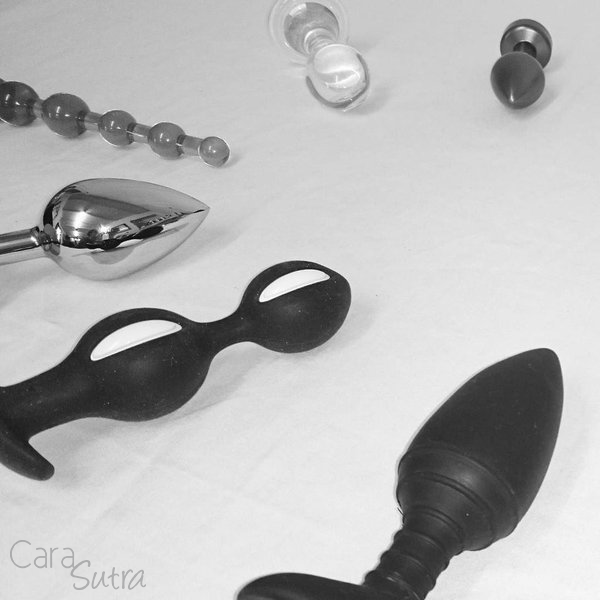 Butt plugs are usually tulip shaped, with a rounded pointed tip for easy insertion, the widest part of the 'body' to provide that sensational full feeling, a slim neck then the flared base for safety. As mentioned previously, make sure you choose a body-safe material when shopping for butt plugs. Not just for the longevity of the sex toy, but for you and your lover's intimate safety. You can find fantastic butt plugs made from smooth, flexible silicone and cool unyielding metal and safe borosilicate glass.
If in doubt about the best size, go smaller than you think. And always, always use lube. This part of the body doesn't produce its own natural lubrication during sex like the vagina does, so use lube and ensure there's only pleasure, not chafing or discomfort.
Anal plugs are fun to wear not only through a sex session to add extra sensations during partnered play, but under clothes during the day to keep things kinky. Just make sure you choose one which is comfortable to sit down in!
Read our butt plug reviews, then shop for yours:
Anal Vibrators
Vibrating anal toys might be in the style of a vibrating (as opposed to the traditional static) butt plug, or a vibrator specifically designed for anal use with a flared base for safety. You can find vibrating anal beads which are extremely fun to use during sex and intimate playtimes –just make sure there's a handle or loop to keep hold of so the toy isn't fully enveloped.
Read our anal vibrator reviews, then shop for yours:
Butt Plug Tails
For a kinky aspect to anal play, why not try a butt plug tail? I'm not a furry fetishist but I do enjoy the simple fun element of wearing and swishing a furry tail attached to a butt plug I'm wearing. You can find lots of different styles now, as our butt plug tail reviews show.
Whether you want to feel like a cute bunny rabbit, kinky kitten, mane-tossing pony, magical unicorn or get a bit foxy, there's a tail plug out there for you. Not to mention many more creatively kinky styles.
Shop for yours:
Shared Pleasure: Strap-On Harnesses & Dildos  
If you're a fan of strap on sex then you've got more harness choice now than you ever had before. Dismiss worries of only being able to find clunky, uncomfortable and probably even toxic strap-on sex toys. There are incredibly beautiful, body-safe, easy and comfortable to use strap on sex sets for women which will meet your needs.
Related: My big guide to strap-on sex harnesses,
plus my big guide to strap-on compatible dildos
Strap-On Harnesses
Strap-On harnesses don't have to be boring, I have various types including soft red leather and corset back styles, both of which are so pretty and I love wearing them. Team with a top quality dildo in the colour, size and style of your choice and slip through the O ring to secure. Other strap on harnesses may come with a little pocket into which a bullet vibrator can be placed, giving the wearer clitoral stimulation during sex with her partner.
Shop for strap-on harnesses:
Strap-On Compatible Dildos
Many dildos are naturally strap-on harness compatible because they have a flared base. This has the additional benefit (as well as forming a practical handle and rendering the dildo safe for anal play) of meaning you can secure the dildo to a harness by way of an O-ring.
If you ensure you select a dildo that's not only the right material and size for you/your partner but is also strap-on compatible, you'll be investing in a fabulously versatile sex toy with wide-ranging pleasure potential.
Shop for strap-on dildos:
Strapless Strap-Ons
Not into strapping up for sex? Try a strapless strap on. These clever sex toys have a shaped probe worn in the vagina and a protruding dildo which can then be used on her partner to deliver vaginal or anal penetrative pleasure. Brilliant examples include the Feeldoe strapless strap ons and the Fun Factory Share Vibe.
You could go strap-on adventuring with super fun styles like a thigh strap on, or even a chin strap on which is used during oral sex to deliver internal stimulation while you're focusing on lapping her clitoris and the rest of her vulva).
Shop for strapless strap-ons:
Double Ended Dildos
Another very traditional lesbian sex toy is the double-ender. Make sure that double ended dildos you buy are supremely flexible (you both want to be able to move during sex without any discomfort) and body safe materials such as non-porous silicone are best.
Shop for double-ended dildos:
In Conclusion
Although I've taken you through many different kinds of sex toys which bisexual and lesbian women can enjoy sharing with their partner, sex toys are made for anatomy – not sexuality or gender. You will find that many (but admittedly not all) sex toys made for people with a clitoris, vagina, breasts will suit your needs because these products have been created to stimulate those parts of the body.
What money can't buy is a creative imagination to use with your partner. As I said at the start, sometimes what may seem like the simplest accessory can be used during foreplay and amazing lesbian sex to excite your partner like never before. Try introducing some role-play, bedroom bondage or drawing out erotic foreplay instead of diving straight into sex and you could soon discover new dimensions to your intimate relationship which you both thoroughly enjoy.
Where To Buy Lesbian Sex Toys 
It can be difficult to know where to start shopping for lesbian sex toys -but don't worry, I have the best recommendations for you. Lovehoney is an internationally renowned and trustworthy adult products retailer where you can find plenty of variety when it comes to sex toys for lesbians as well as many other types.
Click through the buttons below to shop for lesbian sex toys at Lovehoney:
If you'd like to shop at a store specifically for bisexual, queer and lesbian women, check out Wet For Her. They have a lovely collection of silicone dildos and vibrators, plus strapless strap-ons and a lot more. You can read all our Wet For Her reviews on the blog too, for my personal insights.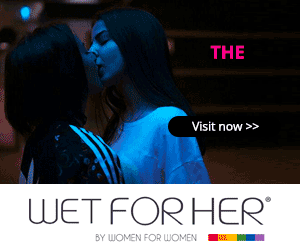 Contains affiliate links