What Do SSC And RACK Mean In BDSM?
BDSM kinksters have hugely varied kinky interests, fetishes, and types of power exchange relationships. It's unsurprising, then, that there are also various schools of thought and approaches to how the consensual power exchange in D/s relationships is enjoyed. Two of the biggest consensual play templates in BDSM are SSC and RACK. What do these acronyms stand for, what are the main differences, and which one do you feel most comfortable with?
Consent is a mandatory tenet of both, of course, but let's examine their other features and differences in greater detail.
What is SSC in BDSM?
SSC in BDSM stands for Safe, Sane and Consensual. Safety is the key element of this BDSM play ethos. Everyone, but especially the submissive (as they're usually the one placed into vulnerable situations), must be and know that they are completely safe at all times.
A safe word and/or traffic lights are in place at all times throughout the power exchange sessions.
What is RACK in BDSM?
RACK in BDSM stands for Risk Aware Consensual Kink. Although, as we've mentioned, consent is the non-negotiable foundation of all BDSM activity, those who prefer the RACK method of D/s interaction find risky behaviours and situations part of the thrill and appeal.
Those who subscribe to the RACK method of play might choose not to have a safe word in place* during BDSM sessions, and/or feel that there is no need for traffic lights to be in play, either.
What Are The Main Differences In Reality?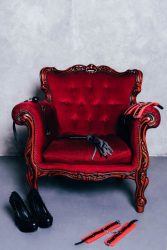 SSC (Safe, Sane and Consensual) is seen by many in BDSM to be the basic standard of play. It's an ideology which keeps everyone aware, safe and happy with proceedings 100% of the time.
RACK (Risk-Aware Consensual Kink) is an acknowledgement that BDSM activities might always not be completely safe – and everyone consents to this, being of sound mind. Those involved, despite being aware of the risks, goes ahead with the situation, behaviours or activity anyway.
In the RACK ethos of BDSM, the understanding is that D/s enjoyment is less clear-cut than the "safe" or "not safe" world of SSC; rather, there is "safer" and "less safe". It's therefore seen as a riskier method of play, but with more freedom and less limits, should you accept those risks and consent to playing in this way.
Other BDSM Play Styles
As well as the commonly known SSC and RACK, there is also PRICK (yep, really). This stands for Personal Responsibility, Informed Consensual Kink –and it's all about taking personal responsibility for your actions, being fully aware of the risks.
An older term in BDSM is the three Cs: Committed, Compassionate, Consensual –which is pretty self-explanatory.
Active Consent Is Key
As I mentioned previously, consent is the mandatory and common factor in all BDSM schools of thought, as it should be in any form of intimate interaction between people –whether kinky, sexual, emotional or other. And this isn't an assumed consent, where the lack of verbal or physical refusal is seen to mean "yes", this is active consent, where all involved make it crystal clear they are consenting to what's going on.
Not sure how someone really feels about a suggested method of play, exploring a certain kink or engaging in a particular kinky or sexual activity? Ask them. Stop trying to be psychic. You won't do any damage or lose face because you've cared enough to speak up and ask how your D/s or sex partner really feels about something, whether during or outside of the heat of the session. You can certainly do a lot of damage 'hoping' they're ok with what you're doing and carrying on regardless, however.
Safing Out
I've mentioned safe words and traffic lights a few times in this SSC and RACK explanatory guide. What are they?
A BDSM safe word is a word you agree upon with your sex or play partner which will mean no or stop. It's a word you wouldn't usually say as part of sex or BDSM, therefore the words 'no' and 'stop' need replacing with something else. Something unusual, and which can immediately be identified as genuinely meaning the person wants proceedings to stop immediately.
BDSM traffic lights are basically what you'd imagine them to be. The colours of typical road traffic lights are used as verbal communication to tell your partner how you really feel about what's going on at the time, during sex and/or BDSM sessions.
Click to read my in-depth guide to BDSM safe words and traffic lights elsewhere on the blog.
However You Play, Stay Safe
Whether you prefer to play within the pre-negotiated and clear structure of mutually understood limits of SSC, or take personal responsibility for your safety through RACK or PRICK schools of BDSM play, it's clear that consent and safety are paramount.
Are you a SSC or RACK player? Or do you change according to who you're enjoying D/s activities with? Do you always have a safe word, only with certain people, or never have a safing out method? Feel free to leave your comments below.

*That said, many RACK players do have safe words and safe out methods in place –I don't want to generalise, but it's difficult not to when describing tenets of BDSM (such an individual taste thing) in a blanket fashion.