Valentine's Day Sexy Gift Guide 2020
Welcome to my Valentine's Day sexy gift guide! Valentine's is traditionally the time of year when lovers show each other the depth of their loving feelings by way of a card, a gift, spending time together doing something special and being generally loved-up. What do you buy the one you love for Valentine's Day this year? Have a look through this feature which showcases the best and most romantic gift ideas for some sensationally seductive inspiration. Don't forget you can also click through to discover this year's Valentine's Day sexy shopping offers.
Valentine's Gift Ideas 2020
To kick-start my Valentine's Day sexy gift guide, here's a few of my absolute top favourite romantic gift ideas this year.
Best Sexy Gifts For Couples
No Valentine's Day sexy gift guide is complete without a round-up of the best sexy gifts for couples. Many couple's sex toys are still marketed with hetero couples in mind, and PiV sex. However, sex toys are to pleasure anatomy, and aren't specifically made for particular genders, sexualities or relationships. Simply enjoy them in the way that feels best for you and your partner.
Hot Octopuss Pulse Duo
The Hot Octopuss Pulse Duo is a waterproof, rechargeable and ingenious pleasure tool which delivers orgasmic sensations to their penis while offering a variety of powerful constant or pulsing vibrations to a partner. These are easily controlled via the included wireless remote control. There's also a turbo function for when you want that extra boost at just the right moment. The Hot Octopuss Pulse Duo will tip you both over that orgasmic edge in a way you've never experienced before.
Click to read our Hot Octopuss Pulse Duo review, and all our Hot Octopuss reviews.


We-Vibe Chorus
The We-Vibe Chorus is the latest innovation in shared pleasure during PiV sex from award-winning couples' sex toy makers, We-Vibe. This is the most intuitive couple's vibrator We-Vibe have ever made. The squeeze remote allows you to set the vibration you both feel according to your grip, while the cleverly shaped insertable vibrator delivers powerful stimulation to the G-spot and penis during sex. It's silicone, flexible, waterproof and rechargeable, and connects to an app for long-distance shared pleasure – a top of the range, luxurious gift to you both.
Click to read all our We-Vibe sex toy reviews.
Lovehoney Seventh Heaven Romance set
The Seventh Heaven Romance Set gives you an entire week of sexual pleasure treats to discover and enjoy with your partner – or will you be able to hold off in order to open all seven doors on Valentine's night? This set represents fantastic value, with tie-and-tease treats, erotic massage accessories and a We-Vibe couple's vibrator worth £65 by itself. A supremely fun, erotic set which will ensure a memorable and romantic Valentine's Day this year.
Lovehoney Desire App Controlled Knicker Vibrator
A sweetly romantic choice from Lovehoney's seductive and effective Desire sex toys range. The Lovehoney Desire App Controlled Knicker Vibrator is a deluxe version of the traditional panty vibe, and then some. This set comes with gorgeous and classy tie-side knickers, featuring a pocket into which the smooth silicone vibrator is inserted to deliver vulval and clitoral stimulation. Or you can use in a pair of favourite panties from your lingerie drawer. Being able to control it with the Desire app means sexual pleasure can be enjoyed as a warm-up by yourself, or hand over control to your partner for some seriously saucy –possibly even outdoors- fun.
The vibrator is fully waterproof, is USB rechargeable, has a travel lock and deluxe zip-up case, and features a whole host of vibrating intensities and patterns.
Click to read our Lovehoney Desire App Controlled Knicker Vibrator review.
Loving Joy Versa Flexible Vibrator
The Loving Joy Versa is a fully flexible vibrator, meaning that –as its name suggests – it's an extremely versatile sexual pleasure tool. Versa can deliver clitoral, g-spot and vaginal stimulation during solo play, and be bent to be enjoyed as a panty vibrator. When bent in a c-shape it can be enjoyed as a couple's vibrator, inserted into the vagina to deliver internal stimulation as well as pleasure to the penis during PiV sex. Or, it can be enjoyed during penis masturbation, whether alone or during foreplay with a partner.
The Versa is rechargeable, has a range of vibrating options, is fully waterproof and is made from smooth, body-safe silicone for a luxurious orgasmic experience.
Click to read a Loving Joy Versa review.

For Kinky Couples
Electrastim AXIS Elextrosex Stimulator and ElectraPads Set
For electrosex fans, the Electrastim AXIS Set offers a mind-blowing variety of sexually stimulating options, and comes highly recommended by e-stim experts such as Joanne's Reviews. Read her thoughts & more recommendations in her comprehensive introduction to e-stim & the Electrastim electro sex toys range.
This compact, dual control box is the only e-stim unit you really need, although you can of course add various e-stim accessories if you wish. AXIS comes with electro pads and everything you need to get started enjoying some shared elecrosexual stimulation. AXIS can even be updated periodically by plugging it into your PC and downloading the latest patterns and other features.
Click to read our Electrastim reviews.
Stainless Steel Anal Hook
There's something seriously sexy about anal hooks, so why not discover a new way to experience eroticism this Valentine's Day by trying out a Stainless Steel Anal Hook. With the help of your favourite lube, the spherical tip is inserted into their arse keeping them, quite literally, hooked.
The cold sensation of smooth metal sliding into position adds to the intensely sensual experience. An anal hook can be included as part of your power exchange sessions, whether you have a suspension rig or would rather enjoy the sensation with lighter tie and tease during bedroom bondage.
Click to read our Stainless Steel Anal Hook review.

Spreader Bar Kit
A spreader bar gives incomparable kinky restraint options. You and your partner will enjoy intensely erotic play sessions which allow you to experience absolute vulnerability during role-play and sex. Being bound and spread has the added benefit of strengthening the trust and loving bond between you, as well as providing exciting, adventurous sex options.
A Spreader Bar Set with wrist and ankle cuffs offers luxury and versatility in your shared pleasure sessions.
Click to read our spreader bar reviews.

NS Novelties Unicorn Rainbow Tail Butt Plug
I'm a huge fan of kinky tail plugs, and this one is a firm favourite after I reviewed it last year. The NS Novelties Unicorn Rainbow Tail Plug features a smooth silicone butt plug, to which a multi-coloured, swirly swishy tail is firmly attached. There are many other types of tail plug available – pony, puppy, piggy, fox and more – but the swirl and dazzling colours of this one captured my kinky heart.
Wear during foreplay and sex for a distinctly different play session in which you truly enter the realms of fantasy.
Click to read our NS Novelties Unicorn Rainbow Tail Plug review.

Kinklab Leather Vampire Gloves
I've had my Kinklab Leather Vampire Gloves for many years and we still use them on a regular basis, meaning they're fantastic value for money. The soft, supple leather ensures the wearer remains in blissful comfort, while enjoying the intoxicatingly tormenting sensations they deliver to their partner by means of the small sharp pins protruding through the outer of the material. Perfect for teasing and sensation play, the gloves add delicious bite to gentle strokes over the fleshy areas of their body such as the back of their thighs and their buttocks. Use with tender care and active consent.
Will they be free to roam as you torment, or will you keep them bound and quivering in anticipation and lust?
Click to read our Kinklab Leather Vampire Gloves review.

Top Romantic Gifts For Him/Her
I'm continuing this year's Valentine's Day sexy gift guide with the best romantic gifts for him and her.
For her
Hot Octopuss Amo Bullet Vibrator
Hot Octopuss are always coming up with new and ingenious ways to experience the height of sexual pleasure. Their multi award-winning creations are luxurious and effective, and pride themselves on being inclusive. The Hot Octopuss AMO is a bullet vibrator which delivers orgasmic clitoral stimulation, but which can be used for precisely targeted pleasure all over your – or their – body. AMO is lovingly contoured, rechargeable, waterproof, powerful and whisper-quiet.
Enjoy my big guide to bullet vibrators feature for more petite but powerful vibe options.

Lovehoney Desire Luxury Rechargeable Wand Vibrator
There's an entire world of magic wand vibrators out there, but the Lovehoney Desire Luxury Rechargeable Wand Vibrator offers a new stimulating tip style which you may not have seen or experienced before. It's also staggeringly effective, as I found out during my review of this very wand vibe last year. This full-size wand is made with body-safe, smooth silicone, is rechargeable, cordless during use and fully waterproof. There are plenty of vibrating options, a travel lock feature and it comes with a gorgeous, deluxe zip up case.
The Lovehoney Desire Wand is strongly recommended for powerful orgasms every time.
Click to read our Lovehoney Desire Luxury Rechargeable Wand Vibrator review.
Womanizer X Lovehoney Pro40 Rechargeable Clitoral Stimulator
This style of sex toy intrigued me from the start, as you can see from my clit suction sex toys feature. The undulating waves of air from the 'nozzle' deliver unique sensations to the clitoris when it is placed over that part of your anatomy, forming a seal between the toy and your body for best performance. The Lovehoney x Womanizer Pro40 is an intensely effective version, with the collaboration between two of the biggest names in sex toys ensuring that this vibrator is an orgasmic winner.
For clitoral stimulation fans, the Womanizer Pro40 is a must. Read more in my Womanizer Pro40 feature, and my Lovehoney x Womanizer Pro40 review.
Loving Joy Power Bullet
I know I keep banging on about this bullet vibe, but I have good reason. The Loving Joy Power Bullet Vibrator is one of my all-time favourite bullet vibrators. It's so incredibly powerful without being dependent on high-frequency, buzzy vibrations for that power. There's no compromise when it comes to the power element of this sex toy.
The Loving Joy Power Bullet is rechargeable, waterproof, rigid for intense, unyielding pleasure and a full-body orgasm you won't forget in a hurry. It's also extremely quiet during use, and easy to operate. My regular go-to for strong, clitoral orgasms.
Click to read my Loving Joy Power Bullet Vibrator review, plus my Loving Joy sex toys spotlight feature.

Zumio Intense Clitoral Stimulator
Another top pick for clit stim fans, the Zumio was designed to deliver extremely precise and powerful clitoral stimulation by way of the small spherical vibrating tip atop the toy's main, slender arm. Instead of simply vibrating, the 'Spirotip' whirls in circles, so fast that to the eye it's a blur of vibration. Zumio is waterproof, rechargeable and extremely quiet during use.
Choose the Zumio S if you require moderate to high vibrating stimulation, or the Zumio X if you're an intense pleasure lover; a power queen.

For him
Hot Octopuss Pulse Solo Lux
Yes, Hot Octopuss are featuring in my Valentine's Day sexy gift guide yet again – they're just that good! We tried out and reviewed the Hot Octopuss Pulse Solo Lux recently and were really impressed – I think it would make a fabulous present for the penis-pleasure fan in your life.
The Hot Octopuss Pulse Solo Lux delivers fantastic penis stimulation and is easily controlled by the wearable remote control. It's easy to use, effective at giving orgasmic pleasure, and it's rechargeable with a fully waterproof main unit. Solo Lux can be used from flaccid, has a momentary boost option, and can even provide hands-free orgasms for extra erotic play sessions.
Click to read our Hot Octopuss Pulse Solo Lux review.

Fleshlight Pink Lady Stamina Training Unit (STU)
Fleshlight are incredibly well known in the world of penis masturbators –and beyond- and rightfully so. If you're going to gift them a Fleshlight this Valentine's Day, I strongly recommend the STU aka Stamina Training Unit. Having felt one of these up for myself, albeit sadly without my own penis to lube up and shove into that enticing, tight hole and bumpy canal, I can safely say this is a supreme version of Fleshlight. I mean Fleshlights are amazing at delivering intense penis-based pleasure and powerful orgasms anyway, but the Fleshlight STU is something else.
You have to feel it to believe it. Get one! ?
Click to browse all our Fleshlight reviews.
TENGA Egg 6-Pack Penis Masturbator Gift Set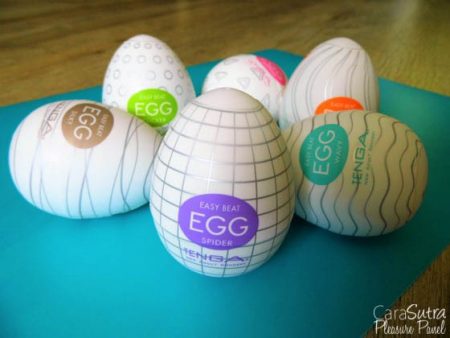 TENGA Eggs are stretchy, textured penis masturbators contained in a plastic outer egg-shaped packaging. They're popular, effective, and come in a variety of inner texture styles. We've tried several TENGA Eggs and never been disappointed. TENGA Eggs are made from TPR so they're extremely stretchy and comfortable (when using water-based lube during masturbation with them) and last for a handful of sessions. Use for solo stimulation or share the pleasure during couple's foreplay.
This TENGA Eggs Set is a fabulous gift for all penis-owning pleasure-hunters.
Click to browse all our TENGA masturbator reviews.
Nexus Revo Slim Rechargeable Rotating Prostate Massager
Fancy dabbling in a spot of prostate play? P-spot massage can result in intense, unforgettable, full-body orgasms thanks to skilful massage of the prostate gland, located inside the anal area. P-spot pleasure experts Nexus offer a range of prostate massagers which are proven effective thanks to many honest and unbiased user reviews. They've also won several industry awards and accolades.
The Nexus Revo Slim Prostate Massager is sized for even anal beginners to enjoy, while the smooth, body-safe silicone slides comfortably into place with the help of some water-based lubricant. Enjoy low to high vibrations massaging your prostate to bliss, easily controlled via the included wireless remote control. The toy is fully waterproof and rechargeable, with a tip that rotates inside you for truly breath-taking sexual pleasure.
Click to read all our Nexus prostate toy reviews.
Hot Octopuss Atom Plus Vibrating Cock Ring
Final Hot Octopuss recommendation in this guide, I promise! I simply couldn't leave out the Hot Octopuss Atom Plus after our amazing experiences with it. This flexible, silicone vibrating cock ring has a slightly unusual shape –it's larger than your standard cock ring in outer size, while retaining that firm grip on the base of their penis shaft. It's waterproof, rechargeable, multi-function and provides perineum pleasure as well as penis stimulation thanks to the dual motors within.
Bonus: The Atom Plus is one of the few vibrating cock rings able to give us a hands-free simultaneous orgasm during PiV sex. We usually hate vibrating cock rings, but we love this one!
Click to read our Hot Octopuss Atom Plus review.


Sexy Lingerie Gifts
Midnight Mirage Lingerie Collection
Get set for an explosive evening this Valentine's Day with Lovehoney's new Midnight Mirage lingerie collection.
Treat yourself or your partner to a super sexy set featuring removable suspender straps, waist-cinching bones and a matching thong. These gorgeous designs make fantasies real.
Enchanted Lingerie Collection
Lovehoney's Enchanted lingerie range is presented in bold lipstick-red and sensual black lace. You can even shop by cup size for the perfect fit.
Boudoir Belle Lingerie Collection
Set pulses racing this Valentine's Day with Lovehoney's best-selling Boudoir Belle lingerie collection in sweetly romantic blush pink.
Step up your lingerie game with a blushingly beautiful lingerie set. Inspired by the show girls of the Moulin Rouge, each piece is delicately adorned with eyelash lace.
Belle Amour Lingerie Collection
Lovehoney's Belle Amour lingerie collection provides you with the ultimate sexy ensemble.
Designed specifically for sizes 18-28, Belle Amour really is the perfect plus size bedroom lingerie. Flaunt your curves in luxury lingerie this Valentine's Day.
Hot for You Lingerie 
Lovehoney's Hot For You lingerie and underwear changes colour as the temperature soars, leaving them in no doubt as to your steamy intentions. There's a bra set in standard and queen-size options, as well as a sexy thong for him.
These fun, flirty and fabulous additions to your Valentine's lingerie drawer are sure to keep proceedings sizzlingly hot through the night.
Fierce Clothing: New Additions
I adore Lovehoney's Fierce clothing collection – it's darkly sexy, alluring and seductive, with wet-look black material that stretches to flatter and highlight my curves while remaining extremely comfortable. I have the Fierce Zip-Around Body and Fierce Wet Look Dress, and absolutely love them both.
Now, new for Valentine's Day, Lovehoney have added some new styles to the Fierce clothing range.
Check out the entire Fierce clothing range through the links below – these confidence-boosting outfits will help bring out your inner vixen this Valentine's Day.
Click through to enjoy all our sexy lingerie reviews.
---
This has become an even more comprehensive Valentine's Day sexy gift guide than I intended – when I know about great sex toys and bedroom accessories, I can't help but rave about them at length!
If you're still undecided about which romantic gift to treat your lover to, don't forget you can purchase Lovehoney Gift Vouchers (here in the USA / here in the UK)
-plus there are SheVibe gift certificates available too.
Valentine's Quiz
Who doesn't love a fun quiz! Thanks to Lovehoney for putting this special Valentine's quiz together for my readers:
I hope you all have a wonderful, romantic, orgasmic and happy Valentine's Day 2020!
Contains affiliate links