In my years writing about sex I have dealt with so many products and my relationship with those products has grown and evolved. From the very beginning when I was super-excited for anything anyone would send me and thus ended up amassing a large collection of things I literally never use to recent years that have seen me get pretty selective about what enters my house. Another shift I've seen in my relationship to sex products is my willingness, or even need, to use "sexy" stuff in ways that have absolutely nothing to do with sex. If something can enhance my sex life and also serve a practical non-sexual function, I am in! Today I've teamed up with the folks from Betty's Toy Box to tell you about some of my favorite non-sexual uses for sexy products! Some are obvious, others are fun surprises, and at least one is not-at-all practical (but is still fun!) but they all make one thing clear, I love a good double-duty sex product! Okay, here goes:
Wand massagers are actually, you know, massagers!
As someone with a lot of muscle tension and body pain, I was a bit embarrassed by how long this took to figure out! These days I routinely bust out a wand to calm my tight upper traps and I have even been known to place two wands on my bed so I can lay on them and have one massage each side of my tight back.
Here are some of my wand massagers:
Riding sex machines as a hip massager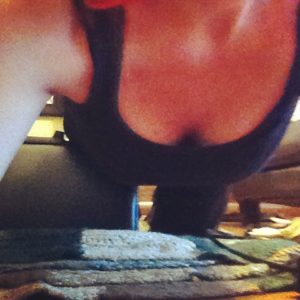 Let's face it, the hip joint is kind of big and, especially for those of us who spend our lives at desks, it can get super-tight. In 2014 I found that lying face down with one of these high-powered beauties underneath the affected hip did a terrific job of relaxing/releasing the problematic hip tightness.
Check out the Cowgirl Premium Sex Machine
Liberator ramp as dog accessibility device
A couple of years ago on Valentine's Day my partner and I made a blanket for in my living room and incorporated several Liberator products. My dog immediately employed the ramp as his route up onto the couch. Then in early 2017 after a terrifying series of emergency vet visits we found out he was having some pain due to degenerating discs in his little puppy spine. The vet advised us not to let him jump down of furniture anymore and that's why my liberator ramp is permanently installed in my living room. It is my dog accessibility device! I only wish I hadn't gotten it in purple…
Get a Liberator Ramp here!
Liberator wedge to stop nighttime coughing
We've all been there, you've got a bad cold and need your rest but you aren't sleeping well because you keep coughing. My doctors always recommend sleeping with my head propped up in this situation. I had never found a successful way to do it though. Pillows ended up smushed down, my neck ended up at an odd angle, or I wound up in a position that was way too close to sitting upright for me to sleep at all. I know some folks who have resorted to propping up their entire beds so they could still sleep but be at that all-important angle but I could never bring myself to construct something I felt would achieve this effect safely. Then last year, during a bad cold, I had an epiphany, the Liberator Wedge is made to do this! Okay maybe not this specifically but it is meant to support bodies in different positions without getting flattened by body weight. Cut to me sleeping propped up by a Liberator Wedge for a couple of weeks. It worked perfectly!
Get a Liberator Wedge here!
Pure Wand as home security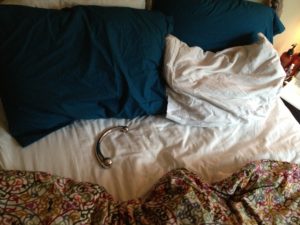 This one has become something of a running joke among sex educators but, seriously, the nJoy Pure Wands are terrific things to grab when you are feeling a bit less-than-secure because they, without a doubt, could serve well as weapons. The picture to the left is from my first night in my first Portland apartment when I, alone in a new place and acutely aware of the facts that my apartment was on the first floor and the bedroom windows overlooked a parking lot, chose to sleep with the heavy steel dildo in my bed, just in case. I tweeted about it at the time and then, almost 3 years later the topic came up again when I was staying at Elle Chase's house, sleeping on the couch, under the front window, and we were awakened by the doorbell at 3am (we later found out it was a drunk guy who had been going up to houses on the block trying to get people to let him in):
Scary noise at night. No worries, @theellechase has the same home security system as me! #sexgeeklifehacks #purewand pic.twitter.com/YG5ZFL1dLE

— JoEllen Notte (@JoEllenNotte) January 12, 2016
Get a Pure Wand here!
Bullet vibes as sinus clearers
As someone who finds small bullet vibes sexually useless (I'm a girl who needs BIG vibrators), it is surprising how many I have in my house. The main reason? They are fantastic for clearing the sinuses when you are sick. I like to pull up this set of instructions and bust out one of my favorite bullets to get the job done. Throughout cold and flu season it's pretty common to find at least one bullet vibe on my coffee table for this very reason.
My favorite sinus-clearing vibes:
Suction cup dildos for towel storage and car repair?
I've heard multiple fun non-sex uses for dildos with strong suction cup bases (towel hanger and doorstop are the first that spring to mind) this is however, my all time favorite, car dent removal! I'll let this video take it from here:
I've always found that Maia dildos have remarkably strong suction cups. Seriously, I once lifted a table with my Propora D1!
Silicone lube for EVERYTHING
Seriously, I have found a startling array of non-sexual uses for silicone lubricants. Among them:
Making my hair smooth and shiny
To unstick zippers, locks, etc
Keeping my little elliptical machine from squeaking
Removing eye make up
Add it to the list! I just used silicone lube to take off my eye make up!

— JoEllen Notte (@JoEllenNotte) June 29, 2014
For more, check out this video I made a while back with sex educator Kate Kenfield
Get some silicone lube here!
The not-at-all practical wand massager book end
Okay, so this isn't actually a very functional way to use this product and it only *sort of* works for me because I have the stand, but I definitely use a Le Wand as a book end. I have no problem admitting that this is not practical but I'm including it because, damn is it cute!
Get a Le Wand here!
So, there you have it, folks! These are some of the many non-sexual uses I've found for sexual products. Now you can go forth and kill the mood (using all manner of sexy things to tend to your awful cold, for example) just like I do!
This post was sponsored by Betty's Toy Box. All opinions are my own.