When you write about sex, new products come into your life all the time! Some make an impression and some… don't. This summer I've come across some very cool stuff, some that I'm loving using and others that I'm really wanting to try. So, let's talk about what I'm loving (and crushing on) right now!
Current Loves
These are the products I have recently tried and am seriously digging on.
Sliquid Sea
I know, I'm super late to the party on this one! I've always believed that my preference for very thick water-based lube was non-negotiable. My bestie Elle Chase repeatedly told me how great Sliquid Sea is, often citing its "slip" and, I can admit this, I was always like "whatever, with your fancy lube jargon!". Now I must admit that she was right and I was super-wrong! Sea is just delightful and I figured out what Elle meant by "slip" (it's something I like!)
Get it here:
SheVibe, She Bop, Early to Bed, Lovehoney, Peepshow Toys
New Fun Factory Stronics
Okay, this sounds like one item but it's actually two. The Fun Factory Stronic Real and Stronic Surf! I'm a Stronic fan from way back and thought it was pretty cool when they came out with a smaller, lighter version last year but as g-spotting isn't my thing, I was not drawn to the Stronic G. Then I saw the Stronic Real and thought "well, I like penises…" and I really appreciate the size on the Real which a FF employee described it to me as a good "daily dick". I feel like companies are getting the message that big isn't always best. THEN I went to ANME and saw the Stronic Surf and remembered every time someone has looked at my beloved Stronic Drei and found all the texture too daunting and thought this could be perfect! I'm super into the new iterations of the Stronic, I feel like we've all grown together over the last 5 years.
Get the Stronic Surf here:
Fun Factory, SheVibe, She Bop, Lovehoney, Peepshow Toys
Get the Stronic Real here:
Fun Factory, SheVibe, Early to Bed, She Bop, Lovehoney, Peepshow Toys
Thank you to Fun Factory for sending me the Stronic Real and Stronic Surf to test!

Extendable Shoe Horn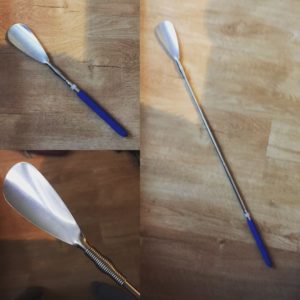 Okay, I recognize that this one sounds made up but I assure you, Ms. Jackson, I am for real. Another item that entered my life courtesy of the lovely Elle Chase, this is legitimately an extendable shoe horn but, it's also a fun impact toy! It has a satisfying bite, offers handle length options, and has a good amount of give thanks to the spring. It won me over in record time. Also, at $9.99, you can't beat the price!
Get it here:
Amazon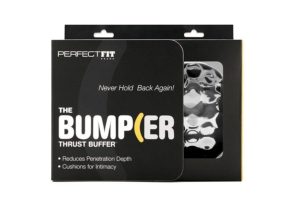 Perfect Fit Bumper Base & Donut
If you're like me, you've fielded A LOT of questions from couples where one partner can only handle so much penetration and their partner's penis size, by its nature, can lead to them experiencing pain during sex. Now, I could go on a whole rant about folks with penises who don't even try to hold back and, you know, not inflict pain on their partners, citing "excitement" and getting "carried away" but I won't. I will instead say that after years of pointing folks to small cock-ring-like things or advising them to cut down strokers, it's a relief to find a product that stops a penis from penetrating to deeply AND maintains a more natural feel for both partners. I have a weird habit of wanting to get right down to the hard boning and that, combined with my partners' endowment (as it were) has led me to sex-injure myself on numerous occasions. The Perfect Fit Bumper Base & Donut stopped me from hurting myself with dick and, while it doesn't feel 100% the same as sex without it, it still feels freaking great.
Get it here:
Betty's Toy Box
Thank you to Perfect Fit for sending me the Perfect Fit Bumper Base & Donut to test!

What I'm Crushing On
Now we've arrived at products that I have not actually tried but desperately want. These are cool things that are on my radar and you may want to have on yours as well!
Electro-Whip Neon Wand Attachment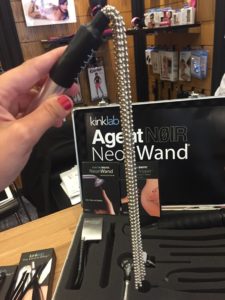 Okay, so this might get confusing. Earlier this year I feel madly in love with a product called the Electro-Whip Neon Wand Attachment but right now i'm talking about a different product that, apparently also goes by that name (this was news to me, I only found out when I went to look it up on Stockroom's site). While the Electro-Whip I reviewed in February featured silicone falls, this one is made of ball chain. I actually came across both of them at ANME in January, tried the silicone one and then commenced looking around for the ball chain version. Finally back at ANME in July I asked about it and discovered that it is not available for purchase on its own. The ball chain Electro- Whip is part of the Agent Noir Neon Wand Kit, which is a lovely kit but as I already own a Neon Wand and Power Tripper, buying a whole other kit seems a bit excessive. That said, I lust after this attachment, even more so since a partner busted out some ball chain, fashioned it into a flogger, and used it on me in conjunction with a Neon Wand. It was lovely.
Get the Agent Noir Neon Wand Kit here:
Stockroom, SheVibe
Addendum: Sometimes I write posts and then have to wait a bit before publishing and, due to a crowded editorial calendar, that was the case with this post. I wrote it at the end of August and on September 22 I received a package from the partner mentioned earlier. It contained something he made for me:
Tantus Bido Palm Floggers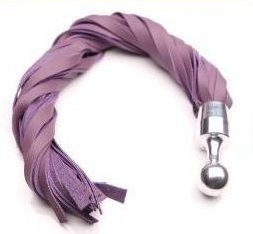 I first encountered these gorgeous floggers at ANME in July and I immediately became obsessed. They are gorgeous, beautifully made, feature very cool handles, and (based on the one whack I took on the convention floor) feel amazing. The floggers measure 22 inches and are available in black, brown, and purple (my favorite, don't @ me), individually or in pairs. WANT.
Get it here:
Tantus
Sliquid Soak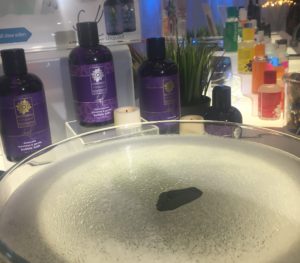 Look, I'm no stranger to bathing with Sliquid. My shower has contained Smooth and Splash at all times for YEARS. I've even been known to use the latter as a bubble bath. However, now that they have brought out a for-real bubble bath, you know me and my tastefully lit tub want to check that out!
Get it here:
SheVibe
Where indicated these products were provided to me free of change in exchange for my honest review. My review policy is simple: I will never lie about liking a product if I don't (in fact I probably won't even write about it) but when I do like something it's hard to get me to shut up about it.