First off, apologies for the title. I just couldn't resist. 
Now on to the Le Wand Petite. I've had quite the journey with Le Wand. We met and I seriously didn't like it. Then the amazing folks at Le Wand did my favorite thing a company can do: They took feedback and improved their product! Then I became quite fond of Le Wand. I gave one to my mom for Christmas, I put it on my 2017 Favorite Things list, we took a trip to Canada together,  I added a 2nd wand rack in my bedroom to accommodate my ever- growing wand collection including multiple (I believe I'm now at 5) Le Wands, and I even use one as a bookend on my desk. It's safe to say we've built a relationship here.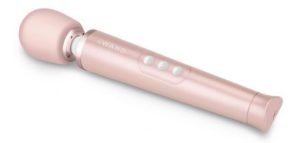 So, when I heard a smaller version was in the works, I was excited to see it. Admittedly, this whole experience smacks a bit of déjà vu. This time last year I was excited to be checking out the Doxy Number 3, a miniature version of my beloved Doxy Wand and, to be perfectly honest, I realized while mapping out this review that my feelings about the Le Wand Petite were incredibly similar to my feelings on the Doxy Number 3 and briefly worried that I was going to end up writing the same review. Then I realized that what was happening was that I really liked two products precisely BECAUSE they check a lot of the same boxes for me and that's a good thing! It gives me and by extension you, options! You get to pick based on your personal preferences rather than having to choose the only one that's good. Multiple decent smaller wands exist now and that's exciting- what a time to be alive!
What's the deal with the Le Wand Petite?
The Le Wand Petite is a smaller version of the original Le Wand. It features 10 vibration speeds and 6 patterns. It's USB rechargeable, shower friendly, and covered by a one year warranty. The Le Wand Petite has a smooth silicone head, a flexible neck, a travel lock, and three buttons -one to turn it on and increase speed, one to decrease speed and turn it off, and one to change patterns (I only ever use 2 of those buttons). It also comes equipped with a travel case and a Pleasure Guide that includes some fun wand education. I love the Pleasure Guide because in sex-ed world we are totally familiar with wands but what I've learned over the last couple of years is that for a lot of people wands are not a self-explanatory product (Case in point: I have a friend who thought sex toys existed to simulate intercourse and thus looked at wands in utter confusion.). Finally, the Le Wand Petite comes in two colors, Violet and Rose Gold.
So, now, let's discuss what I am digging about the Le Wand Petite!
It's Gorgeous
Look, I know that looks aren't everything but even when I thought I didn't like the Le Wand, I couldn't deny that it was a really pretty wand and the Petite basically looks like someone took a shrink ray to the original Le Wand. So much so that when I first received my Petite and posted a picture, a friend texted this: "Wait, that wand you posted is PETITE?! How big is the full size?" because without anything next to it, it just looked like a full size wand. Add to that the fact that it comes in pretty colors (violet and rose gold- I have the rose gold and it's lovely!) and you have a wand pretty enough for me to devote a paragraph to how pretty it is. Also, it's packaged beautifully because that's how Le Wand does things.
SUPER Travel-Friendly
Okay, so you probably gleaned from that last point that the Le Wand Petite is small and at 10 inches x 1.8 inches and 0.47 lbs (7.52 oz), that is definitely true. Add to that the rechargeable battery and the cute travel case (a Le Wand perk that I always enjoy) and you've got a wand that is super-ready to take its show on the road. It's so light and small that I tossed it in my suitcase on a trip where I was already bringing a full-size wand because, why not?
So light!
Okay, I know I just mentioned the weight (0.47 lbs or 7.52 oz, in case you forgot) in relation to travel-friendliness but there's another reason why the weight matters: the original Le Wand weighs 3.14 lbs and while I love it, there's no denying that a toy that is over 3 pounds is a toy that is going to be too heavy for some folks to use comfortably. Le Wand Petite's light weight makes it far more useable for those folks and that's pretty neat.
It Purrs Like a Kitten
Way back when, my very first take on Le Wand was "OMG, so loud!" Then they made it less loud, THEN they did something that I still don't understand but quite like- they made it so their wands don't really get louder as you increase the speed. The Le Wand Petite has this quality. It gets (maybe) slightly louder as you crank it up but really, the volume when you turn it on is pretty much the volume it stays at. For those of you who speak "decibels" the Petite clocks in at a max volume of < 72 dB.
Using It With A Partner (aka the point I always feel weird making)
Honestly, this exact topic came up last year when I reviewed the Doxy Number 3 and I felt weird about saying it then but it was true and is also true about the Le Wand Petite… so I'm just going to quote myself:
"Okay, so we talk all the time about how "all toys are couples' toys!" (agreed) and I am definitely not onboard for the "sex toys should be small and not interfere with your 'experience'" sentiments some companies swear by (Looking at you, Dame). Additionally I have  successfully incorporated large wands into my partnered sex life for YEARS, so there are several reasons why I have wrestled with coming out and saying "the smaller one is easier to use with a partner".  That said, as someone whose partnered sex life consists largely of P in V intercourse (and, yes, I do actually love it) well, for me it is. See, sometimes I struggle with getting something as powerful as I want it into the space that is left after everyone's bodies are where we want them- especially in face-to-face positions.  Many wands don't fit well in that set up (for me it's like "using a wand? doggy style it is!") or if they do, there's not enough power to get me there."
Like the toy I originally wrote those lines about, the Le Wand Petite is strong enough to work for me (something that cannot be said about a lot of toys) while being small enough to use comfortably in face-to-face positions and that matters to me.
Is There Anything About the Le Wand Petite That I Don't Love?
Okay, so I have one small quibble but it's not a flaw per se. I always, always, always want companies that make REALLY STRONG full-size wands to keep the same super-strong motors in their miniature versions when, in actuality, part of what allows the for the making of a smaller toy is a smaller motor. So, for me, I wish the Le Wand Petite could be everything it is but still have the motor from the full-size version. Now, let's get specific because WAY too many folks hear "less-strong motor" and immediately pole vault over to "inferior toy". The Le Wand Petite is a great toy and it's got a decent motor- it even gets the job done for me (and I have jack-hammer-like preferences) it just doesn't get it done as quickly or intensely as the full size version. So, if you know that you need super-strength, maybe go with the original Le Wand instead.
Final Verdict
If you are in the market for a smaller wand (maybe as a first wand or for travel or just because it's cute) or if you, like me, are Pokémon-ing you way through the world of wands (gotta get 'em all!) I definitely recommend checking out the Le Wand Petite.
The Le Wand Petite Rechargeable Massager retails for $135.00 and you can get yours at Peepshow Toys. SAVE 10% with code REDHEAD

Thank you to the folks at Peepshow Toys for sending me theLe Wand Petite Rechargeable Massager to test
I accepted compensation to review this product. The views expressed here are my own. My review policy is simple: I will never lie about liking a product if I don't but when I do like something it's hard to get me to shut up about it.