Did you all know that I have a bit of a thing for e-stim? Yeah, I do. I think I might have eventually fallen for e-stim and fire play anyway but I tend to connect my love of them to the quest to feel ANYTHING while coping with antidepressant sexual side effects. Anyway, let's move on to today's topic because it's got some roots. It all started a couple years back when during a visit to my favorite local sex shop I saw a chain flogger with a metal handle and thinking it looked like it could be used with the Neon Wand/Power Tripper and that would be super-fun. I asked and they did not know if that was true. I left without the flogger but never forgot about it. So, of course I was excited when, just a couple weeks ago, while strolling the floor at ANME I spied this display at the Kinklab booth: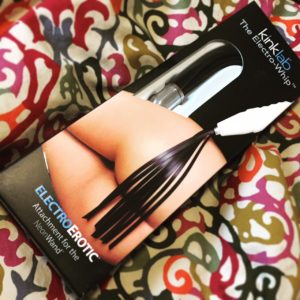 I ran right over and asked them my question about that initial flogger (answer "YES!")  and spent a good deal of time getting zapped with both the chain flogger attachment on the right and the silicone one on the left. Whenever anyone asked if I had seen anything exciting at the show, they got an earful about the Kinklab booth. About a week later, the folks from LuvToyz.com approached me about a review and you'd better believe I immediately looked to see what they had from Kinklab! Which leads us to today's review: The Electro-Whip!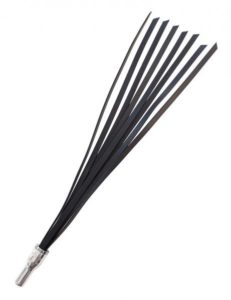 This thing is no effing joke.
So, first things first. The Electro-Whip is an attachment for the Neon Wand so, you need a Neon Wand to use it. It attaches super-easily, just slide the metal end into the slot (with the wand off and preferably unplugged- safety first!) and you are ready for action.
Even with no current running through them those little bitty falls that look like nothing much at all have some bite (it's always the quiet-looking ones, amirite?) but once you turn the wand on… well okay, maybe you've played with a Neon Wand before… you've touched the pretty glass bits and felt the little zappy things and it's all been fun. This is not like that.
The first thing I noticed about the Electro-Whip was that with the Neon Wand at the lowest possible setting there was a cracking sound. There's none of the gentle ease-in that other attachments have, once you turn the wand on, it's ON. Then when it was passed lightly over my skin (again, lowest possible setting!) the zaps were intense and there was a smell. What kind of smell, you ask? Burning hair. It immediately burned the little hairs on my arms.
THIS THING IS NO JOKE
Now, lest you think I'm saying these things like they are negatives, I am not. I LOVE my Electro-Whip! Does it hurt? Yes. Is it the kind of hurt that makes me giggle uncontrollably and whimper and end up in a cuddly puddle. YES. I love this thing and whole-heartedly recommend it to fellow lovers of e-stim and impact.
I would caution you to read all your instructions carefully, heed Kinklab's warnings to use a twirling motion rather than trying to Indiana Jones this thing and if you are really concerned, you can always use it with the Power Tripper instead – that is, have the person wielding your wand set up the wand and Power Tripper (which basically makes them conduct electricity- fun!) and hold the Electro-Whip by its metal end. That's how it was first used on me at ANME and it actually does, in my experience, tone it down a bit.
As for me, I'm preparing for a trip where I will get to see a parter with whom I often engage in e-stim play and we've already discussed this coming with me. Also, I'm still eyeing that chain flogger attachment….
The Kinklab Electro-Whip retails for $44.81 and you can get yours from LuvToyz.com
Thank you to the folks at LuvToyz.com for sending me the Kinklab Electro-Whip to test.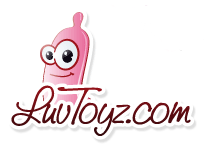 I accepted compensation to review this product. The views expressed here are my own. My review policy is simple: I will never lie about liking a product if I don't but when I do like something it's hard to get me to shut up about it.