I have to come clean about a couple of things as we head into discussing the Realm Drago Lock on Dragon Sword Dildo Handle and Draken Lock On Fantasy Dragon Dildo.
I have never seen Game of Thrones. (yes, I know it's wonderful or whatever, no judgment, I'm just not into it) I say that only to prepare you for the fact that I'm really not going to talk about it in this review.
I don't really use dildos very often but I LOVE collecting pretty ones.
I have a terrible habit of not familiarizing myself with the specifications/directions for toys I receive. Which leads to #4
I may have confusedly thought I received 2 dildos when this package arrived. Thankfully I figured it out pre-testing.
So, what's the deal with these toys?
Okay, first up, the Realm Drago Lock On Dildo Handle. Contrary to what I originally thought (and, frankly, contrary to its appearance) this is not a dildo in and of itself but rather a handle designed to work with any Lock On dildo to create a dildo sword. This bronze, polyurethane handle features a dragon heads on each side, a spiral texture on the grip, and a ridged attachment point to hold your dildo securely in place (seriously, I wish I'd seen the advice of adding lube or cornstarch to the dildo before attaching it– see, terrible at reading instructions!– as mine is seriously locked into place now.) Not only does the handle look cool and offer some fabulous fantasy role play potential, it also gives the user extra length and, well, a handle which, from an accessibility standpoint, is often helpful.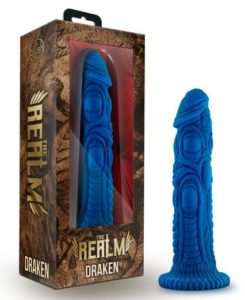 Now let's look at the Realm Draken Lock On Fantasy Dragon Dildo. I have to say, this is a very cool-looking dildo. It's made with a satiny silicone and covered in a "dragon-skin" texture. I personally love toys that have enough texture so you can feel it but not so much that it's uncomfortable so this is right up my alley (no pun intended… or maybe not?). The bottom of the Draken has a hole that fits on the Drago Lock On Dildo Handle (and really, any other Lock On item) but that could easily accommodate a bullet vibe instead.
Put them together and you have a badass dildo sword!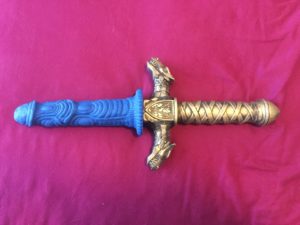 Both products are part of the Realm collection from Blush Novelties who have been killing it in the world of accessible silicone products.
Do I recommend these products?
YES! Not only are they fun and cool-looking (a fabulous addition to any collection!), they are also well made and the Draken is a quality silicone dildo and an awesome price point! And if you are a Game of Thrones fan, I think you will especially enjoy these
Anything else you need to know?
Yes! The Realm collection actually offers a bunch of options:
You can get them all at Peepshow Toys!  SAVE 10% with code REDHEAD

Thank you to the folks at Peepshow Toys for sending me the Realm Drago Lock On Dildo Handle and the Realm Draken Lock On Fantasy Dragon Dildo to test.
---
I accepted compensation to review this product. The views expressed here are my own. My review policy is simple: I will never lie about liking a product if I don't but when I do like something it's hard to get me to shut up about it.