I realized that I have been remiss in sharing a piece of news with you folks. At the end of 2014 I came to a conclusion: I love big wand-style vibrators, I love them. That said I am declaring 2015 my "Year of the Wand" (and I only waited a month to tell you!). Truth be told, it shouldn't have taken me this long to figure this out, my wand love goes way back…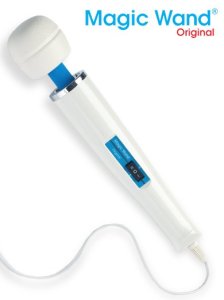 Story time:
Some of you have heard this story already- it's a pretty big part of Bedhead history but it's a great one so snuggle in and listen up:  On September 7th 2012 I walked out of the courthouse after my divorce hearing, boarded a Cleveland Circle-bound C line train, got off at Coolidge Corner, went directly to Good Vibrations and purchased my Hitachi (we've had a whole rebranding thing since then) Magic Wand. I fell in love with that thing. I know lots of people say that, but for me the Magic Wand was pivotal in my sexual awakening. It helped me figure out that I wasn't broken, I had just been using the wrong kinds of toys. It helped me get to know my body and my orgasms. Once again though, I've been remiss – I've never reviewed the Magic Wand! Seriously! WTH? So, without further ado, here are my
5 Reasons I Love My Original Magic Wand:
1. It's iconic – Using this I feel like a link in a wonderful sexual chain that includes my heroes like Betty Dodson and Carol Queen and that's just amazing!
2. It never loses power– That's the wonder of plug-in toys. No batteries, no charging, just power all the time!
3. Cool attachments– Want to g-spot with it? Done. Want to use it on a penis? (well, you can so that without an attachment too…) There's a sleeve thing! There's a whole array of stuff out there to trick out your Magic Wand.
4. Intensity– As one who has dealt with diminished genital sensitivity due to antidepressant use, I love that this thing is like a genital jackhammer- I swear it helped me connect with my entire CUV region (I like that term and I will try to make it happen!)
5. Orgasms on demand– For me orgasms are a hard-fought victory but if I'm in a place where I just need to get off so I can go to sleep or if I've been having sex for hours and I want that grand final climax or basically in any situation where I want to make an orgasm happen immediately I grab my Magic Wand.
Is the Original Magic Wand for everyone? Probably not. If you can't handle intense, this isn't for you, but if you want a workhorse of an orgasm-generator this is the original.
You can get yours here: Good Vibrations, SheVibe, Early to Bed, She Bop, Lovehoney, My Secret Luxury
Additionally, you can check out:
This post was sponsored by Maxi Wand. The views expressed within are all my own.