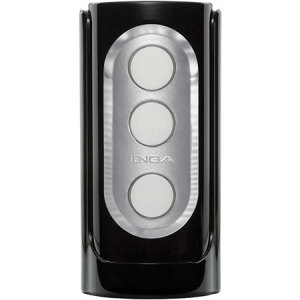 So, I don't have a penis which makes it odd that I'm reviewing the TENGA Black Flip Hole Masturbator, a toy made specifically for use on penises but the cute boy was kind enough to volunteer his penis for use on this mission so, away we go!
So, what's the deal with this toy? Let's not beat around the bush- it's a masturbation sleeve. The Flip line is offers four options all boasting different textures and sensations. To see which one sounds good to you check out this handy chart.
How does it work?
Rather than walk you through a masturbation sleeve, I'll share this illustration from Tenga: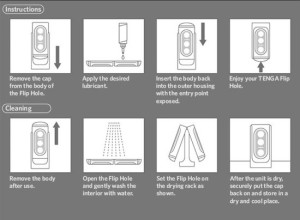 How does it feel?
The outside is hard shiny plastic while the inside is soft, squishy TPE, which for all of you who may be confused by this, is a non-toxic body safe material but is porous, which we know is less then optimal.

No, seriously, how does it feel? 
 Here's where I play the "I don't have a penis" card and resort to quoting the cute boy, who says:
"I can feel the variety of textures all along my cock and its all close enough together to provide resistance, which feels pretty amazing"
and
"…it transformed masturbation for me in a way that was almost as extreme as discovering lube."

He's a fan.
Working for him (& me too!):
The black Flip is the most textured of the line and those textures are awe-some

It flips completely open for cleaning

It comes with a handy stand for drying after cleaning
Not so much:
It's made of porous TPE, ours had to be retired after the boy used it at the start of a yeast infection and ended up reinfecting himself  (like we always warn you about!) Now, Tenga is up-front about this being a limited-use toy (they estimate 50 uses), it's not like they are presenting it as impermeable, I just wish it was.

The "buttons" do basically nothing. They allow for a little grip tightening at those 3 specific points – not terribly helpful.

I hate that they use the word "hole". Just, ew.
The TENGA Black Flip Hole Masturbator retails for $99.99  and you can get yours from Lovehoney!

Thank you to Lovehoney for sending us the Tenga Flip.
This product was provided to me by Lovehoney free of change in exchange for my honest review. My review policy is simple: I will never lie about liking a product if I don't (in fact I probably won't even write about it) but when I do like something it's hard to get me to shut up about it.