So last January I made my first sex toy to-do list. It was adorable. My site was about 6 months old and frankly, I knew NOTHING! I'm amazed that there are as many decent toys on it as there are. If you told me then how many toys I would end up testing and owning over the course of 2013 I would never have believed you. Anyway, I accomplished almost everything on that list (the sex swing and the wooden toy didn't happen) and frankly, went on to even more exciting stuff.  Now I'm looking forward to trying new stuff in 2014. Here's what I have in mind:
We-

Vibe

4 – DISCONTINUED 
So, I never tried the previous incarnations of We-Vibes but they always looked a bit big and the silicone seemed a bit sticky and frankly I never actually trusted the "you can wear it during intercourse" premise for those reasons. When I saw the We-Vibe 4 and saw that it had addressed literally every concern I had ever had my first thought was "Yes, please!"
Liberator Wedge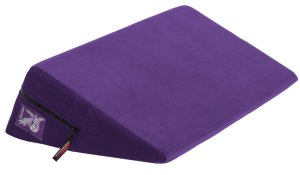 I used to think the idea of special "sex furniture" sounded a bit absurd, I have since realized that I was very, very wrong. Time and again I've tried to use pillows only to see them flatten uselessly while I end up with muscle cramps¹. It's time to bring out the big guns. I want to try a Liberator.
Get it here:
Good Vibrations, SheVibe, Early to Bed, Peepshow Toys
Nobessence Seduction Wood Dildo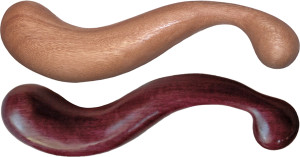 I have long been enamored by Nobessence. I mentioned that the wood dildo from last year's list didn't happen and, while I still think that one is intriguing, Epiphora tells me this is a better pick. As 'Piph tends to be the authority on all things sex toy, I'm taking her word for it.
Get it here:
SheVibe, Peepshow Toys
Flash Cotton
I know, it seems like a weird addition and I'm not giving you a picture or product link, so, what's the deal? Well, fire play recently became part of my repertoire (I geek out about sex, I met someone who geeks out about fire… it was bound to happen) and, in a turn of events that surprised no one more than me, I love it. Coincidentally one of my favorite pieces from this year's HUMP! festival was called "Fun with Fire" and flash cotton figures heavily into it. My firebug friend and I are quite intrigued.
Spareparts Sasha Couture Harness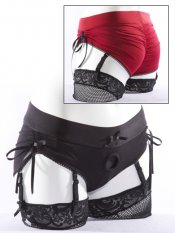 Spareparts makes amazing harnesses. This one is insanely sexy as well as functional. I kind of love it… and think the red would look awesome on me ?
Get it here:
Good Vibrations, SheVibe, She Bop, Peepshow Toys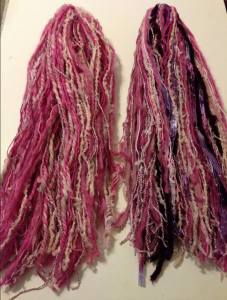 So, Crystal Delights is awesome, right? They make tails that are awesome, right? They make these ones here, or will soon or something like that and I am obsessed with them. They are gorgeous. They are not yet available in stores (I think?) but I covet them.
UPDATE: I don't think these ever actually made it into stores. Sad.
Fun Factory Share Dildo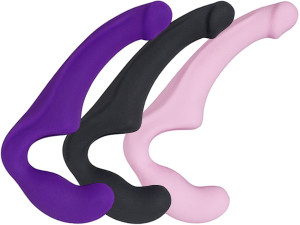 I'm curious about dildos that I can have in me while using on someone else and the Share is the one that has most caught my eye. The shape, the texture and the size seem kind of perfect.
Get it here:
Fun Factory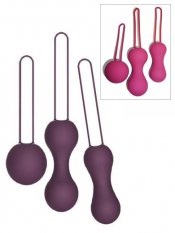 I have kegel weights I love but the Ami weights, with their all-around smooth, silky texture, seamless design, sexy look and chorus of fans, have caught my eye.
Get it here:
 SheVibe, Early to Bed, She Bop, Lovehoney, Peepshow Toys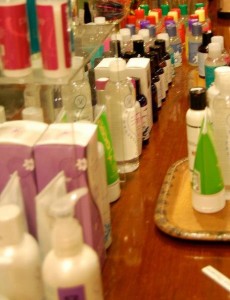 I have a hybrid lube I adore and a silicone lube I love, the thing that is missing from my arsenal is a good, thick water-based lube. My criteria are that it be free of glycerin, parabens and propylene glycol. The thing is, I have tried the obvious choice – Sliquid Sassy and it's not quite right for me… I think I'm going to try the other Sliquid options. I'm also open to suggestion.
UPDATE: I found one! I fell in love with Sliquid Organics Gel, the Organics counterpart to Sassy- go figure!
Get it here:
SheVibe, She Bop, Lovehoney, Peepshow Toys
Whatever Fun Factory comes up with next

Last year they rocked my world with the Stronic line and according to what I heard at ANME there is more awesome coming. I don't know what it is but I know I'm going to want to check it out.
So, that's it. I'll keep you guys posted as to how it goes during 2014!
¹Yes, I know "wah, wah, wah, I'm not comfortable enough during all the fun sex I'm having!!!" #firstworldsexbloggerproblems