Well, 2013 has been amazing- all sorts of touring and conferences and general assorted Bedhead awesomeness! Along the way I've met so many incredible people, seen a bunch of amazing sex shops, had a lot of wonderful experiences and, frankly, discovered a lot of very cool products. Today we're looking at my 10 favorite product discoveries of 2013. All of them get the "Bedhead Favorite" badge!
So, without further ado…
The Redhead Bedhead's 2013 Favorite Things
SwoonKink Cashmere/Leather Flogger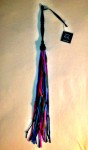 I picked up this awesome flogger when the Superhero Sex Shop Tour visited Smitten Kitten in Minneapolis. Not only is it gorgeous but it makes for amazing sensation play! The cashmere is sumptuous and the leather has a good bite to it. It's not available on the Smitten Kitten website but the St. Paul artist who made it sells floggers, blindfolds, handcuffs and more on Etsy.
Get it here:
Etsy
Jimmyjane Form 4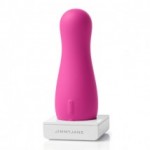 Of all the Jimmyjane "form" toys the Form 4 was probably the one I had noticed the least. Not as talked about as the Form 2, not as eye-catching as the Form 6 and not as baffling as the Form 3, I had simply never noticed it. Then I was handed one at ANME and the rest is history.
Get it here:
SheVibe, She Bop, Lovehoney
FC2 Female Condoms

Another item that surprised me. I never gave internal condoms much of thought- I still remembered all the smack people talked about them years ago- but then a partner showed up with a box of three and I haven't looked back.
Due to a completely baffling decision by the manufacturer FC2 condoms are no longer available for purchase from retailers and now require speaking to a doctor. It's ridiculous and I'm sorry. 
Get it here (these links will remain live as long as my affiliates have them in stock):
 She Bop, Lucky Bloke

As a Hitachi Magic Wand devotee I had my doubts as to whether something this much smaller and battery-powered would be big enough and strong enough to get the job, as it were, done. The Mystic Wand surprised the hell out of me and has become one of my go-to day-to-day toys. I never reviewed this so I'll tell you here that the Mystic Wand is a good size for covering the large swathes of area I like to stimulate at any given time and it is strong. Not "strong for a battery vibe". Just plain STRONG.
Get it here:
SheVibe, Early to Bed, She Bop, Lovehoney, Peepshow Toys
This was a dark horse contender, it came right out of nowhere! Okay, actually it came right from the font of knowledge that is Lorax of Sex. This incredibly thick oil-based lube has become my go-to recommendation for anal play, especially with toys (remember, oil-based lubes are not compatible with latex or polyisoprene condoms- polyurethane condoms are the only ones that are safe with it) Slam Dunk has the consistency of buttercream frosting, stays slick forever (roughly) and contains clove oil which, in addition to making it smell awe-some, has a mild numbing effect – only enough to aid in relaxation, not enough to keep you from feeling pain (remember, you need to be able to feel pain- that's how you know if stuff is going wrong! No Anal-eaze, EVER!). Not into the clove oil thing? It comes in an unscented version too.
OhMiBod Lovelife Adventure Triple Stimulation Vibrator
The most recent addition to this list, I suspected when I first saw the Adventure that I would love it and this three-motored, beautifully designed piece of awesome does, in fact, rock my world.
Get it here:
SheVibe, Early to Bed, Peepshow Toys
Tantus Nurse Connoisseur Harnesses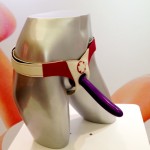 I saw spied this harness in July and developed a crush. I got to take it home in October and found that it more that a pretty, ahem, face. This leather harness- that I have nicknamed The Naughty Nurse- is gorgeous and totally (awesomely) functional. It's also the subject of my first video review!
Get it here:
Tantus
Crystal Delights Crystal Minx Tail Plug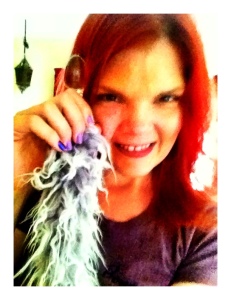 Handcrafted, high-quality, environmentally conscious, body-safe, beautiful glass toys by awesome people- that's Crystal Delights! Everybody seems to love their Minx tails I'm partial to the "Frosted Eggplant" color. It doesn't look like an animal but rather a favorite, copyright-protected entity of mine that rhymes with "fuppet" ?
Get it here:
My Secret Luxury
Fun Factory Stronic Pulsators – My favorite-est favorite!
The first time I held the Stronic Eins I said "This is the dream" – and that was before I even tested it! I fell hard for the Eins and then a few months later I got to be the first reviewer in the country to test the brand-new Stronic Drei and I fell even harder. I love these toys, I may have suggested that we give thanks for these toys when we ate our turkey this year –  I've reached near-obsession levels with these toys.
Get the Stronic Eins here:
Fun Factory, SheVibe, Early to Bed, Lovehoney
Get the Stronic Drei here:
Fun Factory, SheVibe, Early to Bed, Lovehoney, Peepshow Toys
And now a giveaway!
**The giveaway is over but check out the stuff below because they are still some of my favorite things!!**
Remember when Oprah used to do her Favorite Things show and she'd give stuff to the audience and they'd all scream and hyperventilate and stuff? Well, this is like that!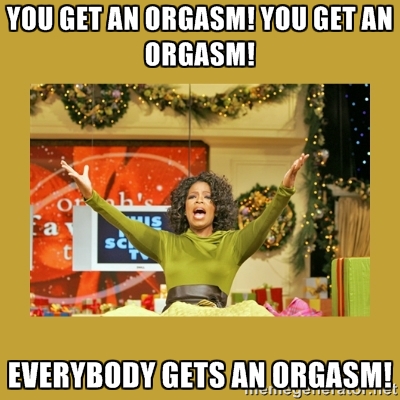 Okay, maybe not quite like that… but I can't just talk about awesome stuff and not give anyone anything so it's giveaway time! I'm giving 1 lucky reader three of my very favorite things.
That said, here it is- The Redhead Bedhead Favorite Things Prize Package:
My Favorite Road Buddy – SuperVibe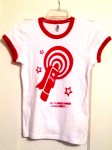 The SuperVibe T's made it through all sorts of travels and adventures with me and now it can be yours! Okay, not the same one, a new one all your own but still, it's awesome!
My All-Time Favorite Lube – Please Cream Lubricant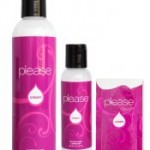 If you've read much of my stuff you know that I'm obsessed with this amazing hybrid lube from Good Vibrations. The prize package comes with a travel-size bottle so you can fall in love with it too!
My Favorite Toy of 2013 – The Fun Factory Stronic Drei Pulsator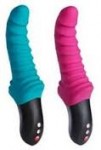 Here's the big one guys, the toy I loved above all others, the incomparable Stronic Drei. I don't know what else to tell you guys except Fun Factory is giving me a Drei to give to you! Get on that!!
How to win:
Well, I've made it super-easy! Follow the instructions and you can earn up to 23 entries- that's 23 chances to win! What's more, one of the options can be repeated daily- enter as often as you'd like.
We're doing this one quick and dirty folks- it ends at 9pm Pacific on Wednesday December 18th
The giveaway is open to the continental US and Canada.
Okay, on your marks, get set, go!
Thank you to Fun Factory for sponsoring this giveaway!