I love a sexy product. I am an Apple devotee (Save it, I'm not changing my mind on it. I don't care that your Dell was $12.95) and cool gadgets just appeal to me. You would have expected me to be all over the Crave line of vibrators – I mean these are cool people, they make sexy toys, they do unexpected stuff- the higher end ones even hold data on them, they were even described as "The Apple of the Adult Toy Industry"- That's cool! But I never was drawn to the Duet. Why? Well, as is well- documented I like my toys to cover large amounts of surface area and offer vibration that rattles my teeth and I never thought the Duel could deliver that. Cut to ANME when I receive a text from the awesome folks at Crave alerting me to the fact that they were actually having folks built vibrators at their booth… well now that was just too cool to not go check out!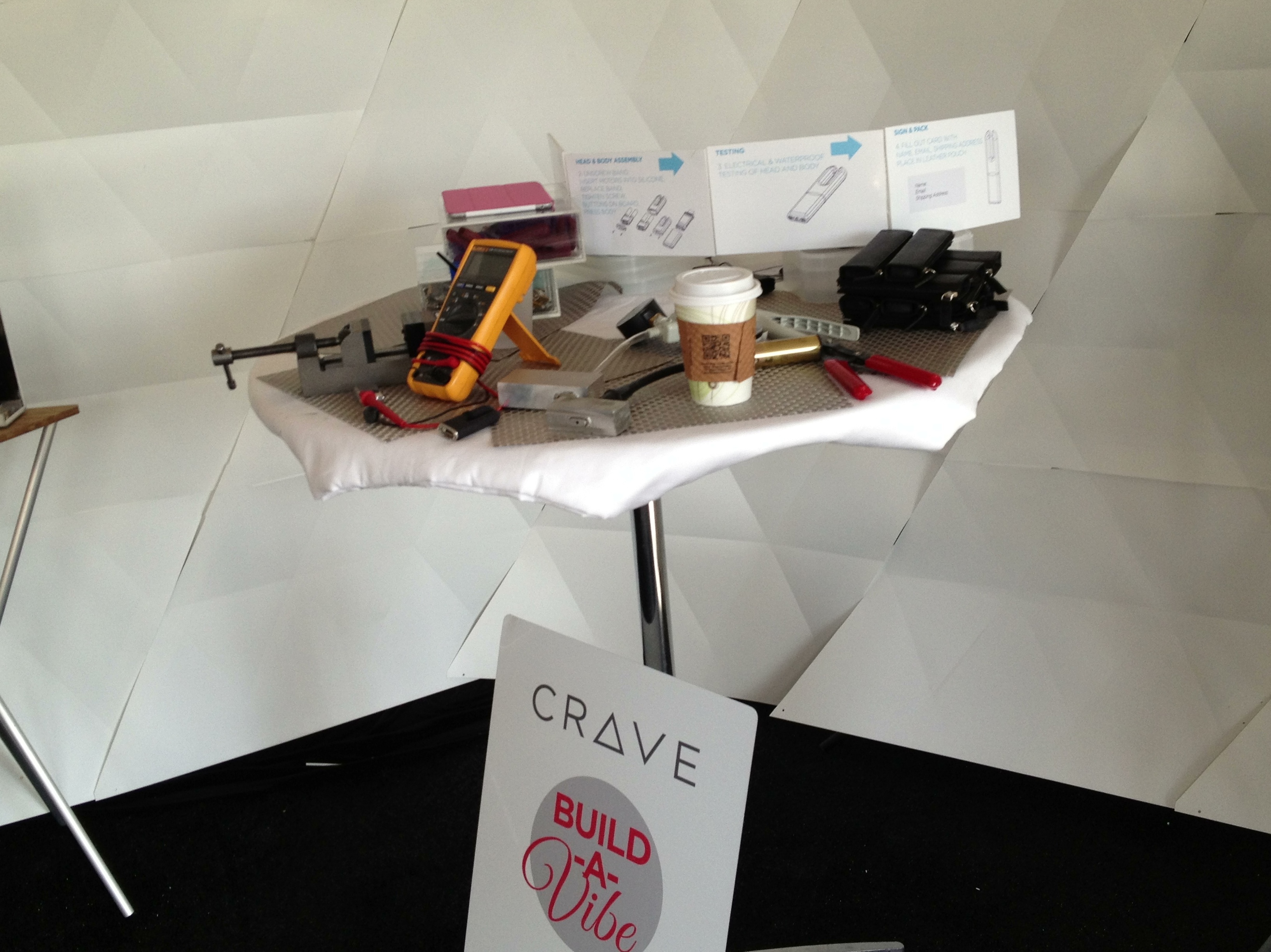 It was so cool to put together my own Crave Duet- they had the components laid out and they guided me though the assembly all the while doing quality-control to make sure the way I had assembled them would allow for the toy to work (yeah, it had to be fixed a couple of times… I'm not so great with wires). This is actually not all that dissimilar to the actual production process at Crave- the toy components are produced overseas but the toys are assembled in San Francisco allowing for strict quality control. Bonus- I got to learn the ins and outs of the Duet from the folks who make it. Spoiler alert: it is more powerful than I expected.
So, what's the deal with this toy?
It's a waterproof usb-rechargeable silicone vibrator with 4 modes and 4 levels of intensity. Also, lest you forget, I built mine!
How does it work?
The control panel is located on the bottom of the Crave Duet and consists of three buttons, +, -, and O. The buttons are pretty self-explanatory. The + button increases the intensity level while the – button decreases it. The O turns the Duet on and off and changes vibration modes. The Duet doesn't turn on right away when you press the O button though, it does something that I think is pretty cool- it lets you know how much battery life it has left by pulsing 4 times for "full charge" and 2 for "half charge". To power down  you must press and hold  the O button.
The Crave Duet has four modes and four levels of intensity in each mode. The modes are as follows:
1. Back and forth (alternating pulses)
2. Dual pulsating (intermittent pulses)
3. Wave (like a roller coaster)
4. Steady vibration*
*this is cool – there is a "turbo  boost"  It only works in the highest intensity of the "steady vibration" mode. Once you are there press and hold the + button for three seconds. To exit, press any button.
The Crave Duet has a memory chip so it will start on the same mode it was on when you last turned it off.
How does it feel?
The silicone is soft and smooth- it's the kind of silicone I love. The prongs have some give to them, you can pinch them together. All told the toy is weightier than you'd expect, but in a good way, with something that small it could have easily felt flimsy but it doesn't at all.
No, seriously, how does it feel? 
I really wanted to love this one. The vibrations are decently rumbly and stronger than I expected but they are just not strong enough for me. Even though the prongs can be laid over the labia, which is cool they don't cover nearly the amount of surface area I like, with the intensity I like.  I kept pushing down to get more sensation and that would make the (otherwise insanely quiet) motors start to make some weird sounds- like "let me check to see if I left my ipod on" sounds which freaked me out – this is apparently to be expected with dual-motor toys. All in all it felt nice… but there were not fireworks here.
Things I'm down with:
Yay silicone! Always. Especially this lovely smooth silicone.
Yay rechargeable!
It looks good, even the case.
About that case, it's simple! It zips! I love it.
Super quiet- I went camping right after I got this toy and it came with me even though our tent was a foot away from someone else's- it's that quiet!
I like the thing that alerts you to how much battery life there is
Things that make me go grr:
It's just not strong enough. At least for me.
The dual motor thing is never really my bag- I don't quite get the hype with the Form 2 either
The price tag. It's a $150 toy. I struggle with that always.
I'm going to say it- the usb charging. I know we're supposed to like that and it's the future and stuff but I want to plug things into the wall. Then I want to eat half a sandwich and a bowl of soup while watching NCIS. Get off my lawn!!!
The Crave Duet retails for $149 and you can get yours here.
Thank you to Crave for providing me with the Duet to try out!
This product was provided to me free of change in exchange for my honest review.