I told you all back in January that I had the LELO Ella in my sights, the sex geek in me was lured by tales of g-spot bliss and squirting craziness and the aesthetics freak in me was lured by the fact that this thing is freaking gorgeous so when I was offered the opportunity to check it out I was stoked. Well, I was stoked and then I was a little nervous. You see, I am a clitoral orgasm girl and have struggled with g-spot (I really prefer the theory that calls it an "area" but we all know what I'm talking about) locating/stimulating. I was a little concerned that I wouldn't have much to tell you folks. Turns out I needn't have worried.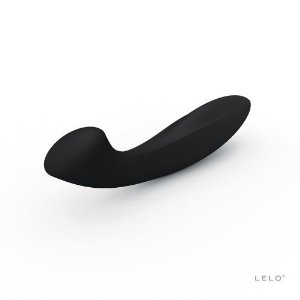 Of course, being me, upon receiving the Ella I didn't play with it immediately.  I spent some time analyzing it. I looked through the included materials- storage box, satin travel pouch, packet of lube, warranty info and instruction manual and for no reason at all decided I didn't like the pointy end (remember I said that- it will be important later) Then I devoted some time to geeking out about how soft the silicone is (as in silky to touch, not squishy), the amount of give in the handle (some at the thinnest part) and of course the gorgeousness of this product. I'll say it, this toy is just elegant. Seriously.
Finally, I stopped procrastinating and got down to business. I spent a little warm up time with my Hitachi (when you're nervous about something, I find it helps to have a comforting presence- also, it's always a good idea to be aroused before jumping into g-spot play) Because I had, again, for no apparent reason decided I disliked the pointy end I went right to the G-spot specific (flared) end (with lube) and it was… fine. A little clunky to get in, a little poky, some catching on my pubic bone… something was not quite right. So I decided to stop being stubborn and try the other end and well, then things got fun!
My suspicion had been that the pointed end would just feel, well, pointy but I hadn't taken into account the way that end swells and curves. That curve hugged the inside of my body and thrusting with that end was much more forgiving for a g-spot newbie like myself. I spent a few minutes using the soft, smooth curve of Ella's pointed end and finding the spots that felt good,  The ability Ella gives to stroke the entire region was, for me, far preferable to blindly tapping around trying to find my g-spot like I'm playing anatomical "pin the tail on the donkey". When I finally did switch to the flared end, it was a whole different story than the first time.
This time the g-spot side slid right into place and felt like it was locked there in the best possible way. I used a rocking motion and something I can best describe as a butter-churning motion and finally some more intense thrusting and for the first time ever g-spot stimulation didn't feel okay and then just poke-y. This feel good and then better and then, because I over-think things "oh, wait am I about to? yeah I think I am. Maybe not. Is that what it's supposed to feel like? I'm not sure… Oh god, shut the hell up!!…. holy crap I felt that in my feet." Yeah, it was kind of awesome.
So, there it is, I'm a fan of the LELO Ella. Any toy that can teach me about my body, give me an awesome orgasm and look that good doing it is a huge winner in my book.
Here are some deets:
Specifications
Includes
So, it comes with a box and a satin travel pouch, I'm a fan of the box (aesthetic freak! I love good packaging) but either way you get to keep your toy lint-free
Detailed instruction and care manual.
One-year warranty
Small packet of lube.
The site that supplied me with my Ella seems to no longer exist but you can get yours here: SheVibe, She Bop
---
Disclaimer: This product was provided free-of-charge by Adult Sensations for the purpose of unbiased review. This review is in compliance with guidelines set forth by the FTC.