Crazy crowds or fun sex toys? Hmmm….
---
I hope everyone had a lovely Thanksgiving and I hope none of you are out being trampled in the frenzied rush for discount electronics that is Black Friday. I always prefer to shop online during the holiday season and where better to do it than sex shops? You should totally try this. Get comfy, think of the crazy crowds and the parking and the shoving and the ridiculousness, sigh a happy sigh because you're at home and head on over to some of my favorite spots for some sexy shopping! To get you going here's a list of 9 of my favorite items (and some bonuses- have you noticed I'm incapable of doing the lists without bonuses?)!
 Tracey Cox Supersex Power Vibe
This one comes first because it's nearly identical to the first decent vibrator (I had one awful one once, we don't talk about it) I ever owned (actually this seems to be the newest edition of the first vibrator I ever owned but the idea is the same). I bought my first one 10 years ago and it's still going strong. Medium to strong vibration (it's not a hitachi but it's strong for running off batteries- two Cs btw) It's made of hard plastic so clean up is super-easy and there's no stress about bacteria and ickiness. "Pinky" is a low-maintenance workhorse.
As I may have mentioned before, I LOVE this stuff!! Please Cream gives you the best of all worlds- it doesn't get sticky AND it doesn't ruin your toys! It manages to be simultaneously light and creamy and it has an unobtrusive, slightly sweet taste. According to the website this fabulous stuff is also eco-friendly and anal-safe. One more thing- it's actually moisturizing- what?! I love this stuff!
This paddle rocks my world. Solid and substantial and made with quality materials the N&N delivers on both ends. The wide handle and sturdy construction make controlling it a breeze. The stiffness of the leather side and the softness of the plush side offer an awesome contrast in sensations.
The original paddle has been discontinued and this is the most similar thing to it that I can find.
Some things are clichès for a reason and this is one of them! The so-called "Cadillac" of  vibrators the Hitachi is super strong (and also super loud) Now, it may not be for everyone. If you need super-focused clitoral stimulation you want to look for something with a smaller tip. That said I love my Hitachi. One of my favorite stories is the one of how I went directly from my divorce hearing to Good Vibration to buy my Hitachi. Because the end is porous, it's a good idea to pick up a Silicone Pop Top which will cover the end and is way easy to clean. While you're at it, if you want to use your Hitachi for g-spot play check out the Gee Whiz Hitachi Magic Wand Attachment By Vixen
Generally when someone says a toy is "good for beginners" I usually read that as code for "this toy doesn't do much"  but in this case I can legitimately say the Bootie is a toy that is excellent for anal play beginners. Petite and made of soft (think silky-feeling not squishy) silicone this little guy is as un-intimidating as they come. Also, as always, silicone = super-easy clean-up. Along the same vein, but with a little more substance, I also recommend the Sidekick.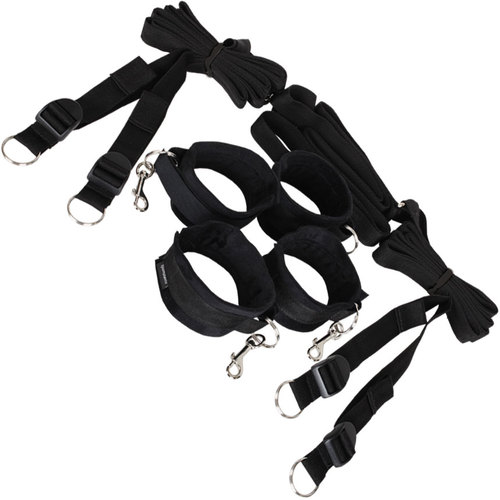 Under The Bed Restraint System
I happen to have a fairly awesome headboard but for those times when one of those is not available (or when you're on the road) this is AWE-SOME! Sets up fast and easy and holds on tight.
Right so I might not actually use these with partners… I may just keep them around to use on myself. Don't judge me. I like being soft and smelling yummy. I'm partial to After-Dinner Mint and French Vanilla, I like smelling like food.
Don't let the description fool you, the Tenga is not just for masturbation and it is not just for men! This flexible little egg, along with a hand and some lube can be used almost any way you can imagine they pretty much all feel good. It's fun to play with. Also, the description says this is "disposable"… not so much. With proper clean up these little guys can, in my experience last quite a while, especially if you nobody, you know, finishes in them.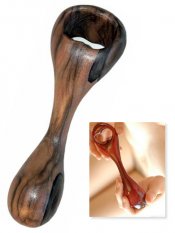 Fling Wooden G-Spot Dildo- DISCONTINUED
Okay, so I don't own this one yet. It's on my to-do-me list. All the reviews I've heard are outstanding and the last time I was in Good Vibrations one of the staffers and I just stood staring at it talking about how pretty it is.
So, what do you think? Did I forget anything? Go check it out!