In 2016 I got a message Jerome Stuart Nichols (creator of LTASex.com) asking if I would like to try a new lube he had created. Now I've seen a lot of lubes in my day and, frankly, felt like I had my lube line-up figured out (a water-based, a hybrid, and a silicone, and we're good!) so I really didn't expect to see anything new. Yeah, I was wrong. The Original Butters lube is awesome! Smooth, creamy, moisturizing- it's my dedicated hand-job lube as well as something I tend to just rub on myself because it feels incredible. Jerome had impressed the hell out of me with his lube.
Oh but kids… I had no idea what was coming. The Butters Hygienics Co. has exploded and now offers bath products, hair care, skin care, scrubs, ointments (I'm looking forward to trying PMS Rescue myself!), candles, additional lube varieties, and more. Everything is so thoughtfully made beautifully presented, and- it has to be said- affordably priced (like "wait, is that right?" affordably priced). I am endlessly impressed by Jerome, by the products, by a company that describes itself as "Black and Gay AF 365", by all of it.
So, let's look at some of my favorite The Butters products! Before we do, though, I want to note that because they are always coming up with cool new stuff, individual products come and go. This seems mostly true for the bath bombs, scrubs, and soaps so know that the specific ones I mention may go away but, in my opinion, you really can't go wrong with anything you choose from this rad company. Oh! One last thing! If you are tempted to do some shopping with The Butters, you can use code JOELLEN for a 5% discount! Okay, here goes!
I have used The Butters bath bombs in a whole range of scents, textures, and even shapes and I have loved them all! Additionally, every time I have skipped buying a seasonal one, I have lived to regret it (seriously, there were Christmas ones a couple of years back that still haunt me. I always love the Honey Shea bomb, my new favorite in recent history was the Anti-Aging Milk & Mud bomb and my latest "I wish I scored that one!" regret was the Bamboo Lotus with Hempseed Oil bomb. Keep an eye on the bath bomb page to see the current selection. Bonus: the low prices on the bombs mean that you can really stock up!
Get The Butters Bath Bombs here
---
Truth be told, this one sat on my shelf for a while before I figured it out. I had experimented with  face oils a couple years back but wasn't impressed enough to justify the price tag so I kind of abandoned them as a product. Honestly, having come of age in the 90s when the skin care philosophy was "if it burns, you know it's helping" (so much Sea Breeze astringent!) the concept of applying oil to my face was kind of baffling. Then I got a fancy-pants face scrubber thing that had a heated side for applying "oils and serums" and decided to use my bottle of The Butters Face Oil with it. Now I'm obsessed. This stuff feels majorly luxurious. My skin feels softer, smoother, and in general, calmer and. What could be better than that? The fact that even the biggest bottle (8oz!) of The Butters Face Oil is less than half the price of the other oils. The 2oz bottle that I've been using for MONTHS is just $10!
---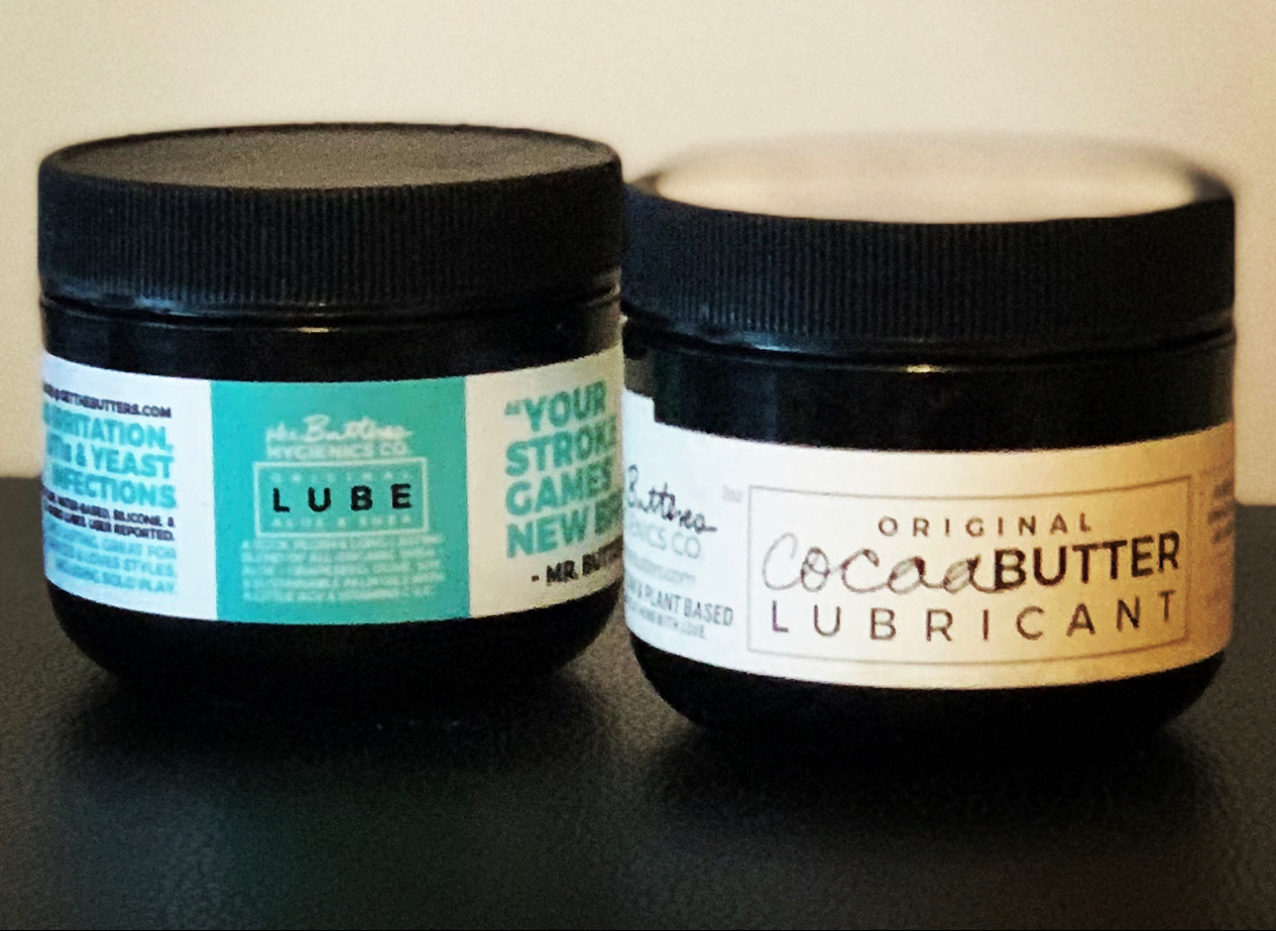 When it comes to oil based lube, The Butters is my all-time favorite. Available in three formulas – the original Aloe x Shea, my current fave, Cocoa Butter, and the ultra thick Palm Grease, (which, full disclosure, I haven't tried yet) – The Butters lubes offer glorious textures, affordable prices, and slipperiness for DAYS. I think The Butters lubes are nightstand staples. Fun facts: I like to use the Aloe x Shea for hand jobs and the Cocoa Butter formula as a moisturizer. The lubes are available in a variety of sizes so you can start small to try them out. Additionally, The Butters offers a sampler pack featuring all three of their lubes as well as a lube subscription box so you never run out!
Get The Butters Lube here:
---
I have tried at least 4 scrubs from The Butters and have loved them all. In their recent sale (apologies for not getting this post out in time for that) I picked up their customizable Scrub Lovers' Gift Pack to score their Blk Ice | Charcoal X Rosemary, Caramel Macchiato Scrub, and Brown Sugar & Sweet Almond scrubs and I wish I had picked up more (you can pick up to SEVEN and the Mojito is so delightful!).
---
I love this body cleanser bar SO. MUCH. It leaves my skin so soft and smooth! The Butters describes the scent of Black Salt & Cypress as "bold-yet-mellow, masculine, head-turning  – The essence of 'damn, boy what you got on.'" but my unapologetically girly self loves it (possibly because I love dudes? who knows!). The Butters offers a ton of delicious-sounding cleanser bars for the body, the face, and even, in one case, the hair but for now, this is the one that has a place in my heart (and shower).
Get the Black Salt X Cypress Tres Butters™ Body Cleanser Bar here
---
So, let's get real: over the last couple of years a bevy of health issues both physical and mental have cause my weight to fluctuate wildly and in big, big ways. Add to this the fact that hips have been riddled with stretch marks since puberty and you have a JoEllen whose body resembles a map (so many paths!). TBH, I should have picked up Tummy Butter when my weight was on the way up to help prevent some of the new stretch marks but even using it now it seems to be improving my skin's texture and, honestly, just making me feel good. 
---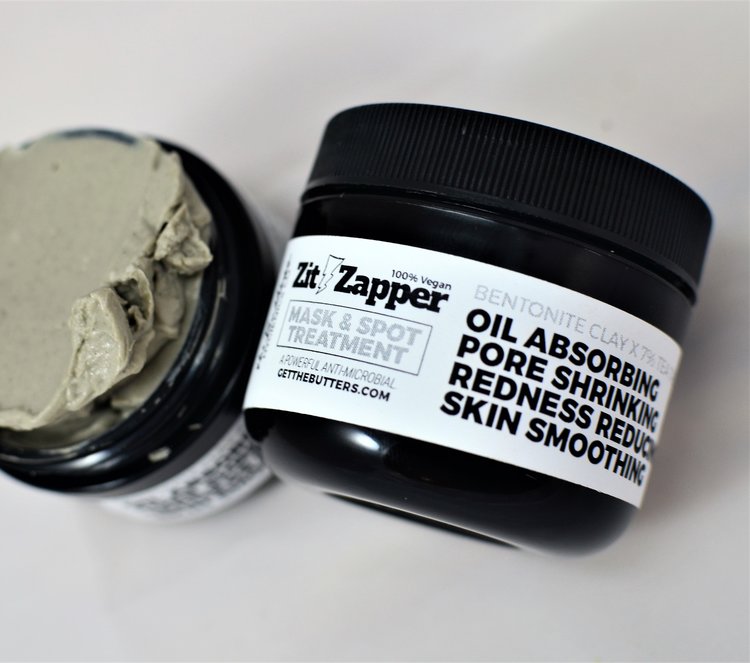 Along with all the weight fluctuations, my health has wreaked havoc on my skin and The Zit Zapper Mask has REPEATEDLY come to my rescue! I love this mask so much. It helps get freaking out skin under control without drying it out. Plus it smells awesome, leaves my skin feeling fantastic, and — it must be said– like all of The Butters products, it's super budget-friendly. You can even get it as part of the Fix Yo' Face Kit  which is packed with a whole bunch of awesome skincare.
So, there you have it, folks! My current The Butters loves. If that hasn't convinced you to check out this amazing company, I don't know what will! Now get out there and get shopping and remember, you can save 5% with code JOELLEN!