As you may know, I am a huge fan of sponsorship. As far as I'm concerned, it's a terrific way for freelancers like myself to get the financial support we need and an awesome opportunity to be of service to companies I love.
I've had a lot of success working with sponsors such as WeVibe, Doxy, SheVibe, Peepshow Toys and Le Wand. Now, I want to help YOU have that same kind of success in your career! That's why I'm thrilled to announce that the NEW, improved Will Work For Sponsorship online class is here! You can dive right in or read on for information on bonus materials, super-simple sponsorship templates, and even more exciting stuff!
Where do you want to go?
Will Work For Sponsorship Online Class
This class features over an hour of almost everything I know about sponsorship! Learn how to approach sponsors like a professional, work with them successfully, and keep them coming back to work with you again and again- all from the comfort of your own home! Check out the trailer (yep, I've got a trailer!) below.
 PLUS Bonus Materials
With your class purchase will receive TWO bonus PDFs:
Will Work For Sponsorship Supplemental Information contains the stuff that didn't make it into the class plus more in-depth explanations and explicit examples of the class material!
Will Work For Sponsorship Tools contains all the tools I use to keep my sponsorships running smooth and looking awesome with in-depth explanations of and links to each tool.
Simple Sponsorship Document Templates
One-on-One Sponsorship Coaching
★★After your purchase is completed, you should receive an email containing your downloads and/or details for scheduling.★★
★★Don't see it? Check your email Spam folder.★★
---
What Sponsors Are Saying About JoEllen
I LOVE my sponsors! Here's what some of them have to say about working with me!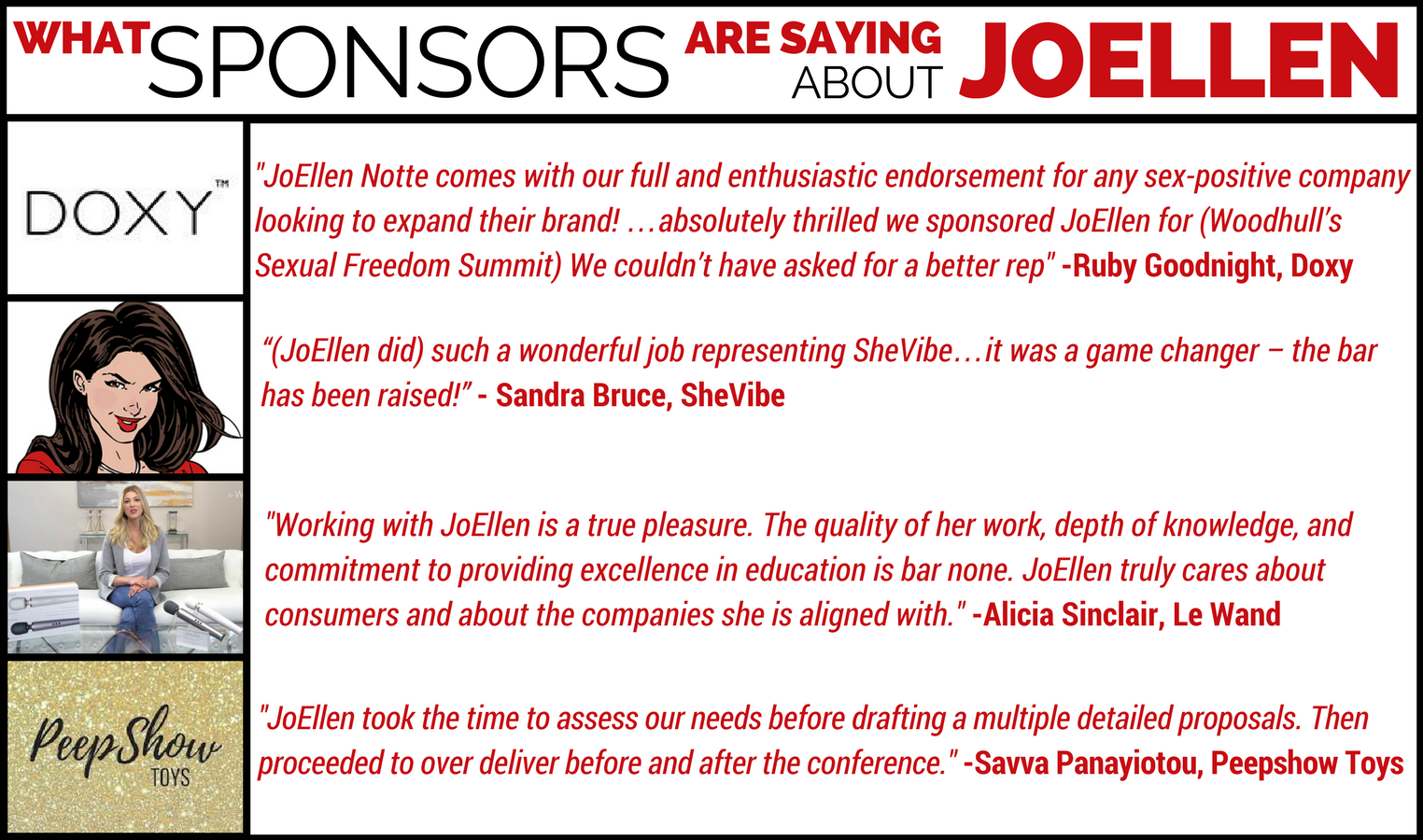 ---
What Students are Saying About Will Work For Sponsorship
I taught the very first version of this class in 2015, here's some of the feedback I've gotten from past students!
"So helpful and inspiring!" –Mandi, Sex Positive Blogger, EROcentric 

"This class was invaluable- I have a clear idea and concrete examples about what sponsorship means as an independent educator."–Robin Wilson-Beattie, Sex and Disability Educator, Writer, Advocate and founder of sexAbled

"I use the templates all the time and they helped me not only secure sponsorships but also build relationships with new brands."  –Kait Scalisi, MPH, Sex Educator, Pleasure by Kait

"I used what I learned from the class to get sponsors for my mini tour last year!!!" – Dirty Lola, Sex Educator, Storyteller, Host and Creator of Sex Ed A Go-Go
---