In less than a month I'll be packing my bags and heading to Toronto for the exciting return of the Playground Conference!
Along with Stephen Biggs, I'll be presenting Keep Giving a Fuck: A Conversation About Prioritizing Sex During Trying Times.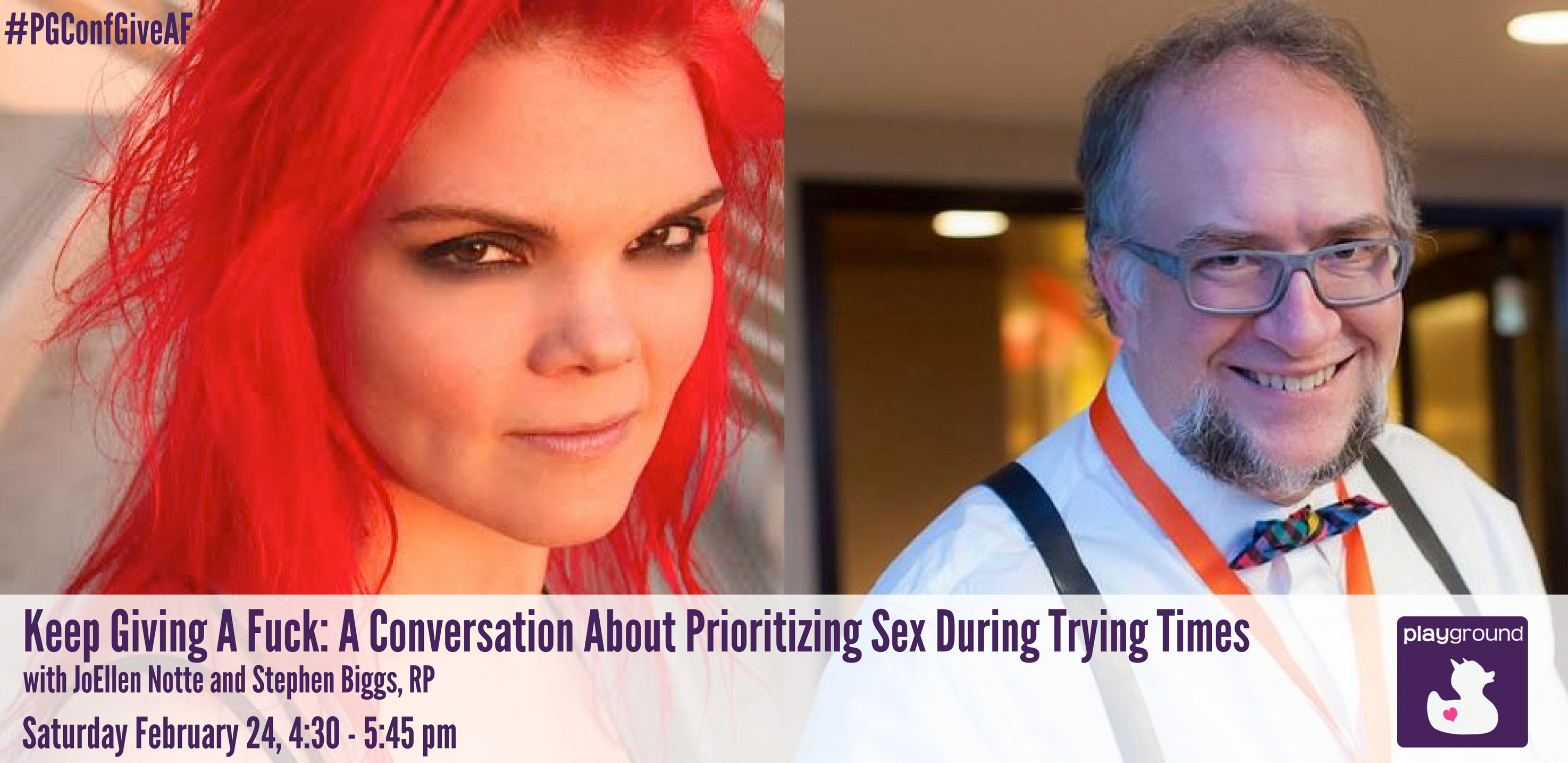 I'm so excited to be going to the Playground! I was delighted when I heard it was coming back (I loved it so much last time I went and was genuinely saddened by its absence), the schedule looks fabulous, it seems that everyday I realize someone else I'm super fond of will be there. I'm also beyond thrilled to be speaking, especially with my favorite partner in crime, Stephen, and knowing the wonderful response this topic received at Woodhull.
I'm also looking forward to spending a couple of days surrounded by people who passionately think, care, talk and do. I'm looking forward to actually seeing the faces behind the avatars I see online and giving real hugs to the folks I "see" through my computer daily but in the flesh rarely. However, my introverted nature and deeply ingrained "don't bother anyone" instincts sometimes keep me from approaching new folks but if you spot me (it's easy, look for the hair) I promise I'd love to chat – seriously.
 This trip wouldn't be possible for me without the support of the good folks at 
Le Wand
. Do you know Le Wand? If not, you should! Look, my love for wands is
no secret
 and my standards are high. Go check out the
story of how I came to open my heart to Le Wand
(it sounds dramatic but for real, it's like a
rom-com story
!) and you'll understand why you should check this wand out! And if you're at Playground, you'll get the chance!! Pay attention to my social media and keep an eye out for me at the conference because I'm super-excited to introduce folks to this sexy product and wonderful company! 
Le Wand and its founder Alicia Sinclair
are committed to quality, super-supportive of sex education, and I'm so excited to partner with them for this trip. Thank you so much to 
Le Wand
 for making
Playground 2018
possible for me!
BUT WAIT, THERE'S MORE!
The amazing folks at Le Wand have extended an incredibly generous offer to all of YOU!
They are offering a discount code that is good for 20% off purchases at lewandmassager.com!
That's right, February 1- 28th 2018, head on over to lewandmassager.com, do a little sexy shopping, enter
discount code Redhead
and you will
save 20%
! Thank you,
Le Wand
!