When it comes to the Sistalk Master Godzilla I have good news and I have bad news:
The good news: when Sistalk approached me to review a small remote-operated vibrator (the complete opposite of what usually works for me) I hesitated but took the plunge based on two things:
The kegel training system: Believe it or not, I've never gotten to try a kegel product with an app that gives feedback while in use and I've wanted to for YEARS. So, yay for getting to do that!
It's super-cute and named Master Godzilla. So, yes, this is the time I reviewed a toy because it was called Godzilla. Yay for a toy named Godzilla!
Now the bad news:
I have to give Master Godzilla a negative review. I'll be perfectly honest with you, I take no joy in writing negative reviews. I know a lot of folks see it as a duty and set about making sure we all know why the product they are writing about has all-caps FAILED but for me, the situation is much more nuanced. I have given a toy a solid slagging when the company babbled on and on about its awesomeness and it was terrible, when it was a really poorly made rip-off of a popular toy, and once when no one could figure out how to turn the damn thing on, but when I see a company legitimately trying and doing something with the potential to be cool I never want to unleash the internet snark hounds on them. That said, Master Godzilla and the Monster Pub app are not quite ready for prime time.
So, what's the deal with Master Godzilla?
Master Godzilla is one of three toys from Sistalk. All vibrators designed to be used internally and all compatible with their app. To be frank, they are all adorable.
The toy is silicone, usb rechargeable, and controllable via app (it can also be operated via a button on its tail. It features  3 speeds of stead vibration and 5 patterns and I will say the motor is stronger than I expected, though I know I am not an authority on small (or internal) vibrator power.
As I mentioned I approached Master Godzilla with no interest in the pleasure component. (pleasure is, of course, super-important but a toy of this size and shape would never do much for me) I was here for the kegel strengthening program, also controllable through the app.
Pros:
The silicone is smooth, feels great, and the whole thing is water-proof so it cleans up quickly and easily
They put the on button on the outside (like, when it's inserted the power button is outside of your body) – you'd be amazed at how many people don't think of this!
This will not be a pro for everyone but for me it is- the charging is not magnetic. I'm not necessarily anti magnetic charging but it can be precarious and result in toys slipping off their plugs. I prefer to know my toy is firmly plugged in.
I like the "monster' thing. In a world where so many things vagina-related are flowery I love that this is your little vag monster. Also, I got a stuffed toy.
Cons:
THE APP. 
The app is currently something of a nightmare. I wanted to like, I really did. As I said, I agreed to review the toy because I was excited about the kegel training system and that seems to have the potential to be fun. You can set it to remind you to use it (and, if I'm understanding correctly, track your period and not bug you about it when you are bleeding if you choose). It has a lovely guided relaxation component. They are really trying. All of this means nothing to me though because I ended up full of rage every time I tried to use the freaking app. Why?
First off, it just would not stay connected to the toy. If I was holding Godzilla in my hand or had it out on my counter, no problem, then it could stay connected for DAYS but as it's an internal vibrator I needed it to stay connected to the app while it was inside my vagina- which it could not do. This was rage-inducing. It's really not easy to relax into a chill kegel routine when I'm having to rip something out of my body every 30 seconds, confirm that it is still on (it always was) and fight with an app over connecting and then shove it back inside me. Then even when it got connected, it would drop the connection mid squeeze. Not that this really mattered because….
Godzilla himself could squeeze this thing and it would register a big huge ZERO on its vague, unexplained kegel-o-meter. I know the toy has a pressure sensor. I know the sensor works because remember how I said the app would stay connected if I was holding the toy, I tried squeezing it with my hand as if I was kegel-cisig and it registered the squeezing with no problem. Could it be me. I know I've been slacking on my kegel fitness but I also know I, on my worse day, have enough strength to exert force. I was squeezing an it was like "no you aren't and OOPS! now I'm disconnected! Rip the toy out and make sure it's on again!!"
Finally: is it talking? Is it not? I think it's supposed to have sound? I would wrestle with sound settings the whole time and FINALLY, halfway through the "soothing" guided relaxation part -when I was doing my best Rodan impression -sound would come out of it.
The Bottom Line
Here's the thing: I think Godzilla is adorable and I actually don't think it's poorly made but I can't recommend it right now. I want to keep an eye on Sistalk though. I think with some adjustments this could be something with potential for mainstream success- the shapes, colors, and names seem appropriately appealing to the masses. If my Master Godzilla had consistently connected to his app and track my squeezes I'd be into it and probably recommending it- at least for fun kegel stuff. For now though, this remains just the toy I reviewed because it was called Godzilla.
Master Godzilla retails for $129.99 and you can get yours from Sistalk. – SAVE 12% with code JOELLEN1
Thank you to the folks at Sistalk for sending me Master Godzilla to test.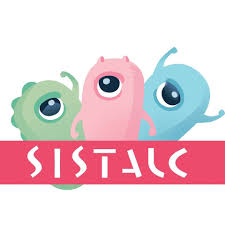 I accepted compensation to review this product. The views expressed here are my own. My review policy is simple: I will never lie about liking a product if I don't but when I do like something it's hard to get me to shut up about it.