I recently talked to my partner about how, once you've lived in sex positive world for a while, you start to forget that not everyone is comfortable talking openly about sex all the time. Sexual communication can be scary. In a perfect world we'd all feel completely comfortable expressing our sexual desires to our partners but in the real world many folks still find saying the words challenging.
If you are thinking about trying some new things but feeling a bit self-conscious about bringing them up to your partner I encourage you to let the internet be your wingman! There you will find a bevy of resources for learning about the stuff that turns you on and those resources make communicating your desires to your partner as easy as clicking "share"!
Here are three of my favorite ways to use the internet as your sexual communication wingman.
Send educational articles, videos, and more
These days the internet is home to a ton of smart, savvy sex writers and, consequently, just about any topic you can think of is bound to have been covered. Even if the mainstream media hasn't covered it, it's probably been blogged about, vlogged about, or even made into a comic strip (and I often recommend the blogs, vlogs, and comics over the other outlets!)! Research whatever it is you are interested in and send a link or two to your partner. You might be surprised by how much you can both learn while you show them what you're interested in trying!
Share your favorite porn
I've said it before and I'll say it again: Internet porn is like Pinterest for sex! You pick stuff out, get excited to try it, make elaborate plans,  and it often looks nothing like the picture, but you have so much fun trying! So head on over to a steamy site like Bellesa and pick out the videos, erotic stories, and pictures, or gifs.that turn you on. Show them to your partner and you could be making new sexy game plans in no time!
Sharing porn is one of my favorite modes of sexual communication because it makes whatever you are proposing concrete. Sometimes when we just hear an idea proposed in the abstract, it doesn't quite click and, in the case of sex stuff that means we can't see how something would be a turn on at all. When we share porn we get to see exactly what something looks like in action. This can make the journey from "huh?" to "uh huh!" a bit easier.
Make a (sexy) wish list
Back in the day, shopping for sex toys and products required going to that one shop in your town (if it had one) and it might have been kind of seedy and the choices were limited. These days sex shopping has gone high tech with huge online inventories and even wish list capabilities! Pick your favorite shop and make a list of the things that strike your fancy. Share it with your partner and get the conversation started – better communication through shopping!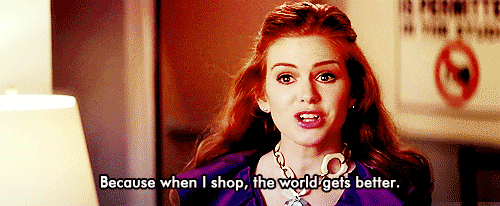 There you go folks, 3 ways to let the internet start the conversation for you and, ultimately, help you cultivate your own sexual communication skills. You might not always need a wingman but for now, the internet's got your back!
This post was sponsored by Bellesa. All opinions are my own.