---
In the past my annual favorite things list was always a list of products, frequently featuring links to my reviews of said products. This year I tested and reviewed significantly less products and considered not doing a list at all as I felt I couldn't make something that lived up to years past. Then I realized that was some bullshit. There was a lot that I loved this year. From products I enjoyed to people who influenced me to companies that blew me away to concepts I can't stop thinking about. I realized it was ridiculous to not celebrate that because I couldn't hand you a list of toys, so I crafted this year's list and, well, it ended up ENORMOUS. Featuring 6 products, 3 companies, 2 "game changers" and 1 big one…  you'll see that when you get there.
The best part about this year's list was completely unintentional but is incredible: It celebrates the work of so many people I love! I don't think I've ever published anything that gave me this much of an opportunity to lift up my colleagues and peers and I'm so excited about it! I'd love for you to read the whole thing but I recognize that there's a lot to see here so I've set it up so you can use the menu to hop right to the sections you want to see (you can hop back up too!). Go check it out!
JoEllen's 2016 Favorite Things
Favorite Products
Doxy Die Cast Colors
Okay so this feels a bit like a cheat as this is the Doxy Die Cast which was on my 2015 Favorite Things list. Hear me out though, while I'm pretty sure you're all a bit bored with my endless Doxy fangirling , here's the thing: in this case it's totally warranted. Doxy didn't just slap some paint on the Die Cast, they made the Die Cast into 4 gorgeous, magical, pieces of freaking art. The black looks like the badass sexy rocker you were intimidated by in high school, the purple is a fabulous, flamboyant showstopper, the white looks like it was created by the person who invented unicorns and, the red… oh my goodness the red- it's maybe the sexiest thing ever, it's the wand 1950s pin-ups would have if they had bad ass die cast wands and it's definitely the wand I was always meant to own. I was maybe a bit excited the first time I saw it:
Stop everything!!!! There's a red Doxy Die Cast!
https://t.co/dVxw9GgDoc

— JoEllen Notte (@JoEllenNotte) July 25, 2016
Get it here:
Fun Factory Bück Dich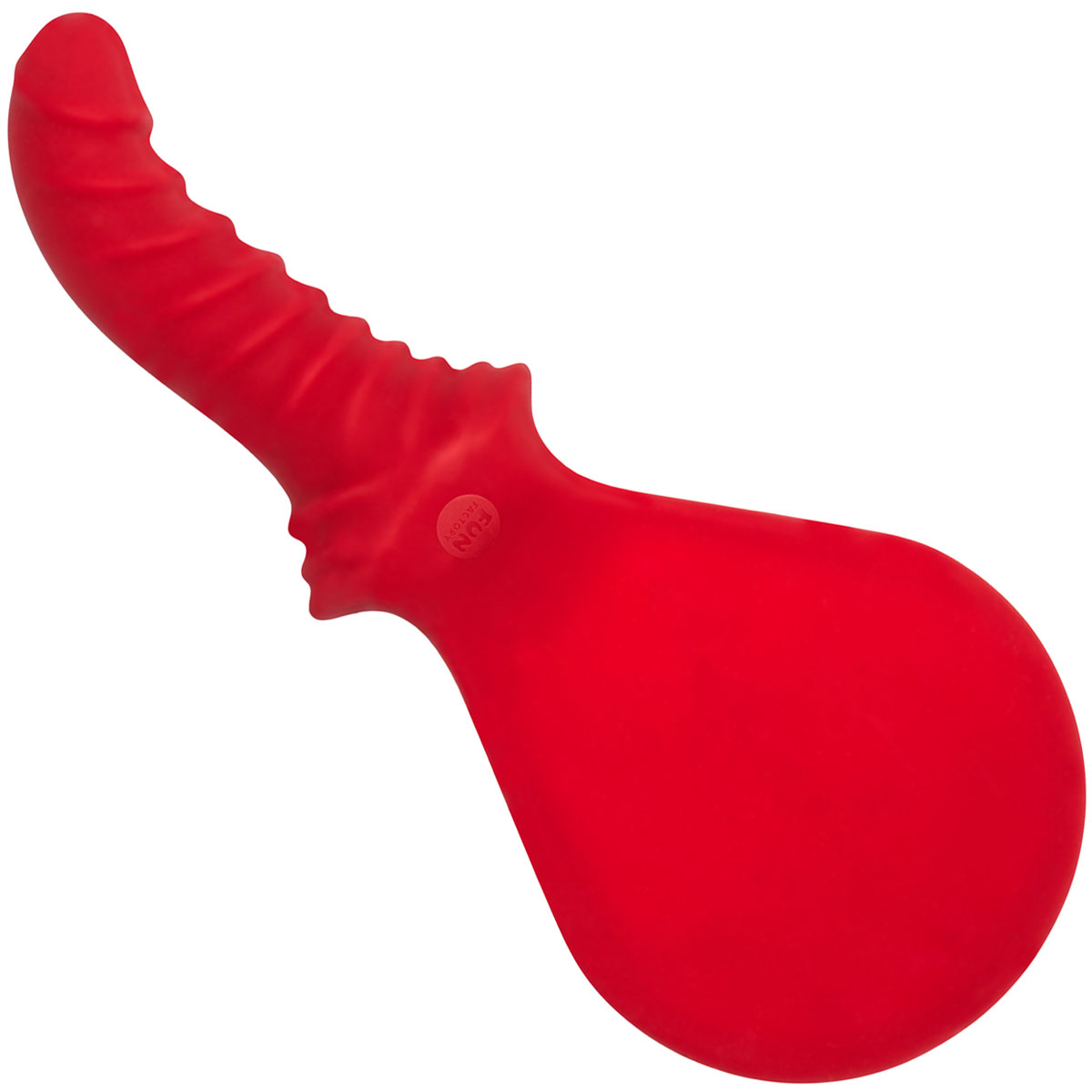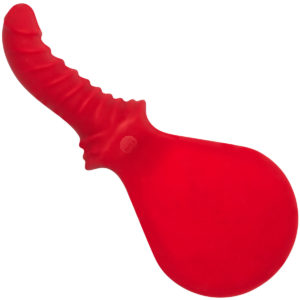 I mentioned earlier that I cut way back on testing and reviewing this year, I also skipped ANME in July, then I moved in the fall. All of this meant that I almost missed the Bück Dich and what a shame that would have been! Luckily I spotted a picture on Twitter and recognized that a silicone paddle with dildo handle molded in the image of one of my all-time favorite insertables (the Stronic Drei for those who don't feel click-y) would probably ring my bells. How right I was! The paddle is rigid enough to deliver a solid, satisfying sensation with just the right amount of sting and the dildo handle is wonderful for folks who like texture…as I do! Also, the name means "bend over" and that's just amusing.
DISCONTINUED
HammerFell Armoury Polished Stainless Steel Claw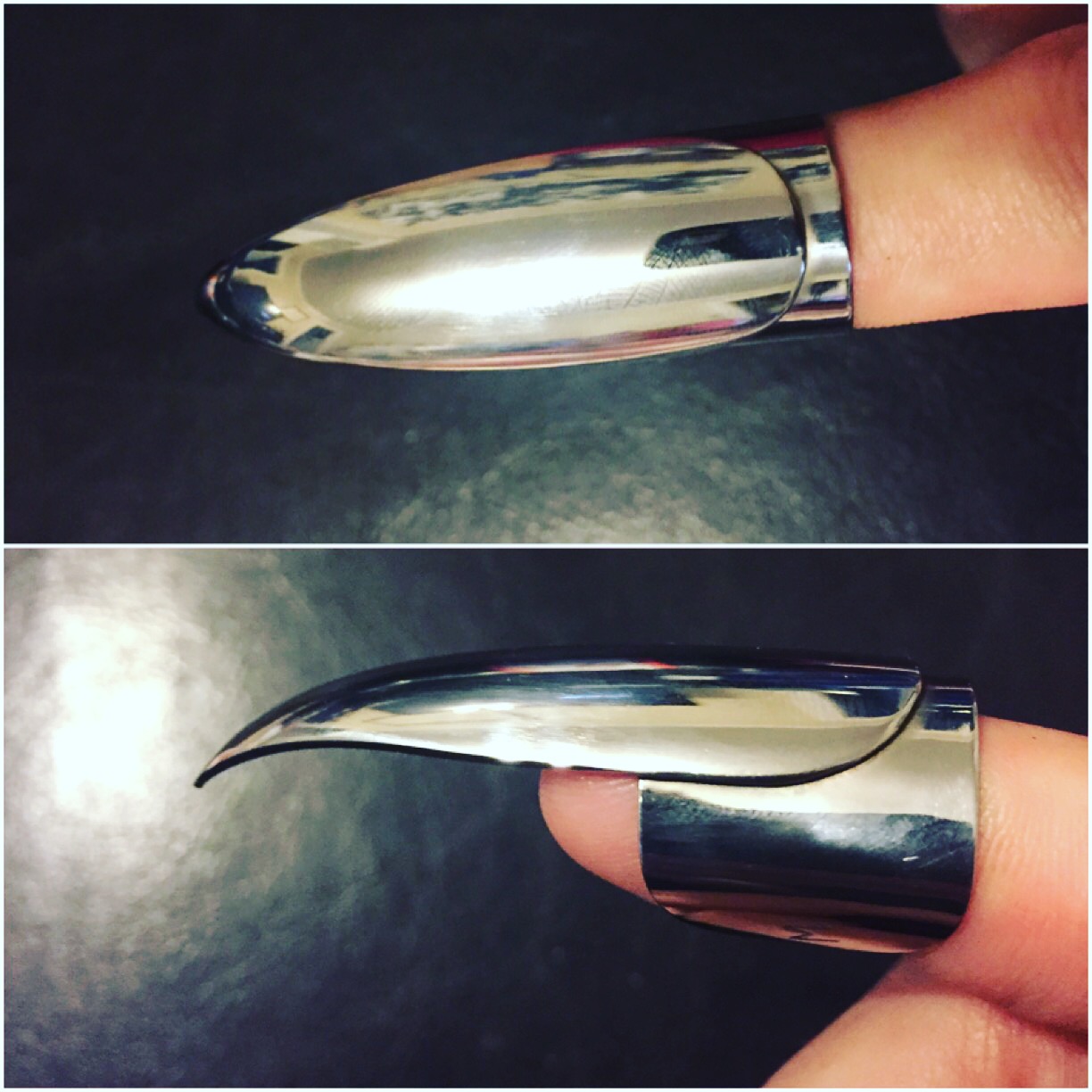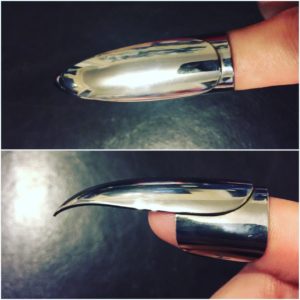 The claw came into my life unexpectedly. I was packing to move and I found a She Bop gift certificate that was about to expire. I knew I should use it on something I wouldn't normally have access to and the claws caught my eye as I suspected they would be fun to use with my Neon Wand. It took me a while to test that theory and in the meantime I discovered that dragging the tip of the claw over my skin felt freaking amazing. Finally after some trial and error (and an SOS phone call to kink-master Sunny Megatron) I discovered that claw + Neon Wand = happy, giggly JoEllen. Love it!
DISCONTINUED
Sex From Scratch: Making Your Own Relationship Rules
By Sarah Mirk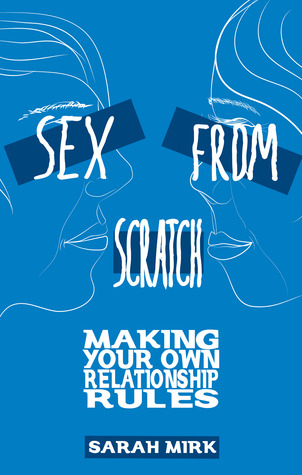 There was a lovely chunk of time during the spring and summer when I was absolutely inhaling books. Sex From Scratch, from Bitch editor Sarah Mirk was one of those books. Discussing a variety of relationship styles and featuring interviews with people who practice each of the styles, this book is accessible, easily digestible, and full of the kind of stuff we should be talking about when we discuss relationship styles. It also features essays from Tracy Clark-Flory, Tristan Taormino, Erika Moen, Betty Dodson, and more. Personally, this book made me feel more "normal" in the nonmongamy I practice. As someone who doesn't use words like "primary" or "agreements" I often feel like I'm cheating, like the Poly Police will catch up with me one day. The book references a couple whose only "rule" is "be classy"- that is pretty much how my partner and I function and reading that I felt super validated. Now, I certainly enjoyed Sex From Scratch and definitely remember thinking how good it was while I was still reading it but its made a real impression on me with the frequency with which I've felt compelled to quote/reference it since then. I listened to the audiobook which I had borrowed from my library and I think I need to actually own this book as it has become a favorite resource when discussing relationship styles. This is a way underrated book that belongs in sex geek libraries everywhere.
Get it here:
Good Vibrations, Early to Bed, She Bop, Amazon, Bookshop.org
SheVibe #NSFW Coloring Books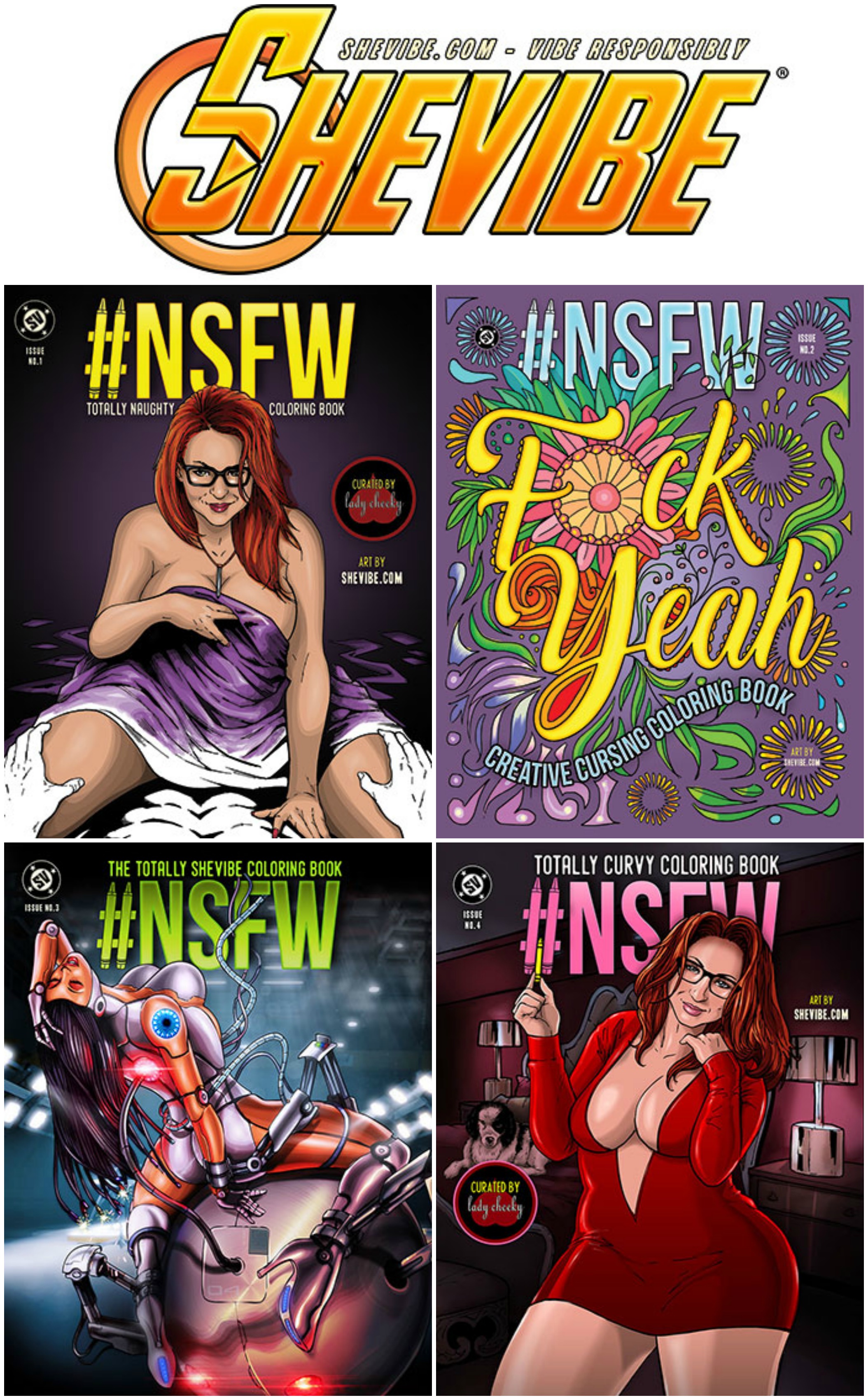 I love the SheVibe coloring books for a number of reasons. I will now list them:
Sexy, curse-wordy, coloring books full of SheVibe art!
We had them at the #SFS16 Sex Geek Salon so that makes me smile
Let's be honest about this: 2 of them are edited by my best friend (and they are awesome!)
Alex Kotkin. We do not say Alex's name enough. For the uninitiated, Alex is the incredibly talented man behind all of SheVibe's amazing art and seeing his name on the books made me smile because, seriously, sex geek world, you should all know who Alex is and say nice things about him often!
These are just super-fun and as the world of adult coloring books grows they remain far and away my favorites.
Get them from SheVibe
Twisted Monk Electro-Conductive Rope

Last spring while visiting Philadelphia's Kink Shoppe with a partner I spotted something I had never seen before: electro-conductive rope. By the end of that night I had tried it and become smitten. When I found out that my favorite rope company, Twisted Monk, had their own line of electro-conductive rope I, of course, had to try it and it is, unsurprisingly, delightful. It's soft against the skin (because if I'm feeling bits of metal poking me- which is a thing in some rope-, it's bad), conducts beautifully, comes in pretty colors, and when it comes down to it, it's Twisted Monk rope so the quality is outstanding.
Get it here:
Vibratex Mystic Rechargeable Wand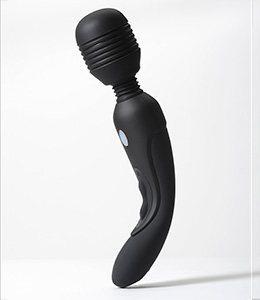 This is another item that feels almost like cheating. The battery-operated Mystic Wand has been on multiple lists of stuff I love for years, it stands to reason I'd love the rechargeable version. However, it wasn't such a sure thing. Way back in the early days of my site there existed a rechargeable Mystic Wand and all I remember was people telling me not to bother with it, that it wasn't very good. Then it was discontinued. So, trying the new version felt a bit like holding my breath and hoping for the best. I really wanted it to be good, but would it be? I'm happy to report, I love it. Because I know you'll ask, no, it's not as powerful as the Magic Wand but I'm a power girl and a size girl and this has become part of my starting line-up (ooh, my starting line-up, I should write about that) and is in frequent rotation.
Get it here:
---
Favorite Companies
The Butters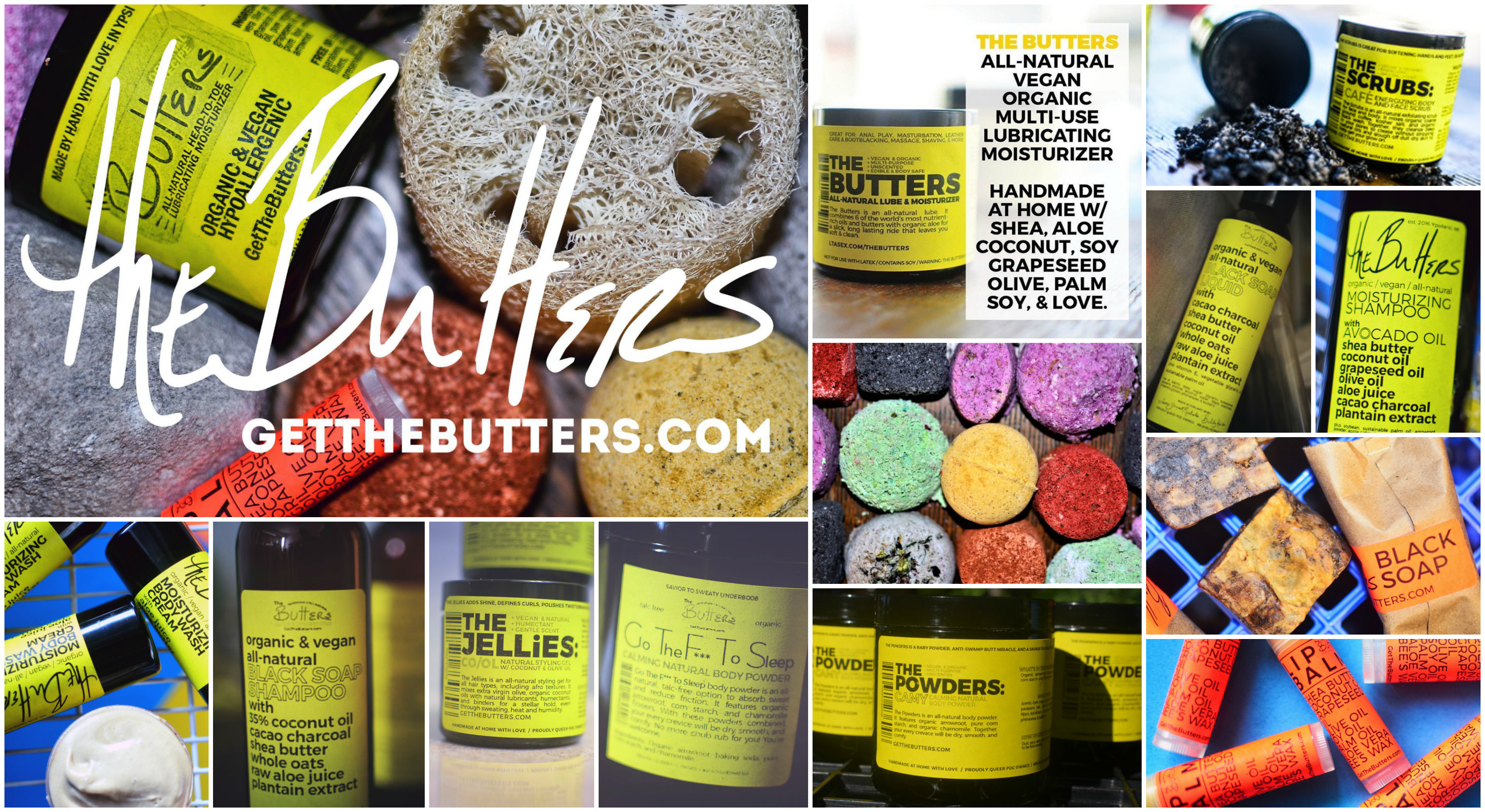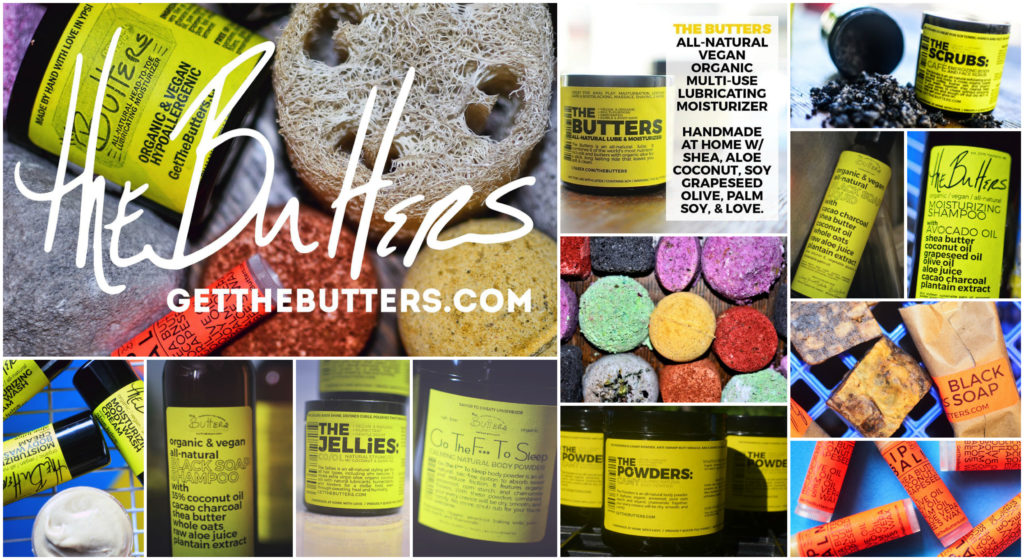 Earlier this year I received a message from Jerome Stuart Nichols (creator of LTASex.com) asking if I would like to try a new lube he had created. Now I've seen a lot of lubes in my day and, frankly, felt like I had my lube line-up figured out (a water-based, a hybrid, and a silicone, and we're good!) so I really didn't expect to see anything new. Yeah, I was wrong. The Butters lube is awesome! Smooth, creamy, moisturizing- it's my dedicated hand-job lube as well as something I tend to just rub on myself because it feels incredible. Jerome had impressed the hell out of me with his lube.
Oh but kids… I had no idea what was coming. The Butters has exploded into a freaking gorgeous line of, as the site puts it "Handmade, all-natural products made from vegan and organic ingredients at incredible prices. Always free of preservatives, additives, and bullsh*t." To say I'm smitten would be a massive understatement. Jerome, with the assistance of his "hubby-to-be" Bubby, offers the original lube, soap, shampoo, powders, lip balm, scrubs, body wash cream, styling gel, organic oils, butters & waxes, candles, pumice stones, and my personal favorite (because I'm kind of basic) absolutely gorgeous bath bombs that make you smell, feel delicious and possibly shimmer a little!* Also, Custom. Products. DUDE! Everything is so thoughtfully made beautifully presented, and- it has to be said- affordably priced (like "wait, is that right?" affordably priced). I am endlessly impressed by Jerome, by this proudly queer, POC owned company, by the products, by all of it.
*I know I've missed stuff, just go to the site, it's wonderful! 
Shop here: The Butters – Use code JOELLEN to save 15% on your order!
Funkit Toys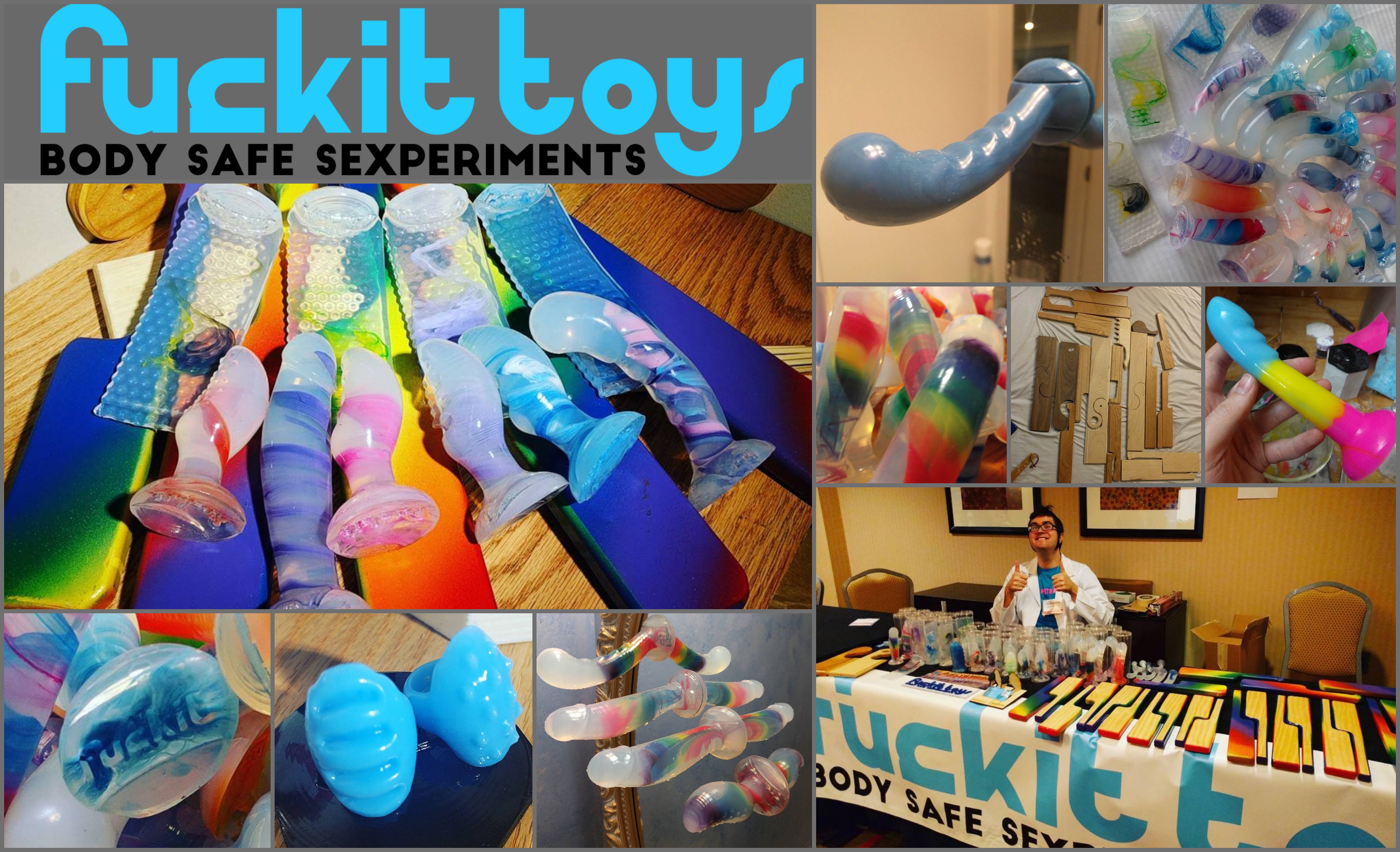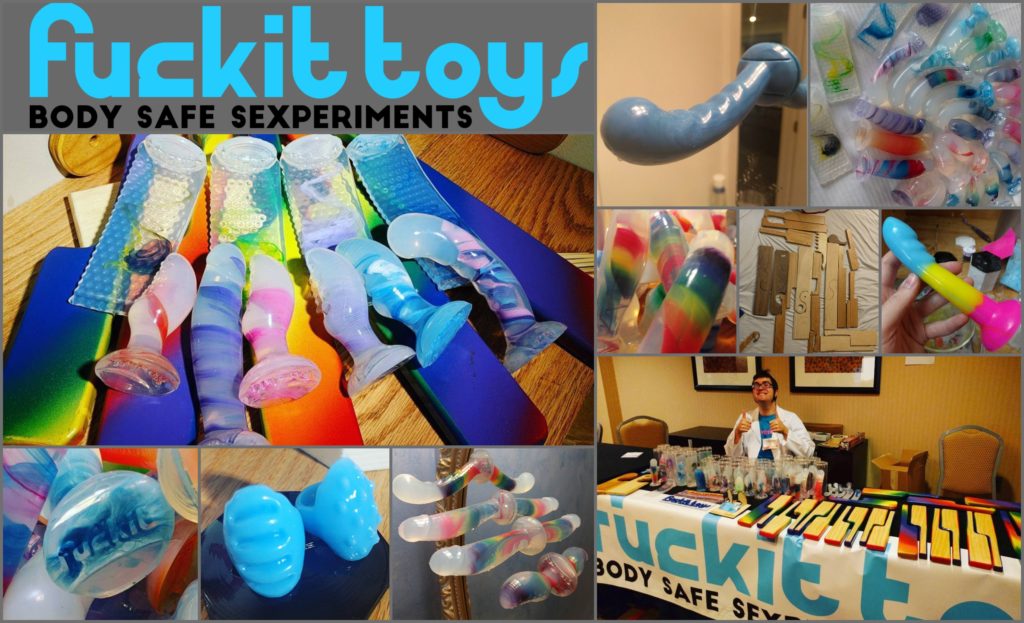 If you get a group of sex geeks together it's almost inevitable that a conversation will break out about how we would make the toys if we were in charge. Funkit Toys is what happens when of one of us actually does it. The brainchild of Kenton Johnston, Funkit, in their own words, "produces anatomy focused, gender neutral, modular platinum silicone body safe sex toys." Sweet!
So, my sex writer friends, you know that thing where folks spend endless time hyping the one toy they have made, insisting it's revolutionary, the best thing for your orgasm, etc, etc, while we wonder if anyone bothered to test it on an actual person? Yeah, so Funkit is pretty much the polar opposite of that. Kenton is constantly experimenting, improving, trying new things (seriously, a new design each month!), testing them, taking feedback, and geeking out on making awesome stuff all while acting like it's NBD. Check out the amazing selection* of dildos, plugs, ball-gags, paddles (rad silicone ones that attach to the suction cup base of your dildo of choice and beautiful wooden creations), and dilators (I'm sure I missed stuff there). Also, because everything is handmade you can get toys in custom colors. Seriously, it's pretty awesome.
*Scroll down, you'll see all the things.
Shop here: Funkit Toys for the full range.
Select designs available from SheVibe.
Sea Grape bath & body

I have seen Sea Grape's products on the shelves of some of my favorite sex shops for years but we didn't actually cross paths until I was in Seattle with a cranky back and the fabulous Lorax of Sex swung by to drop off their Aches + Pains bath soak and explained that they have a brick and mortar location right here in Portland. A little while later I made a trip to Sea Grape where the first thing I heard upon entering was "Wow! Are you traveling through here now?" It turns out that owner Maria Vashakidze and I had met a few years back while I was visiting Baltimore on the Superhero Sex Shop Tour. We took a moment to establish that everyone is now based in Portland and then I set about falling in love with Sea Grape.
So yes, there are handmade soaps and bath products (I love the Milk + Clay soak!) and they are wonderful but seriously, tip of the iceberg. Sea Grape is also home to all manner of awesome. You can also find teas, perfume, candles, amusing stamps, gift sets, "witchy stuff" (as they say, check it out it's pretty cool), and sexy stuff – and that's just online! At the shop you'll find even more great stuff PLUS awesome in-store events: everything from tarot readings, to Self Care for Activists and Empaths, to an evening of free acupuncture, massage, energetic cleansing, and care packages for Portland POC. The SeaGrape brick and mortar shop is a very special place, they are a lovely company, and Maria is a very special person whose values just make me want to support them more- 10% of Sea Grape's November profits were donated to Black Lives Matter and Standing Rock. There's a lot to love here.
Shop here: Sea Grape bath & body
                        Select products available from She Bop
And here: 319 NE Wygant St, Portland, OR 97211
---
Game Changers
Brené Brown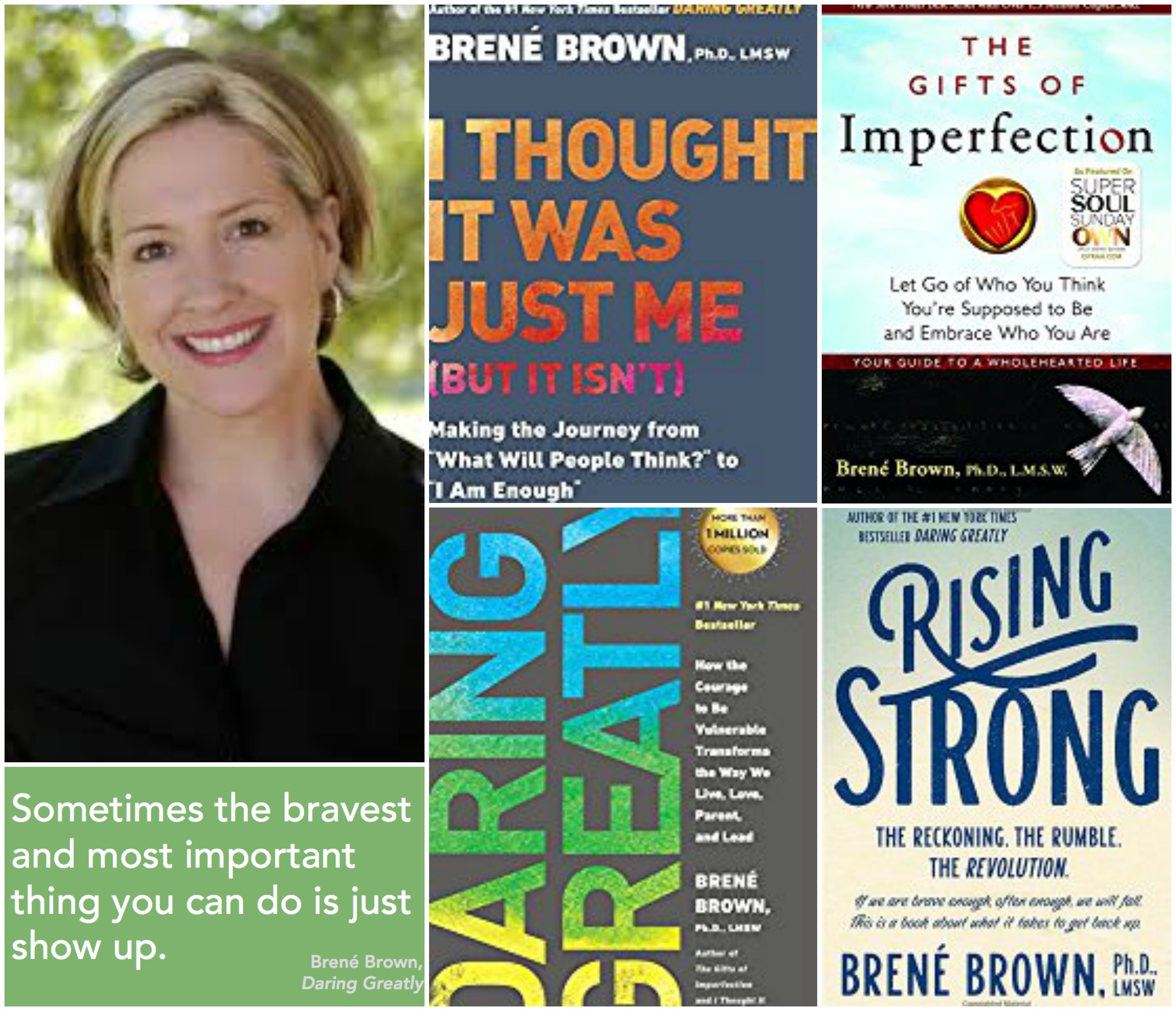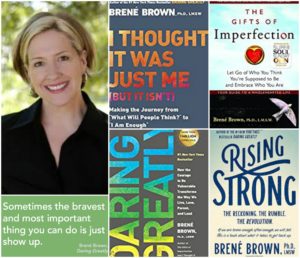 The first time I heard Brené Brown's name was in early 2013 when the concept of shame-based fear was explained to me. After that I noticed that many of my peers as well as a number of educators I admired mentioned her frequently. It was clear that her work was valued by people who think like me and that it would probably be good for me to investigate but I was resistant to it. I managed to avoid reading Brené's work, hearing her speak, or watching any of her videos for three years until last March when Elle Chase picked me up from the airport and was listening to Men, Women, and Worthiness: The Experience of Shame and the Power of Being Enough. Over the next couple of days we listened whenever we drove anywhere and I figured out two things:
I really liked Brené Brown (I even altered a post to include her!)
I understood why I was so resistant to her work for so long.
Fun fact: What I learned from @BreneBrown today made me understand why I was so resistant to reading her work for so long #shame #inadequacy

— JoEllen Notte (@JoEllenNotte) March 16, 2016
Between the end of March and the end of July I read all of Brown's books and did a lot of confronting how much time I waste on feeling ashamed about my own perceived inadequacy. This was all way more awesome than it sounds. I also finally realized what a HUGE compliment this was:
@JoEllenNotte heard you on @SexNerdSandra 's podcast. Thank both of you so much. Very @BreneBrown esque ?

— Brandan Borgos (@JutSao) September 15, 2015
Anyway, Brené Brown's work was a powerful part of my life in 2016, helping me understand myself, my relationships with others (I may have frantically emailed Epiphora to say "Oh my god! Our working relationship makes SO MUCH SENSE now!!), and some of the things that have been holding me back.
Get Brené Brown's books and CDs here: Amazon
Cannabis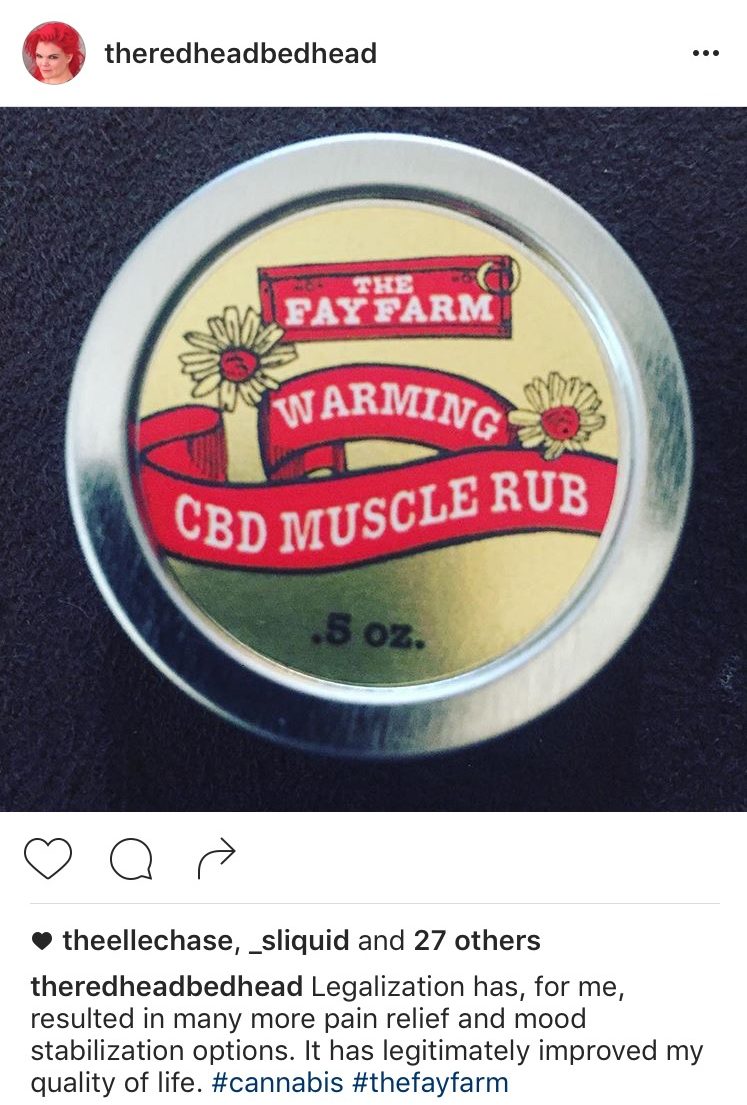 Cannabis has existed in my life in some form or another for more than 20 years but this was the year I finally figured out how beneficial it could really be. I also learned a valuable lesson about accessibility and how we often need to feel better before we can do things that help us (which seems horribly unfair). I've known for a while that, when it came to my vicious migraines and recurring spinal injuries, medical marijuana would probably be helpful but getting approved for a card always seemed so difficult (and, because I was raised catholic, I'm never completely convinced I'm not "faking"- for real). When I was hurt in 2015 (pre-legalization in OR) friends would bring it over to me. Then we legalized and I could buy my own. I saw that it helped my pain and my anxiety. No more digging out expired Ativan and opioid pain killers and figuring my liver would just deal with it, there was suddenly an easier, more pleasant solution! My life became filled with edibles, tinctures, and balms. I even occasionally smoked. It was all incredibly helpful. But getting a card (which in OR would give me tax-free access to a wider array of options) still felt terribly difficult.  Then I moved out of the moldy home that was making me sick (long story that I promise to cover in some detail one day) and felt significantly better. Only then did I begin my OMMP card process. Several lessons came out of this:
Cannabis is a great solution for several of my health issues.
Access is important. Only when it was easily accessible did I discover the benefits of cannabis. I have access because I live in the Pacific Northwest. There are a lot of folks who are sick and/or in pain for whom cannabis is inaccessible.
Sometimes you need to feel better before you can help yourself. This one isn't directly connected but it's important nonetheless.
Funny story: It seems many of us found the benefits of cannabis this year. I attended an industry event over the summer that I had also attended in 2015. I felt like there was a very noticeable upswing in and normalization of cannabis use. In 2015 if someone announced they had a headache they were greeted with sympathy and probably advised to go rest. In 2016 that same person was likely to have been offered 5 different cannabis products. That was kind of amusing.
Big shout-out to the Canna-Sexual herself, Ashley Manta who, as I said in January, got me thinking about how beneficial cannabis could be for me.
"I've thought a lot more about its benefits because of @ashleymanta".
I was talking about:
A. Lube
B. Cannabis
C. Cards Against Humanity

— JoEllen Notte (@JoEllenNotte) January 20, 2016
Learn more about cannabis from Ashley Manta here: Leafly 
---
The Big One: My Favorite 2016 Concept (That I'd LOVE to see more of in 2017)
Empathy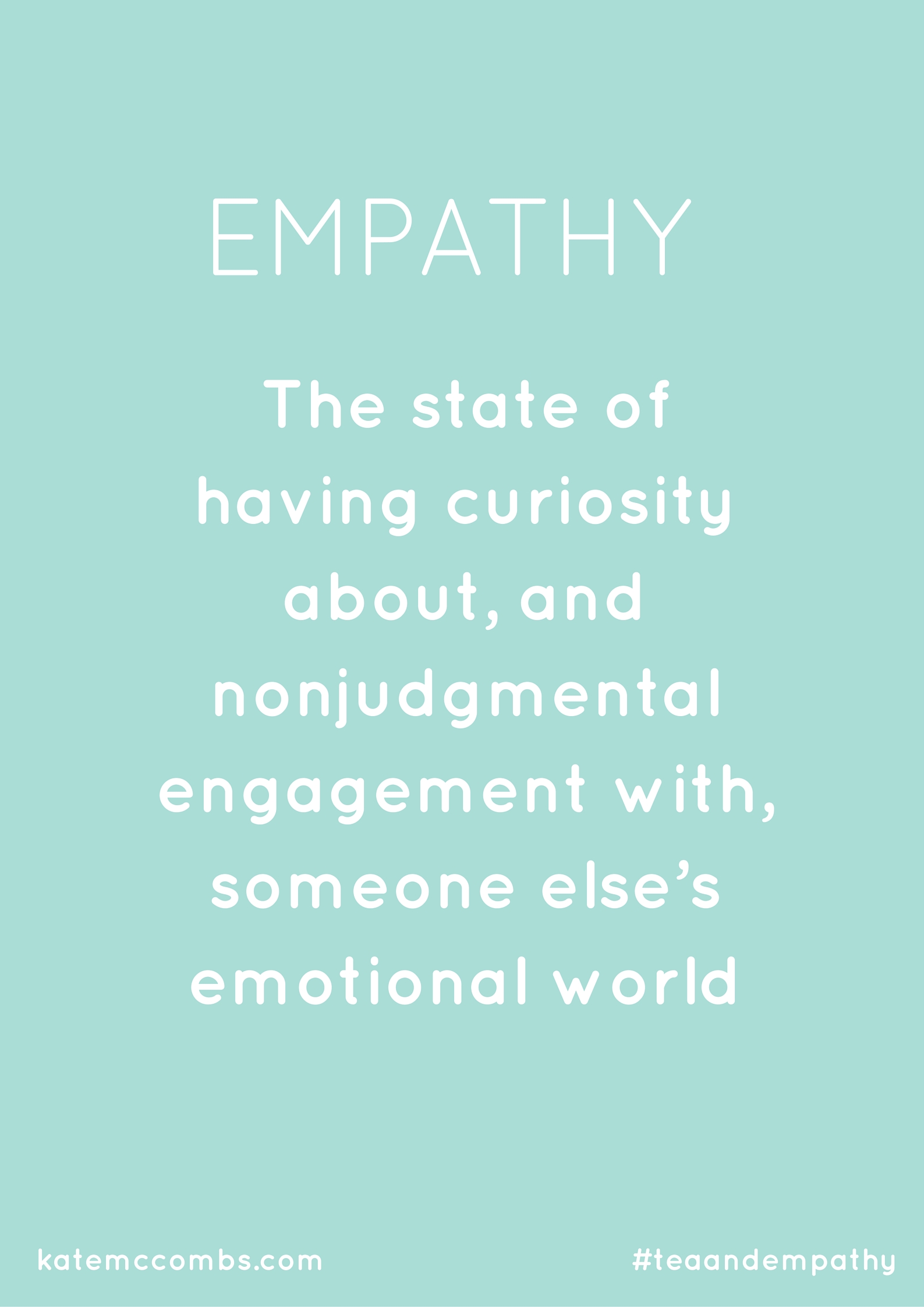 When I was a child there was a big kidnapping case and the mother of the missing child didn't cry during the press conference. I remember adults sitting around ripping into her because obviously in that situation you would cry– so clearly she killed her kid, right? Even then hearing people talk like that made me anxious because, "child" me thought that was terribly unfair, people should be allowed to respond differently and those people didn't know what they would actually do in that situation.
I thought of that story recently because, frankly, I've felt that way throughout 2016. Seeing people refuse to believe each other's lived experiences unless they can see the hard evidence is painful. Watching people insist that their vague ideals outweigh the safety of vulnerable people because they just can't (or won't) grasp what that vulnerability means has irreparably changed the way I see people. The "critical thinking", "devil's advocate", "pics or it didn't happen" response to trauma that serves only to re-victimize folks just hurts. It's like an obstacle course of  people callously refusing to see and hear each other's emotional experiences. What happened to empathy?
With that in mind, empathy is my favorite concept of 2016. Seeing the huge empathy gaps all around me I can't help but imagine what the world would be like were they filled.
There's a lot of confusion about what empathy actually is, though. I recently chatted with empathy thought-leader (and my good friend) Kate Kenfield, about the problematic belief that empathy is saying "me too" to someone's feelings when in actuality, being "me too"d at can be incredibly frustrating, we all need space for our own emotional experience. I believe though, that a big part of the empathy gap come from people being unable (or unwilling) to see beyond themselves, making them likely to deny someone else's experience or make it about them. What if we were able to show up for each other rather than denying or co-opting the experiences of others? I think we can do it and I think the key is listening to folks like  Kate Kenfield whose work includes teaching and writing about empathy as well as very cool  Tea & Empathy events where people can explore it together in a supportive environment. Go check her out and tell others about her work too! Empathy all around!
Follow Kate Kenfield here: Twitter
Curious about what my past lists have looked like? Check them out!
My Favorite Things: 2013, 2014, 2015, Master List