This is my first post since the US presidential election and it feels wrong not to acknowledge it. This election was about more than one side losing- that's politics- this election was (and is) traumatic for and violent towards people of color, Muslims, immigrants, members of the LGBTQ community, the disabled, victims of sexual assault, and women. A lot of people in the US are in (increased) actual danger due to the results of the election. Help each other, look out for each other, believe people, work on empathy, and learn about Ring Theory. 
---
Seeing a product that is a blatant copy of another product is never my favorite thing but, on the other hand, I often feel conflicted about recommending $100+ toys all the time so seeing something that I could recommend for a similar experience at a lower price point is kind of exciting. So, courtesy of the fantastic folks at Peepshow Toys, I tried out the Partner PLUS Couples Sex Toy.
Clearly meant as a low-cost We-Vibe alternative, the Partner PLUS comes to us from the same people who made the Satisfyer Pro and is a waterproof, rechargeable, silicone toy designed for use during vaginal intercourse. As most toys designed for this use are priced in excess of $150, the $69.99 price tag was intriguing.
Unfortunately, I can't recommend the Partner PLUS.
A quick look at my time with the Partner PLUS: It arrived and I charged it for the 8 hours the initial charge requires – after that it's 2 hours per charge with a play time of 65 minutes. Then I went to turn it on…the power button is strangely sticky or non-responsive. Every time I go to turn it on I spend a minute thinking the toy has died. The vibrations are super-buzzy in nature and do not transmit to the insertable end at all (this is extra strange because there's a lot of talk about the "dual motors".) I tried to wear the Partner PLUS a bit around the house (a fun use I found for the We Vibe) and found that unless I manually held the toy directly to my clitoris I felt nothing. Then I tried using it with my partner and we found it more distracting than anything,
So, yes, this toy is an less-expensive alternative to a We-Vibe but, honestly, it just feels like a cheap alternative. Your pleasure is valuable and so are your money and time. You have choices. There are good toys to be had at a range of price points. Also, any toy can be a "couples" toy – just use it with a partner (I feel ways about this)! Do all toys do the "wear it while being penetrated" thing? No. But frankly, that's not everyone's favorite because, as we know, everyone is different! You'd be better off finding a toy you love and using it with a partner.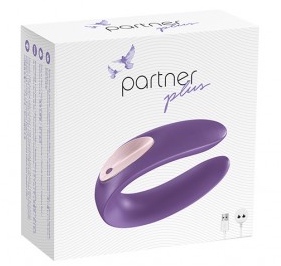 Breaking down the Partner PLUS: 
What I like:
The price
Silicone
Easy magnetic charging
What I don't like:
Super-buzzy
No vibration in insertable portion
Funky power button
Blatant rip-off design
Just not effective
Because I really can't get behind the Partner PLUS, but I want you to find a toy you love so I have a bunch of other suggestions:
Vibrators under $100:
Couples Vibrators:
Get your Partner PLUS from Peepshow Toys
Thank you to Peepshow Toys for sending me the Partner PLUS to review.


I accepted compensation to review this product. The views expressed here are my own. My review policy is simple: I will never lie about liking a product if I don't but when I do like something it's hard to get me to shut up about it.