---
I have long loved SheVibe but to tell you they are a great online sex shop feels so woefully inadequate. A lot of people have a lot of great stuff to say about these folks and it's all true but I wanted to give you a couple of my own reasons for loving this online Superhero Sex Shop.  So here goes, my top 4 reasons why SheVibe is my online sex shopping superhero!
They have a huge range of products- and price points! 
Not only does SheVibe carry all the usual suspects we're used to seeing from quality sex retailers like Fun Factory, LELO, Tantus, njoy, Aneros, Vixen, Liberator and NobEssence, SheVibe is often the first place I spot a cool new company– I got my Fucking Sculptures piece in a giveaway they did when they starting carrying them (AGES before most other places did!), they showed me L'amourose toys before I saw them anywhere else and they are still one of the only places I can find to link to Vamp (who are sadly no more)– they don't just carry the popular stuff, they go beyond that to provide as much good stuff as possible.
Lest you think it's a pricey-toy party over at SheVibe, I should mention that one of my favorite thing about them is the huge range of price points available! They carry some of my favorite less-expensive brands like  Pleasure Works and Maia Toys (both of whom make awesome and affordable silicone dildos) as well as the whole Sportsheets Sex & Mischief line and that's just the tip of the iceberg. In addition to the whole array of affordably priced products available everyday, SheVibe offers some of the best sales in the business! Each month typically features multiple longer sales and then, if you keep an eye out, you can catch some pretty amazing flash sales too. Trust me, SheVibe's sales are good!
They are BIG sex ed supporters

Do you know when I get to spend the most in-person time with the SheVibe crew? At sex ed events. We've repeatedly spent time together at conferences, met up at classes (Sandra, Thor, Keith and Alex all came out to hear me teach about online dating once, it was pretty rad) Yep, the SheVibe crew represents at events like that AND supports them! Each year SheVibe sponsors bloggers and sex educators to help them get to conferences and they let their geek flag fly pretty hard on this sex ed themed cover featuring Sex Geekdom founder Kate Kenfield.
They have the BEST art!
You can't talk about SheVibe without talking about the amazing art that is all over the site! I know I'm far from the only one who is excited to see what the cover will be each month — this month is the new Doxy Wand (which I'm seriously lusting after!). The folks at SheVibe have an awesome sense of humor and comic book artist Alex is ridiculously talented (also, the object of many a sex blogger crush). What makes their art so special is that it's beautiful, clever, cool and usually a bit dirty all at once, it's pretty much the best.
They care, seriously.
Story time! Last summer while we were all at Woodhull's Sexual Freedom Summit, I was having dinner with Sandra, Thor and a couple other sex bloggers when it came up that SheVibe had recently added a new lube to the site. I cringed and said that the lube had caused me some discomfort and I suspected it was due to the propylene glycol it contained. Our companions had attended a session on lube at the conference and knew why what I was saying was bad. We talked about it and by the end of dinner Thor was on his phone making arrangements for the product to leave the site because, after what they had just learned about lube he and Sandra didn't want to carry it anymore.
SheVibe freaking cares!
They frequently take suggestions on what to carry, they genuinely listen to people's concerns (and have been known to make adjustments in response to them) and they can be found fielding questions from customers at all hours. Customers, colleagues, bloggers, SheVibe cares about everyone and the result is they are just a splendid company to deal with. More than that, though, the people behind SheVibe are just wonderful human beings. They are kind, fun, passionate and so wonderfully enthusiastic about the work they do and the team they have formed.
The adult retail industry is unique in that consumers need to trust their retailers not only to treat them fairly and sell them quality products but to safeguard their pleasure and it makes me so happy to have a place like SheVibe to direct people to. Somewhere I know they will be cared for, treated fairly. respected and where they will also have fun and get something really, really cool! That's why SheVibe is my online sex shopping superhero and I think they could be yours too!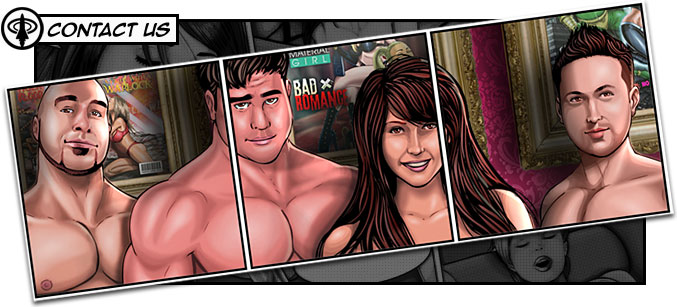 Are you following SheVibe on social media? You should be! Where? EVERYWHERE! They are doing fun stuff on Facebook, Tumblr, Twitter,  Instagram and Pinterest