---
In just 3 days it will be the 3rd anniversary of this website. I can't believe how quickly that time has gone by and how fortunate I have been during it. So, funny story: when I started this site I had no idea sex blogging was a thing. I thought that talking about sex on the internet was some kind of novel idea I came up with (I wish I could say I was kidding about this). Thanks to a lot of support, a couple of exciting projects and a good deal of making stuff up as I went I am now fortunate enough to make the bulk of my living as The Redhead Bedhead. Now, don't get me wrong, I've had a blast these last 3 years but when I think about how much stuff I just didn't know and how many things I just made harder than they needed to be I can only shake my head- I wish I had had someone to tell me how the heck to do this stuff.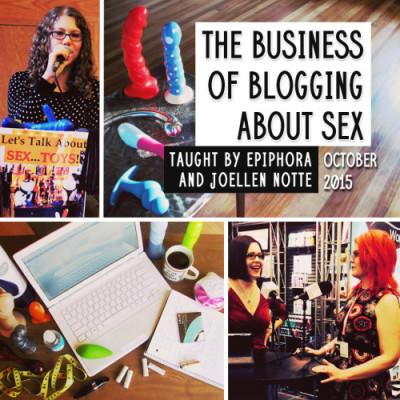 I have learned a ton over these last 3 years and today I am so excited to have the opportunity to share what I have learned with you and to do that with one of my dear friends and favorite colleagues, Epiphora!  Starting today you can sign up to spend your October learning to be a badass sex blogger in our online class – The Business of Blogging About Sex. We'll spend 4 weeks teaching you everything from site set-up  and niche carving, to content creation and social media mastery. Plus, we'll cover the all important matter of how to make the blogger life pay the bills!
As if this wasn't all exciting enough, we've got a ton of other amazing people pitching in. there will be a lesson in photography from Penny of Penny For Your (Dirty) Thoughts and tidbits of advice from over 30 sex educators, writers, bloggers and industry leaders.
You'll get a ton of personalized feedback from Epiphora and myself, get to chat with us during live video hang outs and have the opportunity to come out of the whole thing with a website that's ready to face the world! Sound good? Want more info? Go check out our site BeASexBlogger.com to find out all about it!