So, last year I came to the conclusion that I am, without a doubt, a wand girl. Big, honking, strong wands are my thing and that started on September 7th 2012 (yep I know the date) when I left my divorce hearing and went straight to Good Vibrations in Brookline MA to buy my Hitachi (it was still called that then) Magic Wand.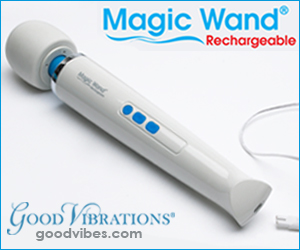 Cut to ANME in January when I bolt over the the Vibratex booth and -after accosting them over the repackaged Mystic Wand (the toy's the same, just a pretty new box- whew!)- get a look at the at the new Magic Wand Rechargeable. Now, I have to tell you, I was skeptical. I had already been shown the new rechargeable version of a different powerful corded wand and been told "Well, yeah, it's a little weaker" in a "watcha gonna do?" tone of voice. but the folks at Vibratex were ready for me. They quickly showed me that not only did the Magic Wand Rechargeable come with stuff the the Original always needed – Silicone head? Check! More than 2 speeds? Check! Vibration patterns? Ok, I don't care about those but they're there!- and it's even MORE powerful. Sold.
So, how do we define more powerful?  I tend to hold toys and go "oh yeah, I see that" but that's not super-helpful to you so here are numbers:
Original Magic Wand: 1- 5000rpms ; 2- 6000rpms – Remember it had two speeds.
Rechargeable Magic Wand: 1- 2,700rpms; 2- 3,800rpms; 3- 5,400rpms; 4- 6,300rpms – Four speeds  – woo-hoo!
On to my experience!
Now something you have to understand about me and orgasms lately is that I am currently housebound and awaiting surgery for a spinal injury. This involves a lot of pain and consequently some pretty intense opioid painkillers, which can affect your ability to orgasm. At the same time, I am a couple of months into some hormone therapy to treat one of the suspected causes of my depression and it seems to have really kicked in in the last month or so. What does all this mean? Well, I've suddenly had a raging libido, too much pain to engage sexually with partners and difficulty orgasming = I have been masturbating for HOURS. Okay, maybe not hours but long stretches of time and sometimes it leads to an orgasm and sometimes it leads to something that feels like a surprise party where only one person jumps out and they are only half-hearted in their desire to surprise me.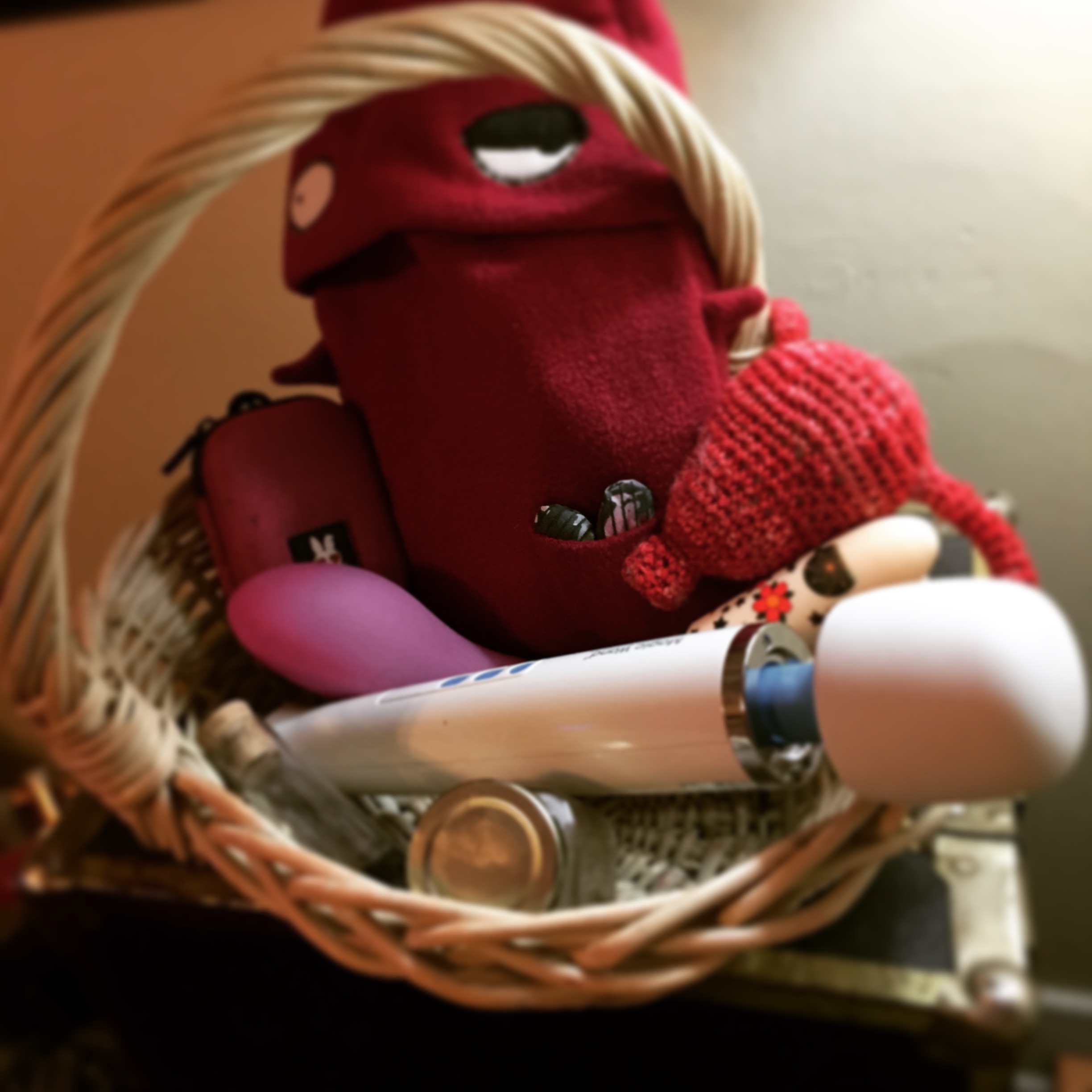 Okay, enter the Magic Wand Rechargeable.
I'm not going to lie and say it solved the problem entirely but I went from 45 minute sessions that ended in one anti-climactic climax to 5-10 minute sessions that routinely give me 2-3 actual orgasms. MAGIC wand, indeed. I'm now pretty firmly attached to this thing. In fact I'm unable to sleep in my bed right now (again, the injury) so I put together a basket of necessities to keep next to me where I am sleeping – the Magic Wand features prominently. The Magic Wand has reinforced a belief I already had about the potential usefulness of certain types of toys in certain circumstances:
I really do think big, powerful, wand-style vibrators are a worthwhile tool for anyone dealing with medication induced orgasm difficulties.

— JoEllen Notte (@JoEllenNotte) May 4, 2015
The Magic Wand's vibrations are nice and rumbly, the 4 speeds is a great touch – I can crank it all the way up, orgasm, bring it back to the slowest speed and ease back up – it's pretty cool. My only quibble with the speeds is that it feels like there should be 5. There's a noticeable leap in power between the 2nd and 3rd and it's not just in my head. If you look at the speeds you'll see that the biggest difference in the power is between the 2nd and 3rd speeds. Yeah, that bothered me, for about a second. Then I got over it
No more plug!!
Now, to be frank- I don't mind toys that plug in. I tend to like the feeling of invincibility that comes with knowing my toy will never die. I have had folks corner me on twitter to go on and on about how cords get in the way of the acrobatics they have to be doing with the wand in hand and frankly, I've never run into this. That said, I've already thought about the awesomeness of bringing my Magic Wand on the road with me to my next hippie festival or having it at a party and not having to worry about being outlet-adjacent – I'll admit it sounds pretty cool. And as for feeling invincible – with this sucker, I pretty much do already. I charged it when it first arrived 3 weeks ago and haven't had to again yet and I have been using it a lot (it is said to run for 3 full hours on a charge). The power just keeps on coming.
With one caveat.
The Magic Wand Rechargeable shuts itself off after 20 minutes. Now I have only run into this as a problem once- after a pretty heavy painkiller dose (I was turning to orgasm for more pain relief) when I just couldn't get there – it just shut itself off. The manufacturer recommends that the toy be allowed to cool down after 20 minutes of continuous use. That said, if you want to push the issue, it WILL turn right back on after turning itself off.
I love this thing. As I predicted would happen when the folks as Good Vibrations asked if I wanted to test the Magic Wand Rechargeable – I want to marry this toy and move to the suburbs with it to have its little Magic Wand babies. Hats off to the folks at Vibratex for taking one of the world's most beloved sex toys (sorry, Hitachi – it's a sex toy) and making it even more lovable.
Get your Magic Wand Rechargeable from Good Vibrations

Thank you to Good Vibrations for sending me the Magic Wand Rechargeable to try!
This product was provided to me free of change in exchange for my honest review. My review policy is simple: I will never lie about liking a product if I don't (in fact I probably won't even write about it) but when I do like something it's hard to get me to shut up about it.
This post contains a sponsored link unrelated to the review. The opinions in it are, as always, my own.