A couple months back, when I put out my 2015 Sex Toy To-Do List and included the PalmPower Wand , Dizzygirl mentioned that she thought I should check out this toy she had just reviewed – the Swan Wand (which was originally branded as the PalmPower Rechargeable – I support the change on that 1000%) . Her description had me intrigued but shape-wise the toy looked like a lot of things that don't work for me. The t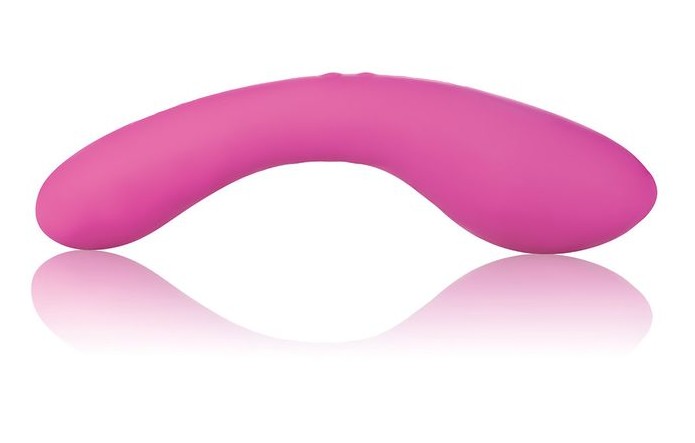 hing was, she said one end was very large (yay!) and the toy was very strong and rumbly. I knew I had to check this thing out and when I saw that BMS Factory had a booth at ANME in January I almost injured people in my haste to get to it… and BOOM.
There it was. No joke one end is big! It measures 2.15″ around and, if you know me and my love for toys that cover "large swathes", you know this excited me. Then I turned it on. Holy rumbly Batman! Even just holding this thing in my hands I felt the rumbles in my bones. What's more, while I am fixated on the big end, it's actually got one of these rumbly motors on each end. Sean from BMS Factory turned it on and turned it all the way up and I just kind of stood there in awe for a few minutes. I was in love. When it was time to leave the booth I had a hard time putting it down. Then I legitimately had a hard time shutting it off… you press both buttons at once- once you know it, it's easy peasy but I did have that "wait, it keeps just changing modes!" moments.
Anyway, I was obsessed!
The thing was, there was no set time for when it was coming to market. There were still decisions being made- in short, it was still a bit out of reach. So, I went home and waited. Then, one day I got a message that my Swan Wand was on its way… then a little while later I got a message that it was being delayed. Apparently Customs takes this kind of thing very seriously.
Once my Swan Wand arrived, all was right in the world. Let's take a look, shall we?
Sturdy box, opens like a book. Very nice.
Well done Canada. This makes up for Justin Beiber.
This little folder is held shut with velcro
It contains the manual and stuff
A really intense warning about lube that's probably for the best- keep this toy safe!
So, I charged the Swan Wand and in doing that I discovered one of the few things I don't love- the toy is totally submersible (awe-some!) and because of that it is one of those toys where you charge it by basically impaling it with the end of the charger cable AND the charger port is right in the middle of the toy so I feel like I'm stabbing it in the heart every time I charge it.
Now, you may notice I said "every time I charge it" and thought "damn! how often does this thing need to be charged?" Frankly, it holds its charge pretty well. The company estimates 8 hours of use (depending on settings and stuff) per full charge (which takes about 4 hours) and I tend to turn the big end up all the way on the steady vibration setting and leave it there. After the first charge I didn't have to charge it again for 3 weeks… then Percocet entered my life and orgasms started taking 45 minutes to happen. The Swan Wand is still performing admirably, I'm just having to charge it once every week now.
So, like I said, I tend to turn the big end all the way up, which is done by holding the button on that side down until it's as high as you want it. This leads to my second small quibble – both ends have 7 functions and the speeds are controlled with the same buttons that scroll through the functions. This means two things: 1. If I decide it's not turned up high enough and go to turn it up higher there's a decent chance I will just bump it into the next function and 2 there's not a way to turn the speed down- you have to basically start over (unless I'm missing something). Now, the reason these things don't bother me all that much- it's super easy to click the wand off (hit both buttons at once) and reenter the first (steady vibration) mode.
Because the big end is so big it's wonderful for external use. It can hit the entire genital region at once (turn it sideways a bit) or zero in a bit (use the rounded bottom tip). Something cool I have discovered using BMS Factory toys (I received the PalmPower wand just days after the Swan Wand) is that the quality of vibration the create allows me to orgasm by pressing the toy agains my pubic bone and letting the vibrations spread from there (try this, I know very few of you have this toy but a bunch of you have the PalmPower – try it). I think it might be something about the PowerBullet motors. The sensation is amazing.
Now, this toy can also be used internally – the smaller end can be inserted for g-spot stimulation. Because the vibration is so rumbly and deep and both sides can be turned on at once you will feel like everything it being simulated at once. I've been geeking out on genital anatomy lately and this toy made me super-aware of it.
So, it's safe to say I adore this toy. Because an injury has made my bed uncomfortable I'm currently living on my couch and my Swan Wand is living with me – it's one of my few toys that is also quiet enough for me to feel comfortable using it next to my front window- on my coffee table next to the pain meds. Just to recap here are the highlights:
Things I love:
Silicone (always)
Rechargeable (and holds its charge well)
Super strong and rumbly
Big enough to cover my preferred "large swathes" of anatomy
It's just nice to hold, good shape, good weight- even during my marathon sessions of late, it feels good.
Submersible – I have taken this into the bathtub
Travel lock. I never truly valued these until I had a vibe turn on in my suitcase recently.
Things I don't love so much:
The way I feel like I'm possibly damaging a toy I love when I charge it
Some of the stuff with the buttons (no lowering the speed, bumping into next function)
You can get your own Swan Wand here: SheVibe, Early to Bed, Lovehoney, Peepshow Toys, Spectrum Boutique
Thank you to BMS Factory for sending me the Swan Wand to test.
This product was provided to me free of change in exchange for my honest review. My review policy is simple: I will never lie about liking a product if I don't (in fact I probably won't even write about it) but when I do like something it's hard to get me to shut up about it.