---
I talk a lot about small, feminist boutique sex shops – heck, I went on a whole tour of them! Often, though people ask me about navigating bigger shops, shops that don't necessarily identify as "feminist", shops that are part of larger chains and shops where you may find toys made from a whole range of materials- some you may not even recognize. The thing is those shops are often unfairly written off when often they have helpful staff, a wide variety and my favorite thing: hidden treasures.
I'll use as my example Canada's Cupid Boutique:
Cupid Boutique has 5 locations in the Toronto area and a massive online shop. Their selection is enormous – where does a sex toy snob begin?
Spot your friends
Whenever I enter I big shop I do a quick lap around first to get a handle on who all is there brand-wise. Well, as I'm not in Canada I was doing this online but my process was much like it would have been in the store. On Cupid Boutique's website I made a bee-line past all the categories of clothing, furniture and sex toys and went straight for their "brands" menu. Here's the stuff I found that I was excited about:
Earthly Body
Fun Factory
Hathor Aphrodisia
Jimmyjane
LELO
Liberator
Tantus
Vibratex
WeVibe
I saw some others that I know would appeal to some of you, but these are the ones that made me take notice.
Then I took a minute to see if the shop stocked the inexpensive ABS vibes I like to recommend (they pop up under different names but they are always under $25 and good picks) – and they did. My toy friends have been located. If I do a lap through a physical store or website and don't see brands or products I know and trust, I nope the heck out of there!
Go Treasure Hunting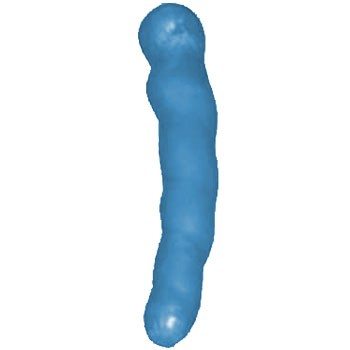 Shops with huge inventory offer the best opportunities for sex toy treasure hunting! I have found popular luxury vibrators tossed in 75% off bins and awesome discontinued silicone dildos from one of my favorite companies gathering dust because they got lost in the shuffle of the all the stuff around them! Look closely at the stock because you might find something really special, like I did at Cupid Boutique:
Behold my loves, a piece of sex toy history:
What you see here is the very first toy Tantus ever made – the Aria. It is available (in two colors) from Cupid Boutique for $24.90 CA ($19.62 US). Plus they are currently offering 30% off sitewide with the code HOT30 and all orders over $49 CA get free shipping within Canada.
So, as you can see, there's great stuff to be had if you know how to look. When there's huge stock there may be a lot more to wade through to get to the good stuff but when you get there, it's so worth it! Chains like Cupid Boutique are the places where a lot of people feel comfortable and safe shopping- it's just as important to talk about the good stuff to be found in them.
 This post contains links sponsored by Cupid Boutique. The views expressed within are all my own.