Okay, I'm not going to lie to you – I'm way behind on toy reviewing. Some of this comes from being hit with a deluge of products when I reentered the reviewing world last fall, some of it comes from having been injured and in some degree of pain from September onward and frankly, some of it comes from not having a ton to say about several items. Don't get me wrong, these are not things I don't like, or even things I feel "meh" about. These are things I dig (several of these have made it onto my favorite products list), I just don't have a whole lengthy review in me for each of them. So, that gave me the idea for this sampler of items that I have tried and want you to know are worth checking out. Here goes: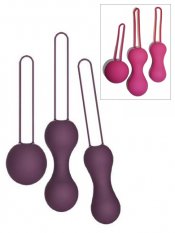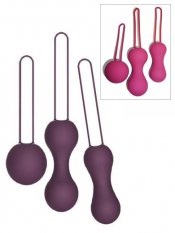 After eyeing it for a year and a half (basically since an employee at Pleasure Chest encouraged I get them over my beloved Luna Beads) I finally took the plunge and tried the Je Joue Ami Vaginal Exerciser – I was not disappointed. The smooth silicone coating feels super-luxurious, they are nicely weighted and Je Joue does a good job of making it clear what the 3 sizes are for so even if you don't know a kegel from a kugel you can jump right in with this set. 
Get your Ami Kegel Exerciser from SheVibe.  
Thank you to SheVibe for sending me the Je Joue Ami Vaginal Exerciser to test.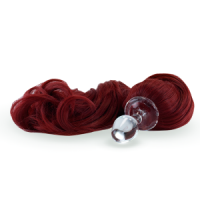 First off, it's just bloody gorgeous. Beyond that, it's from Crystal Delights so the plug is high-quality and well made- in this case boasting a small bulb and a short stem (if I could change anything- slightly longer stem). The real kicker here is that Crystal Delights recently made the tails on these plugs detectable meaning that trying different tails doesn't mean having to buy a new plug each time. I love this thing.
 Get your Crystal Minx Detachable Pony Tail from She Bop. 
Thank you to Crystal Delights for sending me the Crystal Minx Detachable Pony Tail to test.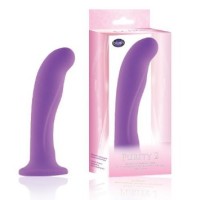 Blush Novelties isn't a company I know a ton about but they caught my eye when my pal Queeraschino picked up an affordable, decently powerful, aesthetically pleasing silicone vibe from their Purity line on a trip to She Bop last fall. When they offered to send me something I, my curiosity piqued, asked for something from the that same line. The Purity 2 has a velvety feel, thrusts well, is harness compatible and, while the heart shape base made me groan at first I quickly realized it's excellent for keeping an eye on which way is up when rocking it in a harness. Also, I always love finding affordable silicone dildos for you all.
Get your Purity 2 from Peepshpw Toys.
Thank you to Blush Novelties for sending me the Purity 2 to test.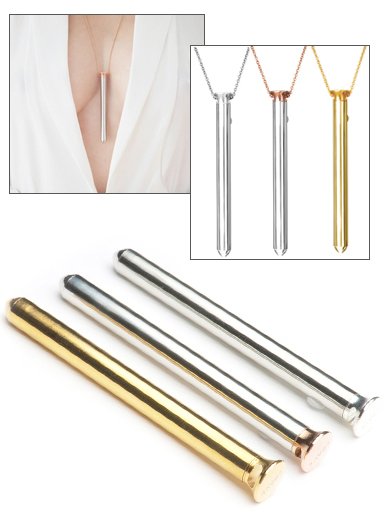 It's a necklace, it's a slim rechargeable vibrator that looks like a nail, it's a surefire sign that its owner is a big old sex geek. So, here's the thing- I knew upon seeing the Vesper that based solely on its size there was no way it was a toy that would get me off but I also knew I would love it and I do. Crave makes sexy things and this is just sexy. I treasure it more as a cool piece of jewelry that's a fun nod to who I am and what I do than as a sex toy and if you can get behind that idea (or like slim bullet vibes), you'll love it too.
The Vesper comes in three colors, Silver, Rose Gold, and 24k Gold.
Get it here:
Good Vibrations, Early to Bed, She Bop, Spectrum Boutique
Thank you to Crave for giving me the Vesper to test.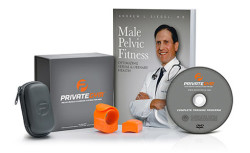 The awesome folks over at Private Gym sent us their eight week complete training system and it is impressive. I, not having a penis, immediately handed it off to the cute boy (who is realizing that dating me can be beneficial to one's penis & prostate). We were both impressed by the amount of information they provide: a book, video, a guided exercise program – after the first time the cute boy took it home he called to say "With kegel stuff I always end up thinking 'am I even doing this right?' and this totally helps that" In terms of noticeable benefits (duration, intensity and perhaps strangely, ejaculatory distance), the Private Gym is definitely delivering (we all know kegels are where it's at!), is it more than if you dutifully did them on your own? I don't know but, do you dutifully do them on your own?
Private Gym offers systems ranging in price from $59.99 to $99.99 and you can get yours directly from them.
Thank you to Private Gym for sending us your Eight Week Complete Training System to test.
Finally,  I tried sex blankets!!
In the same week I received the much-lauded Fascinator Throe from Liberator and the blanket-i'd-never-heard-of-before the No More Wet Spot Blanket. Of course there was some comparing. On aesthetics the Liberator wins it- the NoMoreWetSpot looks like you are about to go camping or tail-gating, while the Fascinator is just pretty. The both do a fabulous job at keeping your bed dry and the No More Wet Spot actually seemed to keep small amounts of moisture on the surface rather than absorbing them so it cleaned up super-easy. The No More Wet Spot performed admirably even under fire from period sex but the Fascinator is still the one I'm putting out on my bed when I'm expecting to bring a sexy date home.
Get Your Liberator Decor Fascinator Throe from SheVibe
Get your More Wet Spot Waterproof Play Blanket directly from the manufacturer.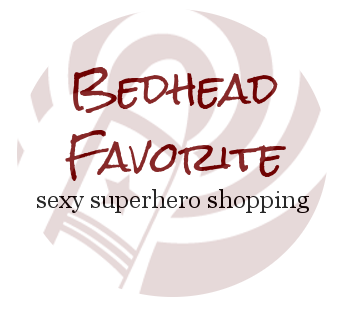 Thank you to Liberator for sending me the Decor Fascinator Throe to test.

Thank you to No More Wet Spot for sending me your Waterproof Play Blanket to test. (please get a logo besides this one – or at least have it in more than one uneditable size)

I still have a bunch of reviews coming up on the horizon including  OhMiBod blueMotion Bluetooth Remote Vibrator, Mystim Electric Eric E-Stim Electrosex Vibrator, Nobessence Seduction, Vibease Wearable Smart Vibrator, KinkLab Neon Wand Electrosex Kit and PalmPower Massager & Attachments
These products were provided to me free of change in exchange for my honest review. My review policy is simple: I will never lie about liking a product if I don't (in fact I probably won't even write about it) but when I do like something it's hard to get me to shut up about it.