A couple of months ago, in the midst of an interview about sex and depression, I referenced the "buffet of lubes" on my nightstand. I wasn't exaggerating. At any given moment there are at least 4 different lubes on my nightstand. Here's a picture:
So, what's with all the lube? Well, first and foremost, I LOVE lube. My lube journey started the way I suspect most do: I treated it like a necessary evil and bought one kind religiously without question. Then I started writing about sex for a living and discovered all the different lube options available to me and all the ways they could enhance pretty much any and all forms of sex. Now I am a legitimate lube prosthelytizer. I want everyone to experience the joy that lube brings to our lives. I waxed poetic about lube once in a post about hand jobs
Lube lets the hands glide. Lube makes things warm and wet. Lube is the difference between indescribable pleasure and rope burn. Lube is magic.
The post is over 5 years old but I stand by that statement. Seriously. Like enough that I made it into a graphic.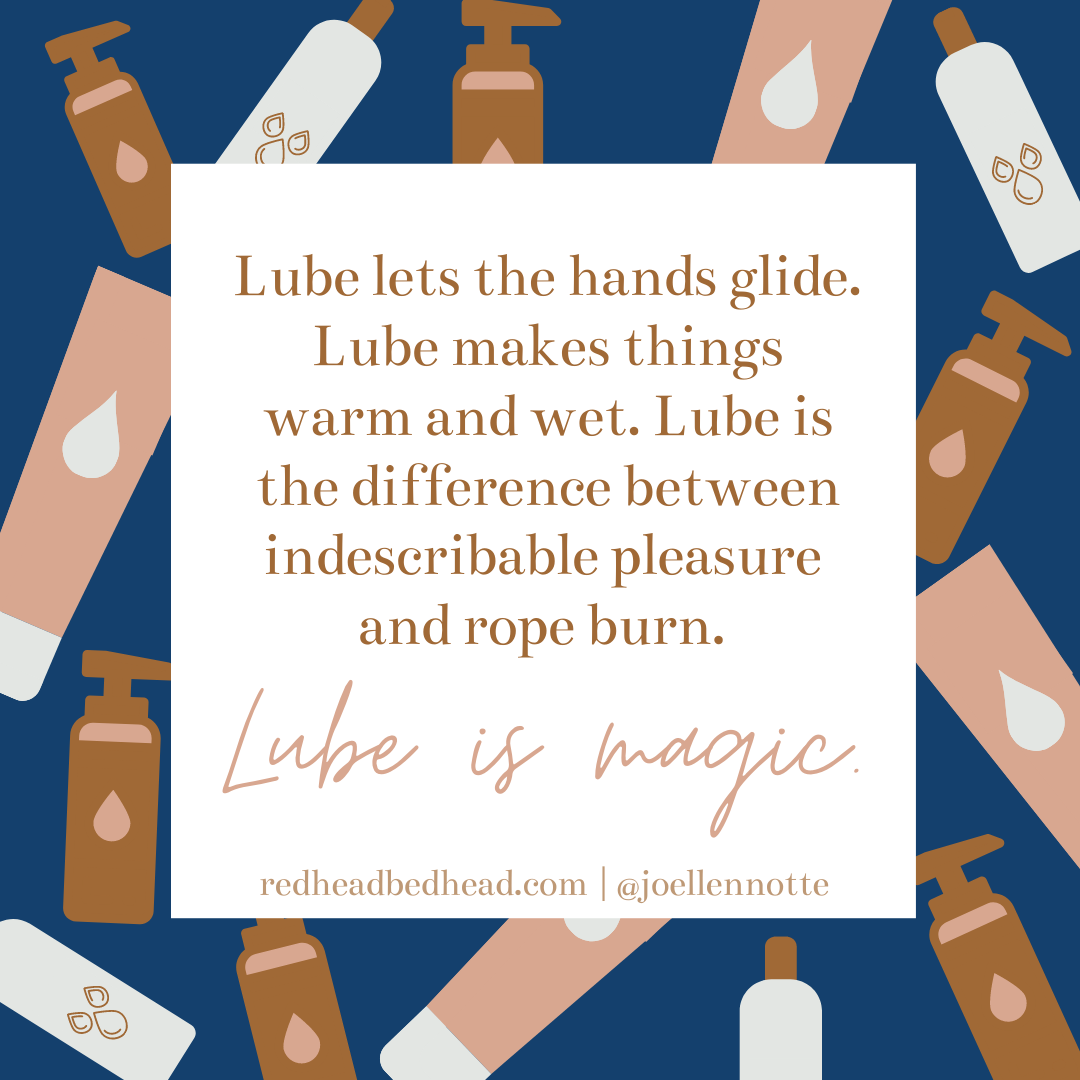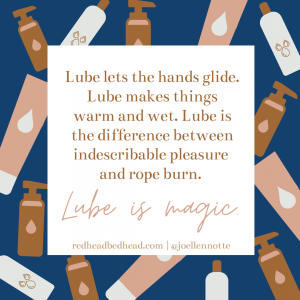 You're welcome.
So, even if I LOVE lube so much, why do I have so much of it on my nightstand? How much lube can you use? Well, the answer is, a lot. I have so much lube on my nightstand because, over time, I have discovered that they all do different things really well and, while I suppose I could use one lube for all of my slippery needs, it's just one of those things where once you know better, you can't really go back. I know that water based, silicone, hybrid, and flavored lubes all do different things well and I'm attached to each. So, my nightstand is, and will likely always be, a veritable buffet of lubricants. Now let's talk about what lubricants are on my nightstand and why! PLUS I'll tell you about two of my favorite lube accessories!
Water Based:  Sutil Rich and Luxe, Hathor Aphrodisia Pure
Okay, I'm kind of cheating here by cramming three separate lubes into this one category but I tried these three for the first time last year and now love them all. These water-based, vegan, glycerin- and paraben-free lubricant 3 lubes are all super-high-quality and feel great; hell, I even love the smooth, matte feel of their tube.
What is it for?
For me, water-based lube is a constant. Other preferences come and go but I will always reach for a good, slippery, thick water based lube. I tend to lean on these (coupled with other stuff, more on that in a minute) for penetrative sex.
Get Sutil here:
SheVibe
Get Hathor Aphrodisia here:
She Bop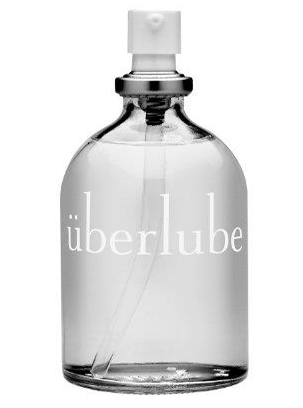 Silicone: überlube
As far as I am concerned überlube is THE silicone lube. Beautifully packaged, made by wonderful people, and infused with vitamin E so it nourishes and hydrates wherever it's applied, überlube is a gift from the sex gods.
What is it for?
Silicone lube is a work horse. Because it is not water soluble, it just lasts and lasts (and is ideal for use in the shower!)and for that reason I love it. That said, I also find it a bit thin so I have developed a lube hack of sorts: I like to apply some silicone lube and then layer a thick water based lube on top of it. This way I get the cushiony feel of water based lube and when that dries out I still have the glide of the silicone. Also, I like to keep some in my heated lube dispenser (more on that below) for genital massage that is pleasantly warm and super slick.
Bonus: Silicone lube can be used in SO. MANY. WAYS : hair styling, anti-chafing, household repairs, make-up removal, and more! I actually keep a bottle of überlube in every room of my house.
Get it here:
SheVibe, Early to Bed, She Bop, Lucky Bloke
Hybrid: Sliquid Organics Silk
Sliquid Organics Silk is just lovely. Creamy, long-lasting and -you guessed it- silky with the best parts of water-based and silicone lube all in one place. It also has a mild smell and an unobtrusive taste.
What is it for?
Hybrid lube is a water based formula with a touch of silicone. It's versatile like water based but long-lasting like silicone. Hybrid lubes are pretty flexible. I have used them for most activities one would use a lube for. A fun fact about hybrids is that while they have some silicone in them, they are generally safe for use with silicone toys.
Get it here:
SheVibe, Early to Bed, Lovehoney, Peepshow Toys

Flavored: Wicked Flavored Lubricant
I have loved this stuff for YEARS. I love how it tastes, I love the sleek pump bottle, and most of all I love how many flavors Wicked offers! It's available in Candy Apple, Cherry Cordial, Cinnamon Bun, Mocha Java (a favorite of mine), Pomegranate, Salted Caramel (another favorite), Vanilla Bean, and more.
What is it for?
I used to turn up my nose at flavored lubes, insisting that bodies don't need additional flavoring. Eventually though I had to admit that flavored lube is just fun. Wicked is my go-to for use during fellatio and I'm pretty much obsessed with it. Generally, if there's a cock in my mouth, there's some Wicked lube there too.
Get it here: 
Good Vibrations, SheVibe, Early to Bed, Betty's Toy Box
Lube Dispenser: Touch Lubricant Warming System
Touch is a product that I file under the heading "Things that make life nicer". An automated dispensing system that warms personal lubricants and massage oils, it's compatible with all liquid (not cream or gel) lubes and oils, utilizes laser activated automatic dispensing, holds 4oz at a time, offers 3 different dispense settings, heats within 2 minutes and features guide-lighting for ease-of-use any time of day, a unique design with easy-to-fill tank, stabilized base, non-skid bottom, a washable drip-tray and a one-hour safety auto-off, it's kind of amazing. Also amazing? The response pre-warmed lube gets from partners ?
Get it here: SheVibe, Peepshow Toys, Betty's Toy Box
Lube Travel Bag: Slut Bag by Luna Matatas
When I'm away from home– and my fully-stocked nightstand– I tend to bring along all of my supplies. For years I was squeezing them into a cute little case but as my love for lube flourished, it started to get harder to fit everything in. Enter the Slut Bag. Made by Luna Matatas who describes herself as part burlesque artist, part sexuality educator, and part crafting goddess, this fun bag is big enough to fit A LOT of stuff. I tend to pack mine full of all the different lubes I love as well as a ton of condoms, some wet wipes, and massage oil. All that and it's still compact enough to fit in my suitcase or tote bag. I LOVE my Slut Bag. Bonus: Luna offers other fun bags too. I particularly like the one that says Definitely Not Bondage Stuff.
Get it here: Etsy