On July 4th The Redhead Bedhead had its 7th anniversary. In years past I have marked this anniversary with tons of pictures, emotional stories, cool website additions, and, as was the case in 2015 and 2016, nothing at all. This year I'm doing something a bit different. These last 7 years I have faced exhilarating highs and devastating lows, and they have, in some ways, been the best years of my life so far. In other ways — ways having to do with mental and physical health, trauma, pain, and more– they have been kind of brutal. That's kind of what I want to address in this post.
First I want to thank you all of you. Thank you for finding me, reading my work, sharing it, and coming back for more. Without you there is no Redhead Bedhead and I appreciate you all immensely. With that in mind, I have been thinking about something that I've been told over and over by friends, family, and (if we're being honest) therapists: It's okay to ask for help. Things have been a bit rough this year. I've been working hard on finishing the book while also dealing with a bevy of mental and physical health issues (There's a long story coming about all of this but for now let's just say that if we don't process trauma, the trauma will process us). There's a lot going on and my brain isn't handling that very well. All of this means that I've been working (and bringing in money) significantly less, which is not helping with any of the other issues. This post marks the first new content on this site in over 2 months — that's the longest break I've ever taken. It's been a pretty rough year and though help is (ostensibly) on the way, I could still use some support.
So, what can you do about any of this? If you enjoy my work, if it has positively impacted your life in the last seven years, I'm here to offer you some ways to support me (classes, ebooks, and more!) so I can keep bringing you that work (even some that don't cost a thing!).  You can just scroll down to see what all the options are or use the menu to hop right to the sections you want to see (you can hop back up too!). Go check it out!
Fun Ways You Can Support JoEllen and Her Work!
Take an Online Class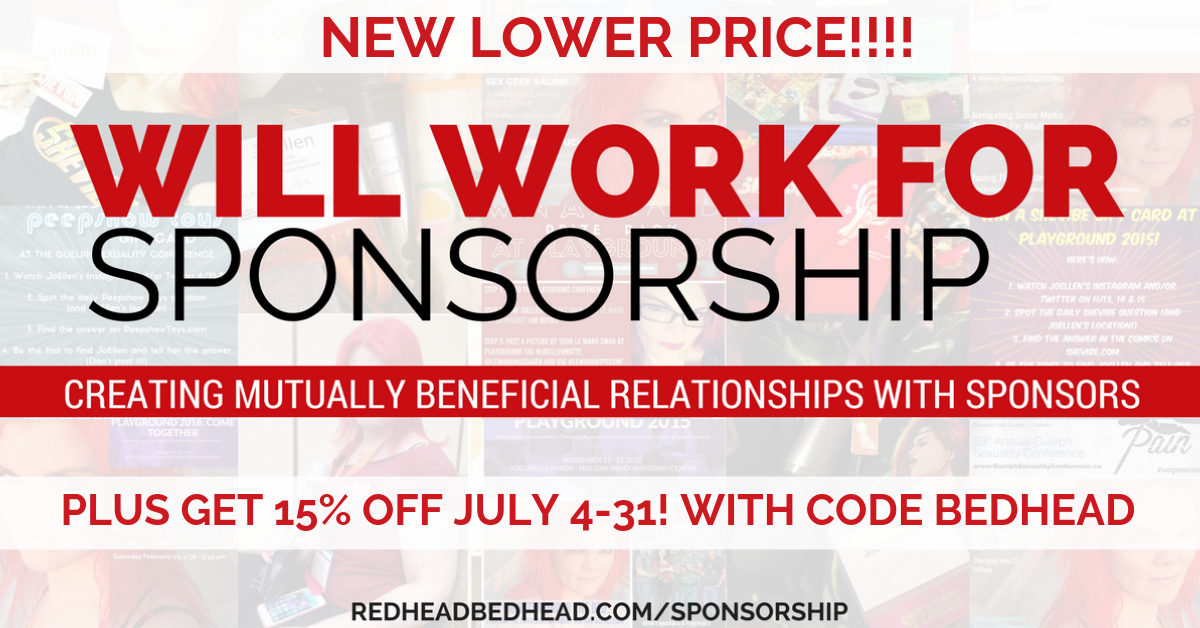 That's right, my online sponsorship class is back!  This class features over an hour of almost everything I know about sponsorship! Learn how to approach sponsors like a professional, work with them successfully, and keep them coming back to work with you again and again- all from the comfort of your own home! The class price has been reduced from $100 to $75 PLUS until the end of July you can get 15% off with the code BEDHEAD! Get it here!
I also offer document templates to make the sponsorship process super easy as well as one-on-one sponsorship coaching!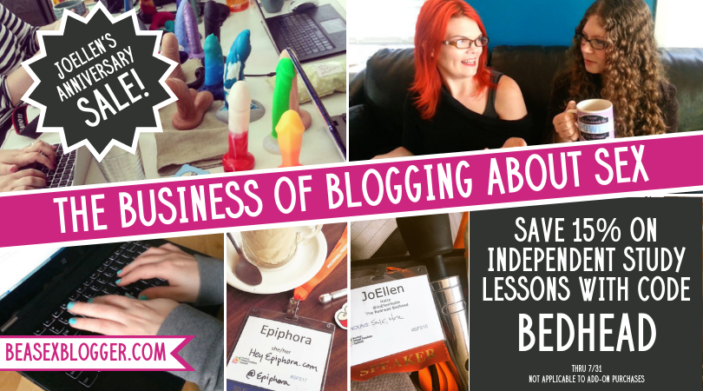 Check out The Business of Blogging About Sex! Since 2015 Epiphora and I have taught aspiring sex bloggers everything we know! Our former students are badass, influential, and–in some cases– award winning sex bloggers, and YOU could be one too! Sound good? Awesome! You can take our class (or even just parts of it) online in your own time and for the month of July we're celebrating my site's 7th anniversary by offering 15% off our independent study offerings! Get it here!
---
Buy My Ebooks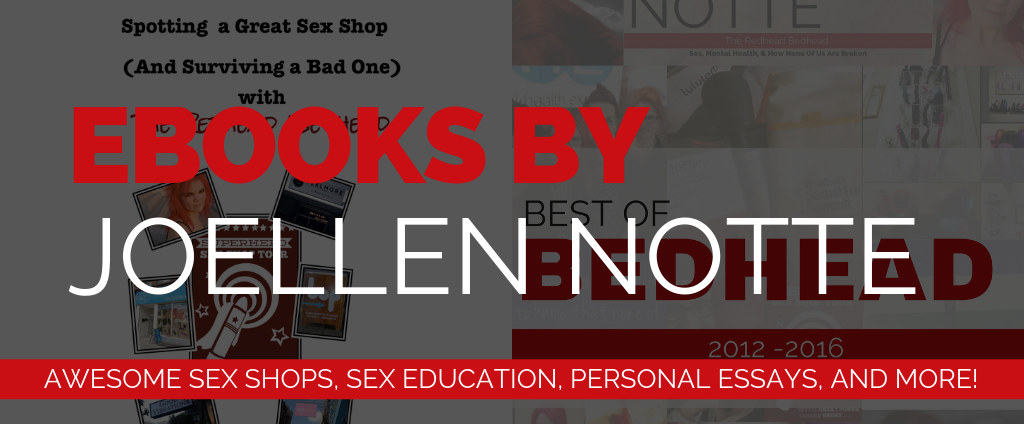 I never actually talk about this but I have a couple of ebooks (with a third one in the works!). One is my comprehensive sex shop guide and the other is my 2012-2016 Best Of collection which covers the full range of topics I wrote about in that time.
Note: When you click "add to cart" the page will refresh and the cart will appear right under the book listings. After you complete your purchase a link will be sent to you to download your book, if you don't see an email, please check your spam folder.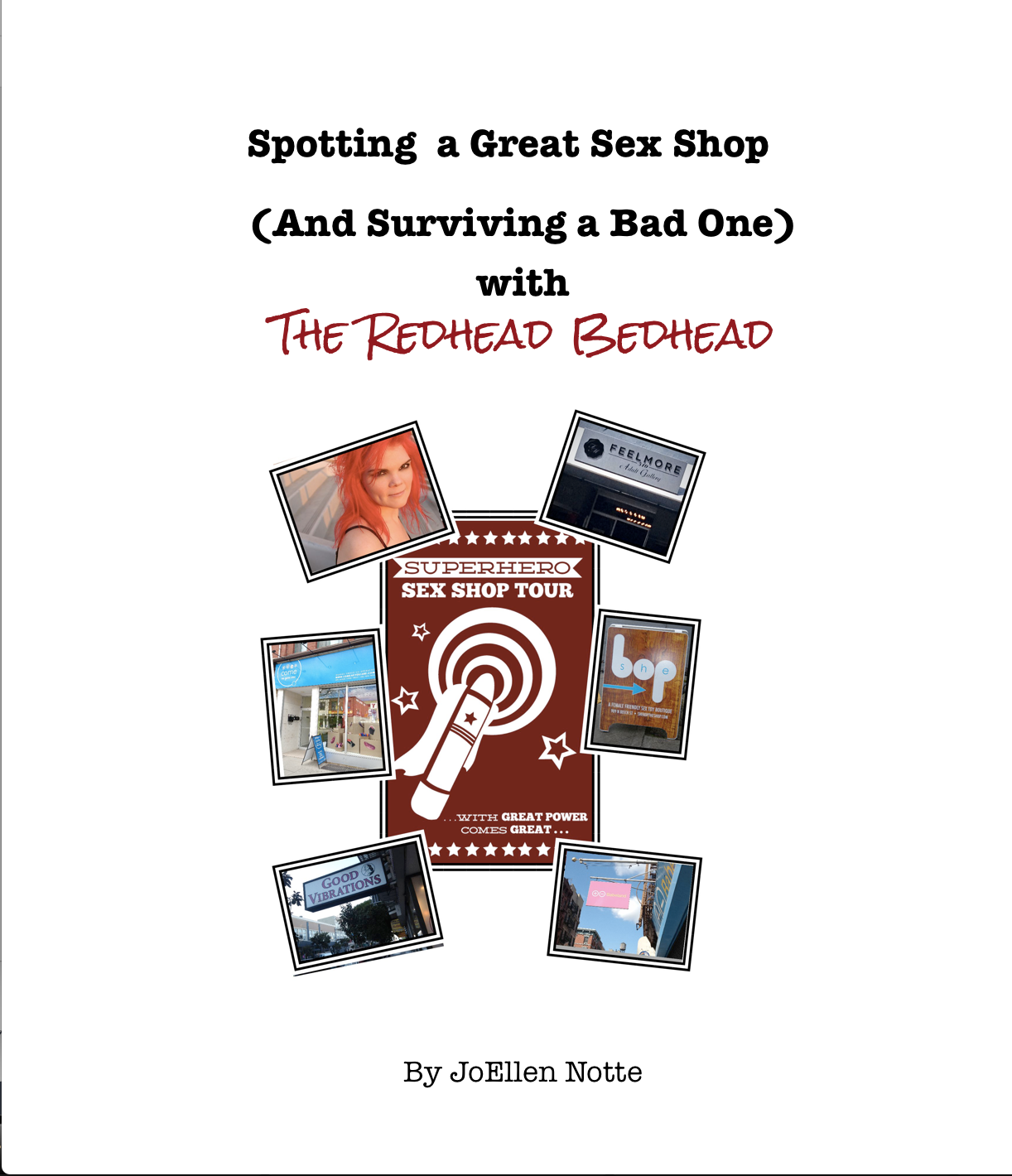 Spotting a Great Sex Shop (and Surviving a Bad One)
JoEllen has visited over 60 sex shops in 13 states and two countries — she knows a thing or two about adult retail! This ebook will help you spot high-quality sex positive sex shops and give you strategies for getting the best out of the not-so-great ones.
Price: $5.00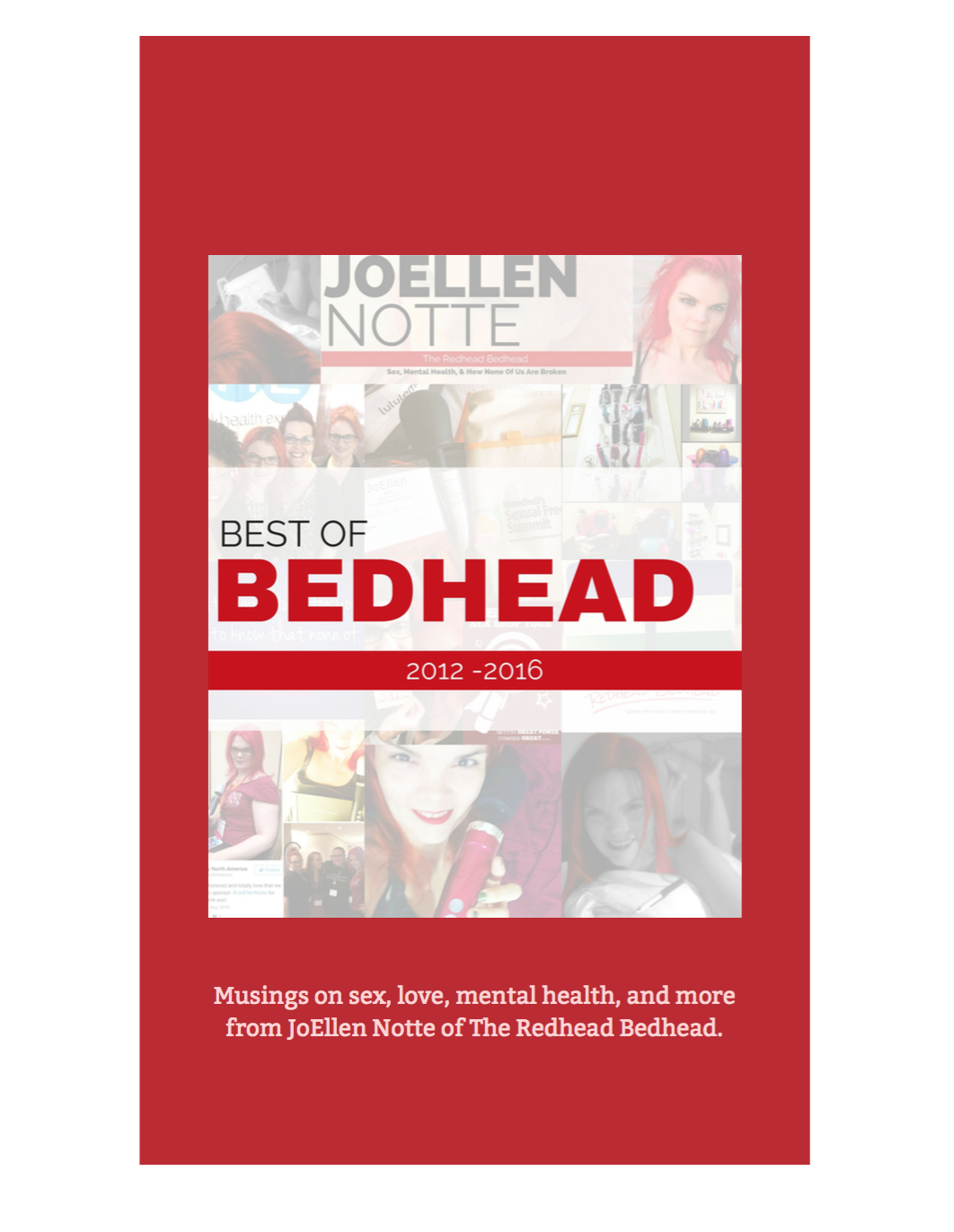 Best of Bedhead 2012-2016
This collection of JoEllen's favorite pieces from the first 4 years of The Redhead Bedhead features almost 200 pages with nearly 50 essays! Including toy reviews, sex education, rants, personal essays, and more!
Price: $5.00
---
Support Me On Patreon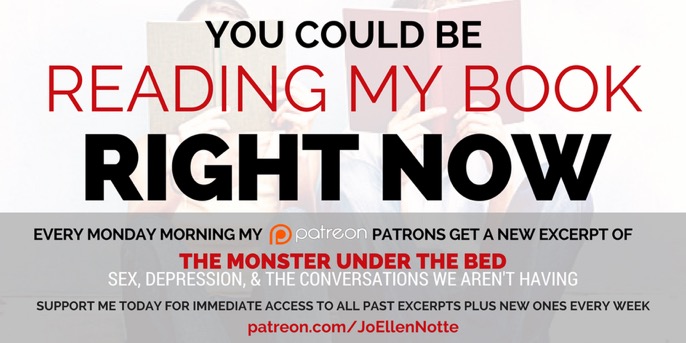 Yep, I have a Patreon! I tend to not mention it all that often because I'm prone to thinking stuff like "I posted about it last month, they already know and I shouldn't annoy them" but, yeah it exists! For the last 2 years it has centered on my upcoming book The Monster Under the Bed. I have 4 different monthly patron levels, they all come with cool stuff like weekly book excerpts, exclusive patron polls and more! You can support me for as little as $3 per month. Check it out here!
Want to support me without making a monthly commitment? Awesome! You can make a very much appreciated one-time donation here!
---
Free Ways to Support Me
Endorse me for a WEGO Health award!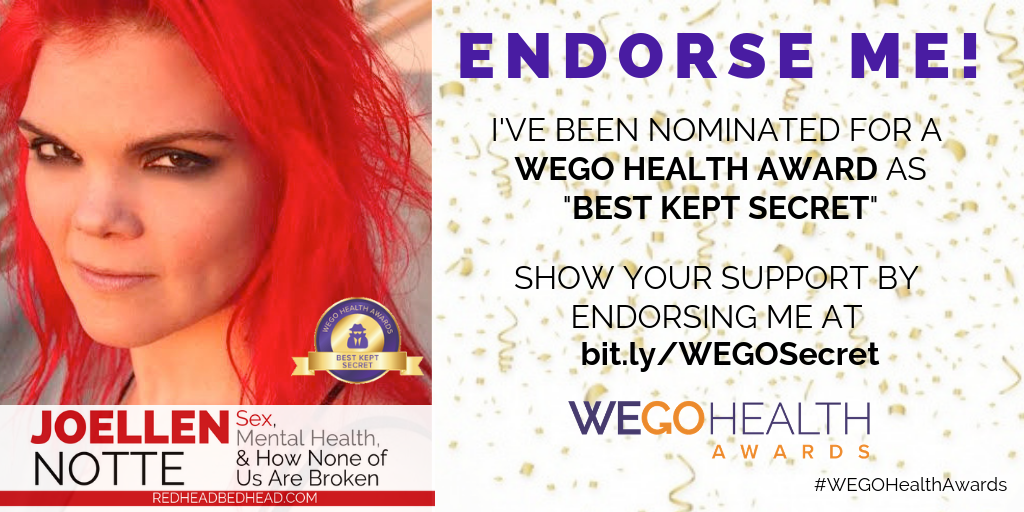 WEGO Health is a mission-driven company connecting healthcare with the experience, skills, and insights of patient leaders. 
Click here
 to learn more about their Patient Leader Network. 
The WEGO Health Awards
 were created to celebrate Patient Leaders who raise awareness, share information, and support their communities – but often do so without recognition.
Do you think it would be cool for me to win something like this? Me too!!!!
You can help make it happen by endorsing me here
Sign up to be alerted when my book is available!

My book, The Monster Under the Bed: Sex, Depression, and the Conversations We Aren't Having, is coming in 2020! Sign up here to be notified when it is available!
How does this one count? I'm so glad you asked! Writing a book can be a lonely, scary process that involves TONS of wondering if anyone else even cares about this book. I'd love to know you care.
---
So there you have it, folks! 2019, the year my site anniversary was possibly a bit of a bummer but also the year I FINALLY took the advice I've been hearing for years and years, let people help you. Thank you all. I'm looking forward to many more years together!