I'm going to be 100% honest with you: I had no interest in reviewing the Mimic Plus. I have kept an eye on Clandestine Devices for the last couple of years and had always been pretty fascinated by the manta ray shape of the Mimic (fun fact: a faction of my family is Caymanian, as in "from the Cayman Islands" and so the shape immediately reminded me of the stingrays we'd see visiting their family). It looked like something that could fit well against the body. I have never been actively interested though because the Mimic is a small toy and, in my experience, those do not work for me. At all. I'm a big, huge, giant, jack-hammer-like wand girl. 
So, when the revamped Mimic Plus came along, it didn't even occur to me to be interested in it. Then the folks at Peepshow Toys explained the work that had gone into Mimic's overhaul and, as we've discussed in the past, I LOVE when companies get criticism for their products and then, instead of playing "la, la, la I can't hear you!" they actually try to improve said products based on the criticism. That had me curious. I still, however, did not think the Mimic Plus would, in a million years, work for my body.
I'm here today to say that –shockingly (even to me)– I was very, very wrong.
So, first things first: What is the Mimic Plus?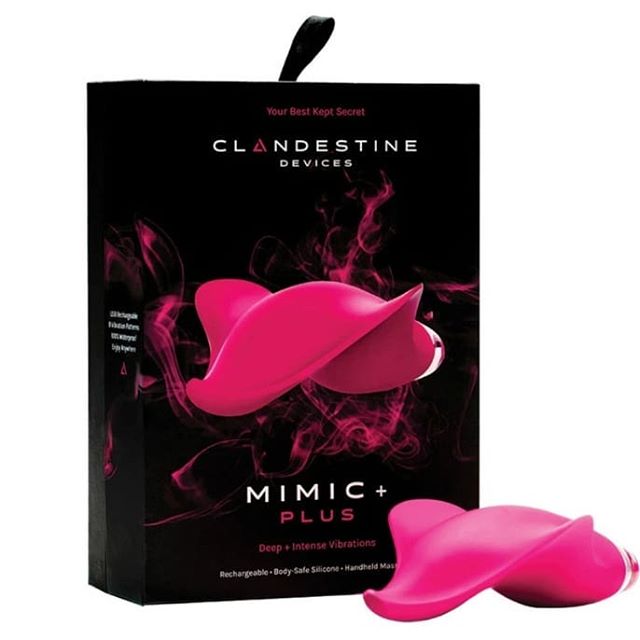 Okay, so its full name is the Clandestine Devices Mimic Plus Rechargeable Waterproof External Vibrator and it is is an upgraded version of its predecessor (the Mimic), with a more powerful motor and larger body. The Mimic Plus has a silicone body in that unique manta ray shape I mentioned earlier and while many companies have made many claims about toys that curve to fit the contours of the body, I find this one actually does. Personally, I like the way this toy feels against me. It's got what they call a "precision tip for pinpoint focus" but as a broad stimulation girl, I'm more into the way said tip, along with the "wings" deliver vibration to the clitoral head and legs as well as the urethra and/or perineum depending on how you aim it. It includes 6 intensity levels and 8 vibration patterns which, generally, I don't care about. My MO tends to be "turn on steady vibration and crank up the power".
How did the Mimic Plus feel?
I cannot stress enough that I had no hope this toy would work for me. I am big, powerful wand girl! But I was curious about how the shape would feel and figured if nothing else it could be an interesting warm up. So I usually use my big powerful wands over clothing and I quickly saw that using the Mimic that way would not work, it dampened the vibration and took away from the benefits of the cool body shape. So, I broke with tradition and used it directly against my body.
Here comes the surprise…
Frequently when giving small toys a shot, I find that they build up a certain degree of pleasure but don't get me all the way to orgasm so I have to switch off to a wand. With the Mimic Plus, though, the vibration is pleasant, rumbly, and strong enough to do the job. I went from "oh this is nice enough" to "orgasm" with shocking speed and then, because it's not a huge jack-hammer vibe, it didn't leave me too sensitive (usually with my wands I have to orgasm, take a break, come back, orgasm again ad nausea) and I could just keep using it. So, I spent the next 5-10 minutes (I didn't time it, sorry) cycling through orgasms. Then I put it down. Then I said (yes, actually said, out loud) "who am I kidding?" and picked it back up for another 5 minutes.
Suffice it to say, I was pleasantly surprised.
Do I recommend the Mimic Plus?
I do! Again, no one is more surprised here than me but I actually had a great time with this toy and am excited to get back home to it. (I'm traveling at the moment and, for god knows what reason, brought no toys!)
Anything else we need to know about the Mimic Plus?


Thank you to the folks at Peepshow Toys for sending me the Clandestine Devices Mimic Plus Rechargeable Waterproof External Vibrator to test.
I accepted compensation to review this product. The views expressed here are my own. My review policy is simple: I will never lie about liking a product if I don't but when I do like something it's hard to get me to shut up about it.