In less than two weeks I'm heading up to Vancouver, BC for the first time. I'm extremely excited about that for multiple reasons (there's a Superhero Sex Shop up there!) but perhaps the most exciting reason is the actual purpose of the trip:
That's right, The Monster Under The Bed is back! Over the last three years, Monster Under The Bed sessions have been one of the most fun and rewarding parts of my work. I'm so excited to be speaking publicly about sex and depression again and I'm even more excited to be doing it with a colleague I have long respected and admired- Shadeen Francis, MFT! This session will build on the existing conversation with a new focus on relationship dynamics, strategies, and resources to help partners navigate sex and depression together.
We'll be speaking at ConvergeCon on April 7th 11am- 12:10pm
Can't make it to the session? That's okay, there are several fun things you can do!
Follow along on Twitter with #BCMonster
Keep an eye on Twitter. I'll share the hashtag with attendees and you can use it to follow along!
Support my work on Patreon to read excerpts from my book The Monster Under The Bed: Sex, Depression, and The Conversations We Aren't Having
Seriously, patrons get a new excerpt every Monday and I've been doing this for over a year so there's a TON of content just waiting for you!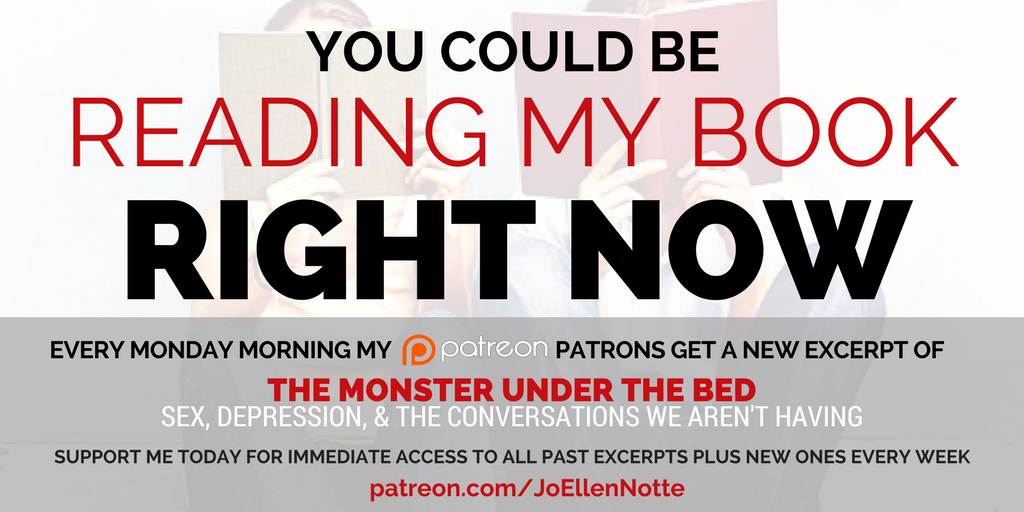 Score some super-fun Monster gear (featuring me as Wonder Woman!) 
Last May SheVibe made me their cover girl! Now we have all sorts of fun Monster Under The Bed stuff available – JoEllen on a pillow, anyone?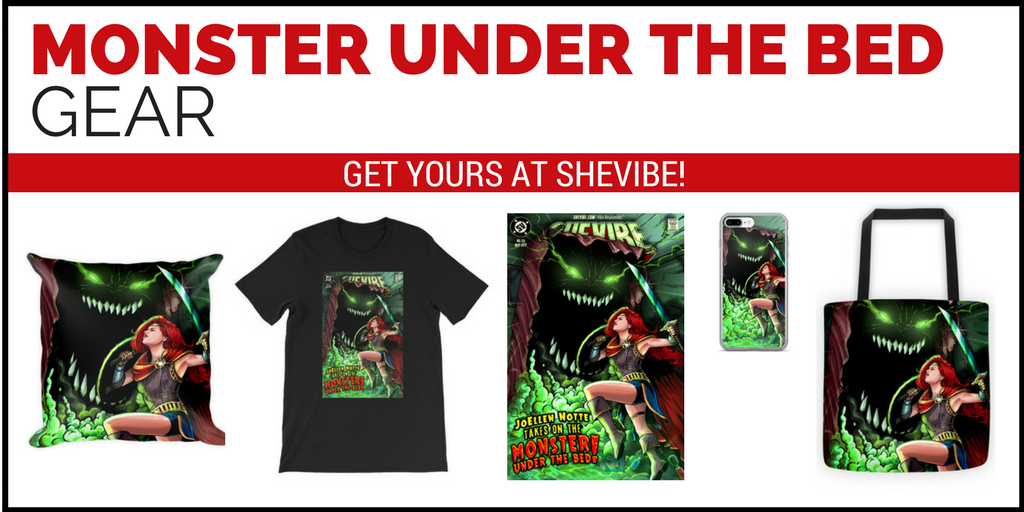 Speaking of SheVibe…
This trip wouldn't be possible for me without the help of my favorite sexy superheroes– the good folks at SheVibe! My love for this company has never been a secret and I am thrilled to be partnering with them for this trip. Their site is rad, they are wonderful people and I so appreciate their support both on this trip and in general – Seriously, the SheVibe crew has always been super-supportive of me and I appreciate it to no end. Thank you so much to SheVibe for making this trip possible for me!