The time has come! I'm bringing back my class Will Work For Sponsorship! It's been three years since I recorded the original class and a LOT has happened:
I know I've learned a TON in the last 3 years and thus the class is definitely due for some upgrades.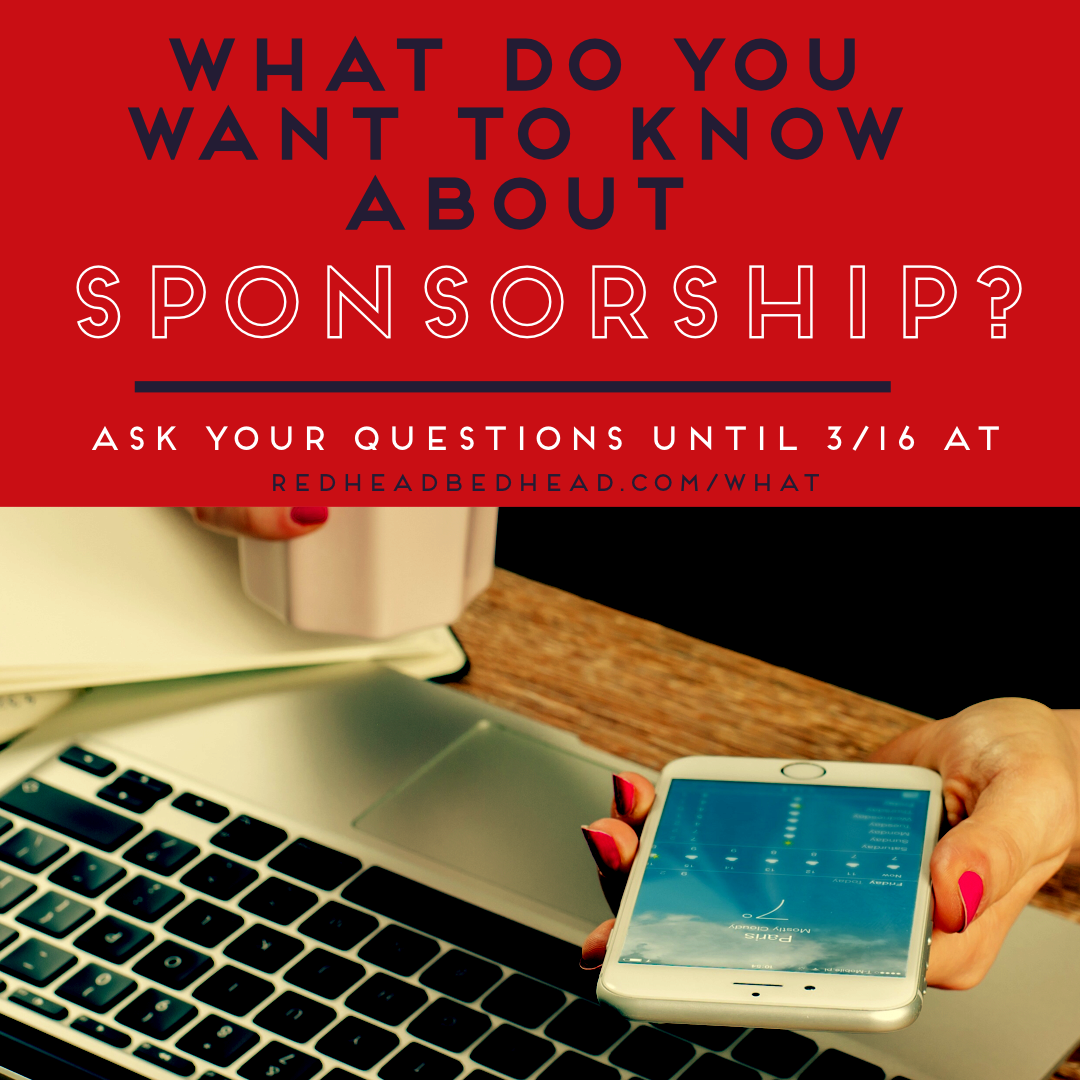 I'll be recording the new class the over the weekend of March 17th and it will be available to you on April 2nd. Do you have burning sponsorship questions that you would love for my class to address? Great! Leave them in the comments field (yep, I've opened up the comments field on this one post, just for you!) and if your question is something I can answer, into the class it goes! If I can't answer it, maybe we'll all learn something new and that will go into the class too- the sky's the limit! Not comfortable asking your question publicly? No problem! Send it to me at office@redheadbedhead.com!
What can you expect from the new, improved Will Work For Sponsorship?
I'm keeping all of the best features of the original class! We'll discuss:
What sponsorship is (and is NOT)
How to get it (and how NOT to get it)
AND I'll show you some examples of proposals that work
I'm also adding some of the most important things I've learned in the last 3 years of sponsorship life.
Why sponsorship works -especially in the sex writing/education field
Where 83.2%* of people seeking sponsorship go wrong
Step-by-step instructions (seriously, like "and then you do this" stuff!)
My favorite tools for being a sponsorship rock star
The answer to the question EVERYONE asks: "What do I have to offer sponsors?" (Spoiler alert: it's a LOT)
PLUS optional add-ons for those who want more hands-on help (that's right, I'll be your sponsorship Yoda!)
So, what do YOU want to know? Leave it in the comments field below!
But wait, there's more!
Because I'm so excited about this new class and everything that goes with it, I'm extending a special offer to my readers. If you sign up here, I'll let you know first when the class is available and hook up with some sweet savings too!
Be the first to know when the class goes live AND receive an exclusive discount!

Okay, folks, I'm looking forward to your questions and I can't wait to get the new class out to you!
---
*I may have made this number up but I stand by the idea of that number