It's happened once again– I'm way behind on toy reviewing. Partially because I've been traveling every 2 weeks since December, partially because I didn't have a ton to say about several items, and partially because I'm once again having that "do I want to write about toys?" feeling. I haven't written a ton in the last 3 months but I have had three of my most popular posts ever and they were about bullying, navigating depression in a relationship, and, okay, kind of about a toy but more about feeling broken. I'm wrestling with this question. I guess we'll have to wait and see how that turns out. In the meantime though I had a bunch of products on hand that I really needed to tell you folks about. Some I really liked, some not so much, one pair made me really angry (not due to quality, just due to reasons) So today I'm getting caught up. I've got 7 products from 5 great companies and I'm telling you what I think about all of them. Here goes:
As You Like It Organics Body Butter & Massage Oil
I'm a bit embarrassed about how long I have had these in my possession without telling you about them, especially because they are pretty cool. As You Like It is one of the Superhero Sex Shops and they have always had a strong commitment to local, environmentally friendly products. Now they have made their own line of body products including massage oils and body butters that are certified organic. I actually got to try out two scents of each the body butter and the massage oil and here's my take: I love them with a caveat. I am someone who loves scented things, especially ones that smell like food (funnily perfume is one of my migraine triggers so I know to keep my scentedness to home – we should all be doing this, btw). Liking scents is important for a lot of this stuff.
Body Butter- In a convenient large tube (think large lipstick tube) or a mini tube (the size of regular chapstick) and in yummy scents like Chocolate, Chocolate-Orange, Peppermint Pattie, (all of which I tried), and Vanilla, they are moisturizing, smell great, and even taste good. As You Like It promotes them for sensual play but I have to be honest, I keep forgetting to use them that way and instead just smear them on myself when I want to smell yummy. The scents come on strong but fade in a few minutes so you don't have to worry about smelling like dessert all evening.
Massage Oil- Okay, again, because I tend to jump right to boning I never remember to massage anyone else with this stuff so I just keep using it on myself. I like to rub the Lavender into my arms before bed and last fall I couldn't stop massaging myself with the Chai, because, Chai. Now it is massage oil so it doesn't sink in like a lotion. You do end up with a bit of sheen on your skin from it but it feels fantastic. Again the scents are strong but lovely. It also comes in Vanilla and Naked (unscented).
So, yeah, I use none of this stuff for its intended purpose but I love it all.
Get your As You Like It Organics Body Butter and Massage Oils from As You Like It Organics.
Thank you to As You Like It for sending my the Body Butter and Massage Oils to test!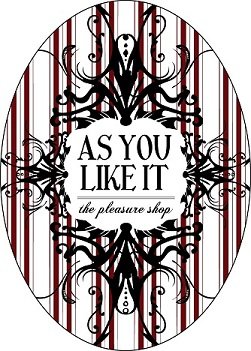 Empire Labs Clone-A-Willy Kit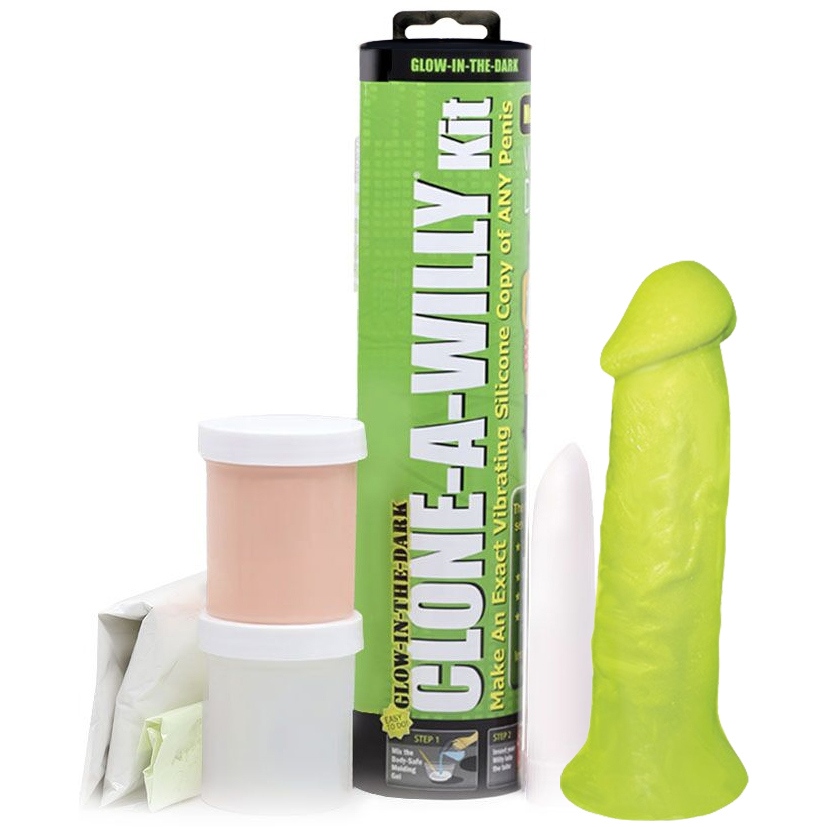 I love penises, really I do, so I was really excited to make myself a copy of my partner's. The Clone-A-Willy Kit is really well done. The instructions are comprehensive, they even link you to a video and give you extra of the material that is most likely to have mishaps. My cloned willy came out lovely with two exceptions: because I was nervous about doing it right I rushed the process so it's got more air bubbles than are ideal and I didn't pay the closest attention to the details regarding the included vibrator. The kit comes with a small plastic vibrator designed to be inserted into your mold as it's setting. I didn't love the vibe and decided to sub in my We-Vibe Tango instead. Here's the thing: the company specifies that if you don't use the vibe you should use more silicone (I missed this part) because without the vibe the whole thing takes up less space in the mold. Because the Tango is much smaller than the included vibe the effect was similar to not using a vibe- I ended up with a shorter Willy. So, pay super close attention to all the instructions, they really do give you all the info you need!
I made a glow-in-the dark Willy but they come in a variety of colors (my fantasy is to use several colors to make a multi-colored dildo all my own) and materials, like chocolate!
Get your Clone-A-Willy from SheVibe
Thank you to Empire Labs for sending me the Clone-A-Willy Kit to test!

Fun Factory Bi Stronic Fusion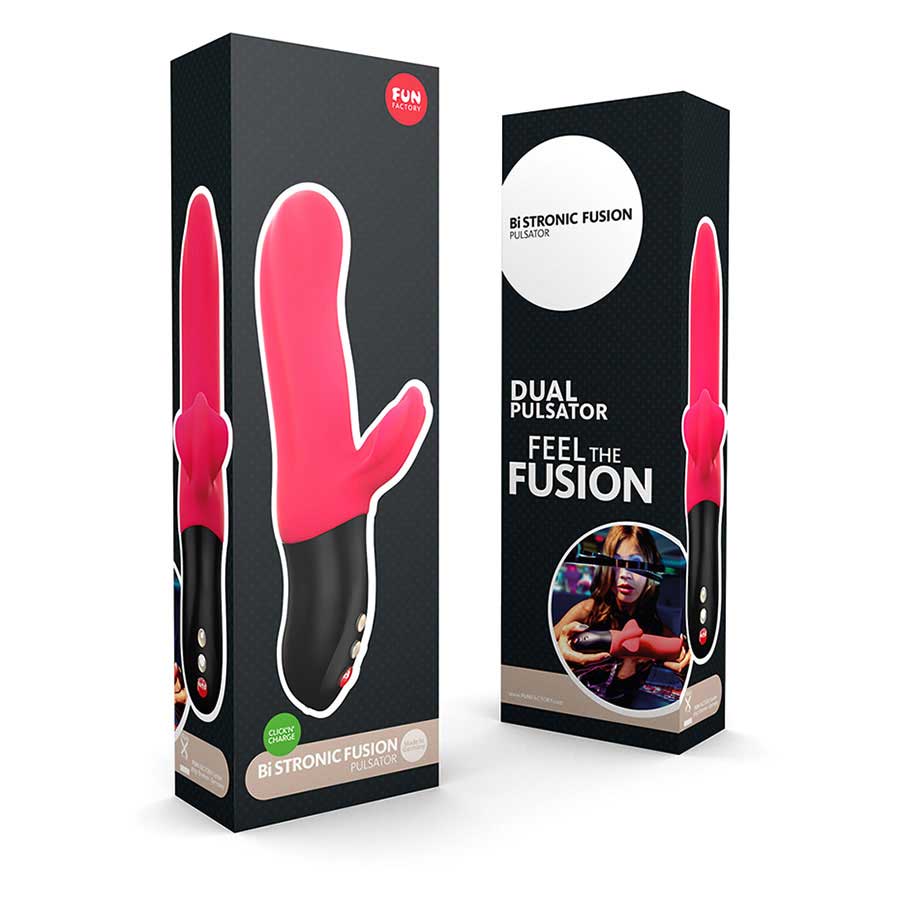 I have made no secret of my love for the Stronic Eins and Drei so when I heard a new Stronic was coming AND it vibrated I jumped on it. So, conceptually the Bi Stronic Fusion is pretty cool. It's a waterproof, rechargeable Stronic pulsator with a vibrating clitoral stimulator that allows for up to 64 combinations of pulsation and vibration. In practice it's kind of like those hipster cupcake shops that make flavors like "Dark chocolate caramel olive sea salt espresso". There's a lot going on leaving me to wonder if any of it really gets the chance to do what it does terribly well. I often credit Fun Factory with being a company that actually innovates (in a world where many just throw the word "innovative" around) and the Stronic line of toys is definitely a game-changer but the Bi Stronic Fusion not only didn't do it for me (I'm not really a dual-stim girl anyway), it actually left me with the big question "why?". It just feels a bit unnecessary, like trying to reinvent the wheel… and using fire to do it. It's Fun Factory. It's a good, high-quality product, that's not my quibble here. I just kind of feel like this toy has a lot of extra flash for not a lot of payoff. If someone was coming to me for a Stronic, I'd send them to the Eins or Drei instead.
Get your Bi Stronic Fusion from Fun Factory!
Thank you to Fun Factory for sending me the Bi Stronic Fusion to test.


L'Amourose Prism V & VII- DISCONTINUED
I'll warn you up front, this is more about my strong feelings and less about my toy experience. Tl;dr these toys are beautiful and well-made but they don't work for me and I feel like L'Amourose went from making really unique toys that gave more thought to anatomy than anyone else's to making stuff just like everyone else's.
In late 2014 two toys appeared on the scene that were like nothing that came before them. Beautiful with strong, rumbly motors and broad bases to stimulate the entire genital region, they were the first internal vibration toys to really do it for me. I loved the L'Amourose Rosa and Denia so much. But as happens when anything is different from the things that came before, people complained. Those toys didn't have handles, they said, we want them to have handles like all the other toys we own! Basically folks wanted to take the thing that made those toys special, and remove it so they could be just like eleventy billion other toys. And to those people I say, congratulations! The Prism V and Prism VII have the same rumbly dual motor situation as the Rosa and the Denia now placed in a much more standard toy body so as to be pretty much similar to all of the other g-spot vibrators in the world.
Now, maybe I'm just bitter because folks who already had a plethora of toys that worked for them whined until the company that made the one toy of its kind that worked for me (and arguably other people who needed something other than a handled toy with a thin, curved body) acquiesced and made their next model suitable for adding to the pre-existing g-spot fleet… no, I'm totally bitter about that. These toys are beautiful, extremely well-made, powerful, and I'm told they work very well for some people. However, like the bajillion other toys L'Amourose has fallen in line with, they don't work for me.
I was thrilled when L'Amourose came on the scene and seemed to be thinking differently but now I feel like I've been told to sit down and shut up with my needs – toys will look like one thing and one thing only. I often applaud companies for listening to the feedback from their customers and applying it to their new products but every time I look at these I think of the end of Grease, when the message seems to be "Become like everyone else so you can be loved" and then I get sad.
Important details: Waterproof, rechargeable, 5 patterns, 12 speeds and they really want you to know that (depending on which description you read) the handle is suitable for all people or suitable for both left and right handed folks – phew!
L'Amourose has ceased to exist and these toys are no more. 
Thank you to SheVibe and L'Amourose for sending me the Prism V and the Prism VII respectively.
Tantus Sam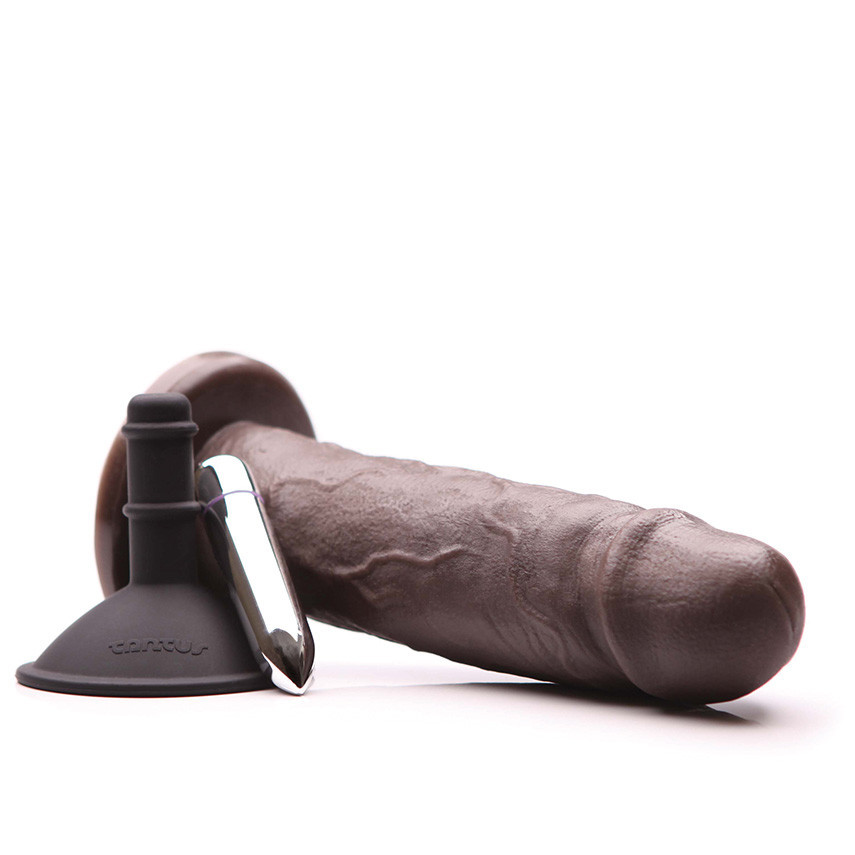 First things first, the Sam is beautifully done. Like the Uncuts, and the Gary, the Sam is super-soft and pretty darn realistic. It also comes with a suction cup and a bullet vibe (also the bullet vibe cavity will easily accommodate a We-Vibe Tango, just sayin'). Rad. For me though, it's just too darn big. I know for some of you this is going to be a selling point but with a diameter of 1.8″ it was just too much dildo for me. However, if you like girth and gorgeous, realistic silicone toys this one is for you! Fun fact: this was the toy that tempted me to poll my partners on penis diameter. I resisted the urge.
Get your Sam retails from Tantus
Thank you to Tantus for sending me the Sam to test!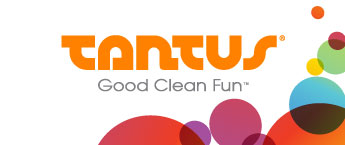 These products were provided to me free of change in exchange for my honest review. My review policy is simple: I will never lie about liking a product if I don't (in fact I probably won't even write about it) but when I do like something it's hard to get me to shut up about it.