Hey folks, heading into this review be forewarned that I talk a lot about the original Doxy Wand. If you are unfamiliar with that product, you can check out my review of it here.
I have made no secret of my immense love for the Doxy Wand, so when I found out a new one was coming and it was shiny, sexy, and had a silicone head I was pretty excited. The Doxy Die Cast doesn't disappoint– it's like the Superman to the Doxy Wand's Clark Kent. Seriously. So what is involved in the change from mild-mannered extra-powerful massager to something capable of eliciting orgasms FASTER than a speeding bullet, something more POWERFUL than a locomotive, something  able to LEAP tall buildings in… okay, I'm getting a bit carried away. Let's take a look at what the features the Doxy Die Cast kept from the original Doxy Wand and what new stuff it's got!
So, what's the same?
13″ long, 2.38″ wide
12 foot power cord
Variable speed from approx. 3000 rpm to 9000 rpm.
Variable escalating pulse setting. (I never use this, but it's totally there!)
The thing about the plug that means you can safely use the Doxy all over the world (with an adapter).
Comprehensive 12 month guarantee.
What's new?
Badass casted aluminum and titanium metal body.
Silicone head (WOOT!!).
Double weighted head for  'thuddy' feelings at higher RPMs.
LED lighted buttons.
The neck is smooth rather than ridged.
Storage case- which is no joke btw. You can see pictures below.
My new @DoxyMassager is here! I documented the unwrapping process, obviously. #pretty https://t.co/bfeqfSxtEC pic.twitter.com/oYaMQTvrhZ

— JoEllen Notte (@JoEllenNotte) November 7, 2015
Also, it's heavier than the original wand. How much heavier? I'll let Doxy field that:
@seryseraphical Hi… ?. Die Cast weighs about 4 oz more… If weight is an issue maybe go with the standard one.

— DOXY (@Doxy) December 29, 2015
How does it work?
Like its predecessor,  the Die Cast is a plug-in massager that is operated simply with 3 large buttons (that light up!). One turns it on and puts it into the pulsing mode and the other two raise and lower the intensity. Something I find very cool about this wand is that it remembers what speed I had it at when I shut it off. So, if I turn it off via the power button when I have the intensity cranked all the way up, the next time I turn it on it's just as powerful. As a power girl who spends most of my toy time turning things up, I appreciate that.
So, that pulsating mode. I'm not even going to lie, I don't use those kinds of modes so I have no strong feelings on that but here's how it works: press the "on" button and then hold it down. Voilà!
How does it feel?
The body has the same sexy curve as the original Doxy Wand which I think feels sexy (reminds me of the curve of a waist) and is comfortable to hold. The buttons are big, easy to find and soft. The head of the Die Cast is made of matte silicone (hallelujah!) which is much firmer than the cushy head on the original wand. The big differences, in terms of tactile experience are the weight, the feel of the steel (I specifically commented on how the plastic used in the original Doxy Wand didn't get cold– the Die Cast gets chilly!), and the hardness of the head.
No, seriously, how does it feel? 
I'm going to give one of the most intimate descriptions of my own toy use I've ever given here because I've realized that in reading my wand reviews it's important that you understand how I'm using it to understand why it works for me. Here goes:
So, my need for intensely powerful toys might lead you to believe that my clitoris isn't very sensitive. Au contraire. It is actually so sensitive that I can't handle most direct clitoral stimulation (I spend a lot of time batting hands away. More on this when I review the unfortunately named Womanizer). Because of this I stimulate the clitoris through the labia, often through clothing –  yes, really. This is something to remember when I talk about how I turn my toys to the highest setting and run with it- I'm not applying them directly to my clitoris.
So, this is interesting… The original Doxy Wand has gone down in history as the toy that gave me (who struggles with orgasm) 3 orgasms in 9 minutes in its first use. The Die Cast and I actually had a bit of a slower start. Now, I know how some of you think "Gasp! She's saying it's weaker! Not immediate orgasms means weaker and that means worse!!!!". Calm down because that is actually not what I'm saying (also it's flawed logic). The Die Cast is every bit as strong and powerful as the original Doxy Wand however the new head changes the nature of the vibrations. They are more nuanced now, I feel like I get to experience sensation en route to my orgasm instead of just racing right to it. The orgasmic time difference between the Die Cast and the Original was not huge – I had my 3 orgasms within 12 minutes (yes, I timed it) compared to 9 minutes before- it just caught me off-guard.
The other difference in terms of sensation comes from the firmness of the silicone head. I have a tendency to really press the head of my wand into my body (next time you use a wand, experiment with pressing it against the lower portion of your pubic bone- it's fun for me, it might be for you too!). The cushy head on the original Doxy Wand was fine with this but the firmness of the new head is something I'm having to adjust to. I actually bruised my pubic bone the first time I used it because I got a bit carried away. I absolutely believe the silicone head is a worthwhile upgrade but I would like it to be a bit softer.
Working for me:
SILICONE HEAD!!!
The steel body is freaking gorgeous!
It's super-powerful
Variable speeds- I like to crank it up, orgasm, turn it down and start over.
It covers my preferred "large swathes" of body
The curvy shape feels great in my hand- especially as I tend to grip hard, it's nice to have something a bit more ergonomic.
I like the more nuanced experience the Die Cast offers. It doesn't demand an orgasm, it brings it about super-effectively. (Though this toy could definitely be used for forced orgasm play)
Not so much:
The weight. While on one hand I'm like "Badass!!!" on the other I'm aware of how a toy this heavy is automatically out of reach for people with grip or mobility issues.
The hardness of the new head
The steel body gets cold and smudgy. (I know, picky, picky)
It's loud- I know I haven't mentioned that yet but I figured you'd be wondering
So, what's the verdict?
Well clearly I'm a fan of a Doxy in every bedroom but is it necessary to spend the extra for the Die Cast vs. the Original Doxy Wand? Well that will depend on a couple of things: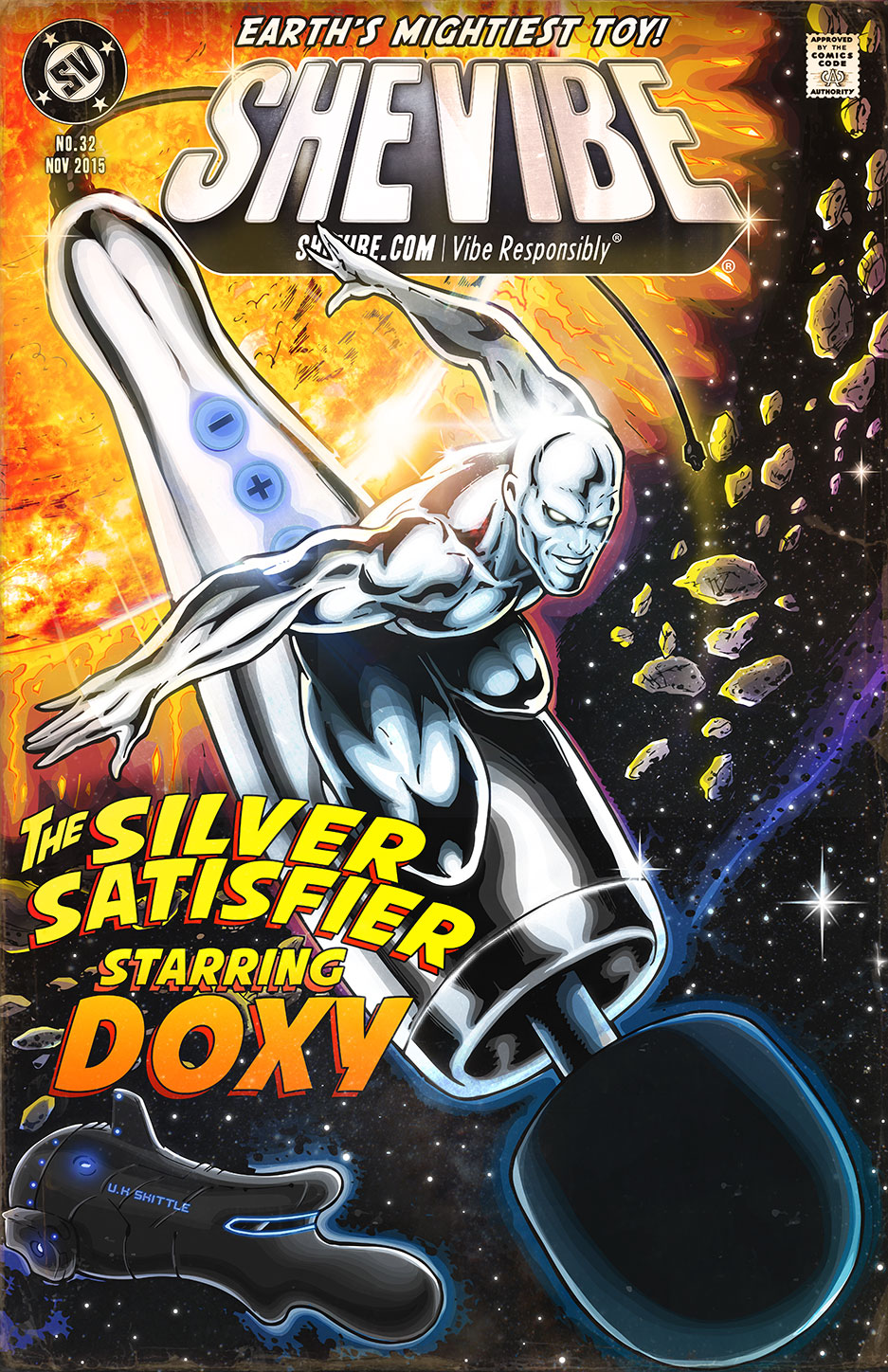 Is having a silicone head super-important to you?
Can you handle the extra weight?
Do you very much want a carrying case?
Do you really like things that look cool?
If you answered "yes" to those questions then, yeah, the Doxy Die Cast is the hero you've been waiting for.
Get your Doxy Die Cast from SheVibe!
Thank you Doxy for sending me the Doxy Die Cast 


This product was provided to me free of change in exchange for my honest review. My review policy is simple: I will never lie about liking a product if I don't (in fact I probably won't even write about it) but when I do like something it's hard to get me to shut up about it.