With almost uncanny precision the wonderful folks at Tantus manage to send me packages so they arrive just in time to brighten bad days, as was the case with their last delivery!
Somehow @tantus packages always arrive in time to brighten a bad day. Seriously, every time. #thankyou pic.twitter.com/deh2Wiou5y

— JoEllen Notte (@JoEllenNotte) October 7, 2015
If you can get past my inexplicable filter choice (I don't know why I made everything orange) you'll see that they sent me a pretty badass box of goodies, now I'm going to tell you about them! Okay, I can't get past the filter in that tweet, let me give you a normal version of that picture first!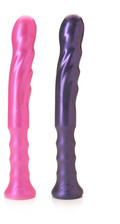 So, first up is the Goddess Handle. The Tantus Goddess has long been one of my favorite dildos and awhile back I became enamored of the idea of handles on dildos via my Echo Handle. I love the Goddess Handle for all the reasons I loved the Goddess (the texture is just lovely) additionally, the handle is just fabulous for me, a lazy dildo user because it lets me vary my grip and not get "claw-grip" and my partner liked it because it made it super-easy wield. If I had to pick between the Goddess Handle and the regular Goddess my only hesitation would come not from the fact that the original Goddess can be used with the awesome Tantus suction cup base– I'm not wild about the vibration feature- but I still think I'd go with the Handle. Now, the Goddess Handle is normally available in pink or purple but you've probably noticed that mine is cool and swirly…. The Goddess Handle is also available as a Grab Bag pick (awesome toys, significant discounts, Tantus picks the color and, often, they are pretty rad).
The Get your Goddess Handle from Tantus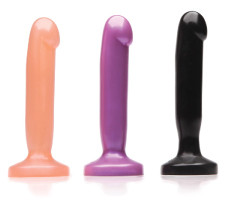 Next up is Starter. Okay, I have a terrible habit of ignoring the writing when it comes to toys, instructions, warranties, dimensions. That last one is important here because I had no concept of how little the Starter was until I got to my house! It's like a dildo had a baby!
Here's my take on it: There are a lot of dildos out there that we look at as "intro to anal stuff" dildos. They are usually slim and smooth and small and stuff and that's great but there hasn't been much in the realm of a more representational shape that is just smaller. Now, I said "more representational", not "representational" because the Starter looks like a play on a penis rather than a penis itself but gives us what many smaller toys haven't really provided thus far- a proportional head and shaft. Along with that it tapers right before the (harness-compatible) base, because Tantus understands how sphincters work. I'm really impressed with the intelligence of this little toy and definitely recommend it for folks easing into anal penetration.
Get your Starter from Tantus
Earlier this year Tantus rolled out the Uncut dildos and I fell madly in love so, it's no wonder I was excited for the next realistic O2 toy. Then they called it Gary and I remembered the danger of using people's names for stuff…
There's no good way to say "Your new dildo has the same name as my deceased father and keeps triggering feelings of bereavement" is there?

— JoEllen Notte (@JoEllenNotte) July 30, 2015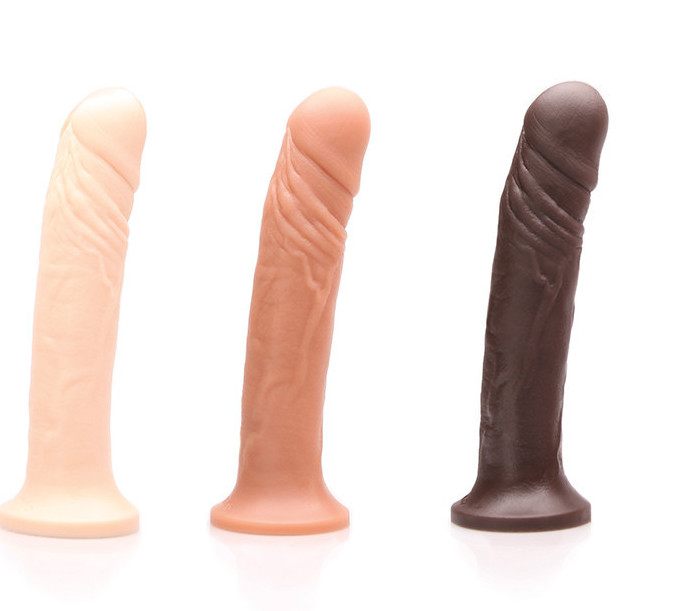 So, I tried to ignore the Gary O2 entirely but, seriously, it's just gorgeous so now I have one and I call it Darth Vader (he was Luke's dad!), problem solved. Anyway, Tantus has made realistic toys that are not creepy or fetishistic, which I just love. I find these toys beautiful to look at, fun to hold, I just love them as objects… That said my feelings on using this are mixed. It's a bit big for me, which is interesting because the diameter is the same as the Flurry, which I do get along with but I think the extra squish that I love when holding the toy I love a little less when inserting it or thrusting. For me this one worked best inserted with a strong wand vibrator held at the base- it conducted the vibrations beautifully (it's a subtle massage-y sensation throughout the vagina rather than a "vibrator" sensation) and that felt amazing. Also this one needs lube… lots of lube…. all the lube.
Get your Gary O2 from Tantus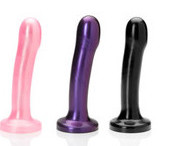 Finally, the toy that surprised me the most, Buzz. I've been curious about this one for a while, it's sleek and smooth, the head isn't super-pronounced and the girth seemed about right for me. Testing this toy made me feel simultaneously like Goldilocks and like I was losing my mind. Why? The diameter felt perfect. The diameter is listed as the same as the Gary and the Flurry (1.5). This is where texture plays a HUGE role. Because the Buzz is a harder, firmer silicone that glides so much easier, insertion was a breeze. Also, this one narrows below the head which I liked. The subtly of the head made it feel like it gently ran itself over my g-spot instead of poking it like most toys do. I tried it with vibration (both with the included vibrator and my Tango) and while it conducts vibration decently, I co do without it. This one is also harness and suction cup compatible. I think we don't hear nearly enough about this sweet dildo.
Get your Buzz from Tantus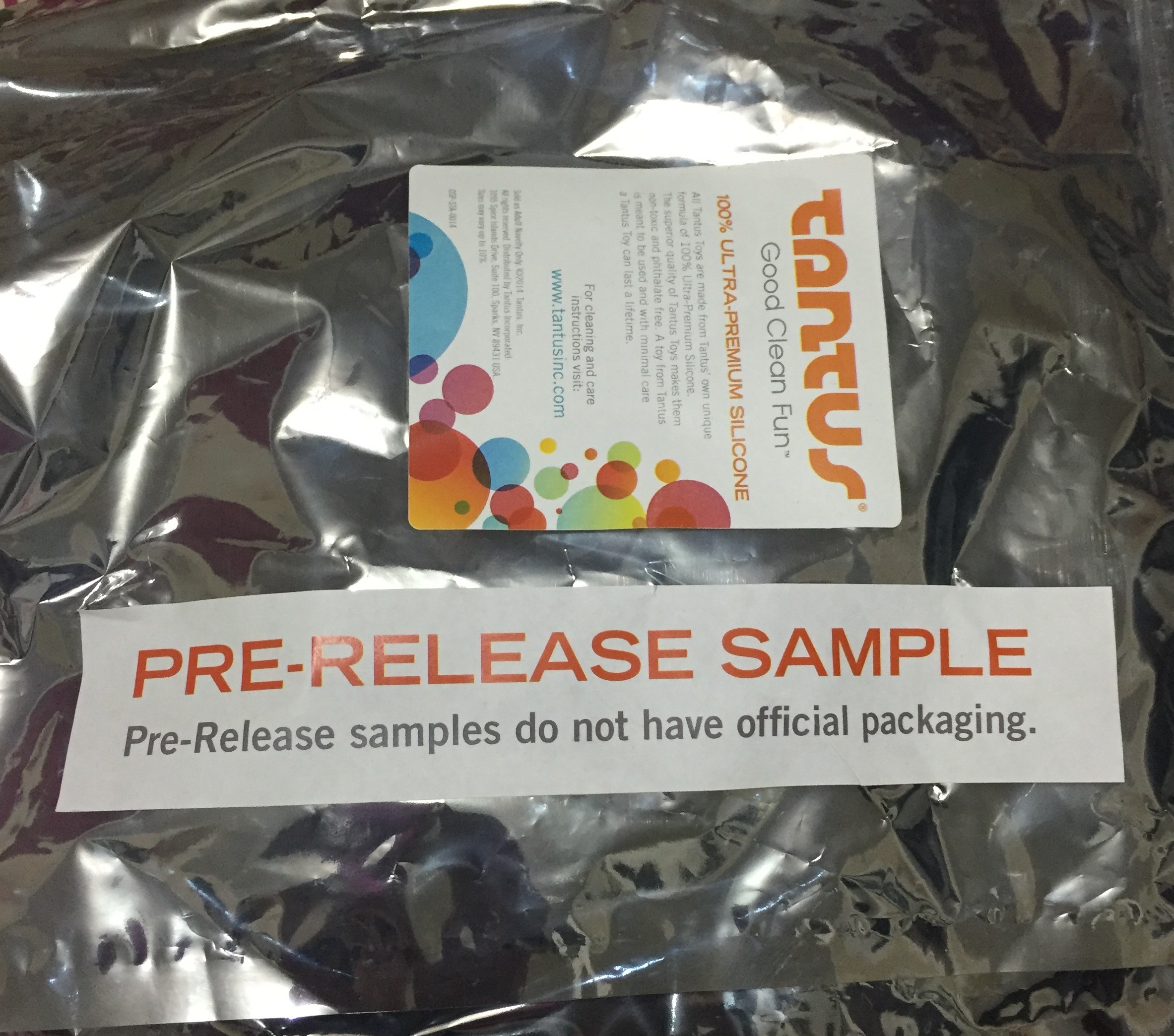 Okay… there was one more thing in the box but I can't tell you about it or show it to you (now I'm just being mean). I will say this though, it keeps making me think of a toy I have known of for years and that always made me think "why can't there be something like this in silicone?" and so, of course, Tantus are the people who solved that! Know that, as always, more fun stuff is coming from Tantus.
Thank you to Tantus for sending me this box of wonders and for generally being rad.
These products were provided to me free of change in exchange for my honest review. My review policy is simple: I will never lie about liking a product if I don't (in fact I probably won't even write about it) but when I do like something it's hard to get me to shut up about it.